Avenue progress

The Port Adelaide Avenue
The Port Adelaide Football Club is the ambassador of the Port Adelaide Avenue of Honour - a unique initiative designed to memorialise those who died while serving in World War I with special tree-lined avenues in the Port area.
The Port Adelaide Avenue of Honour is a joint initiative with Treenet - the nation's urban tree research and education not-for-profit - and the City of Port Adelaide Enfield.
Community and corporate involvement
Port Adelaide supporters, members of the public and local businesses can remember their community's soldiers in this living memorial by supporting the first Port Adelaide Avenue of Honour with a tax-deductible donation of $200.
Donors will sponsor one of the first 100 trees to be planted in memory of a local solider killed in World War I.
Donations cover the cost of the sourcing, planting and maintenance of the tree, and the installation of a plaque profiling the soldier it represents and its sponsor.
SPONSOR A TREE IN PORT ADELAIDE'S AVENUE OF HONOUR
Port Adelaide and war
Trees have been planted across Australia as living war memorials since World War I; the world's first tree memorial was planted near the Adelaide Oval's eastern side back in August 1914 and still exists today.
Port Adelaide has never been far from war, having served as the departure point for thousands of South Australian soldiers during World War I and World War II.
Dozens of Port Adelaide's footballers also enlisted, with three members of its undefeated 1914 Champions of Australia team killed on the Western Front, while three others were decorated for acts of bravery.
Our ambassadorship
Port Adelaide's chief executive officer Keith Thomas says the club's ambassadorship of the program was a logical move, given the club's long association with the ANZAC tradition and strong links with the state branch of the RSL.
"Port Adelaide, like many clubs, lost players in World War I, and when you consider the many supporters of the club who lived in the area, there are hundreds of men who made the ultimate sacrifice for our country who come from our local community," Mr Thomas said.
"We hope the Avenues of Honour built in the Port Adelaide district will stand for years to come as a reminder of this legacy and sacrifice.
"It's an honour for our footy club to be part of this project and we hope it's something our community can be proud of, and support as well."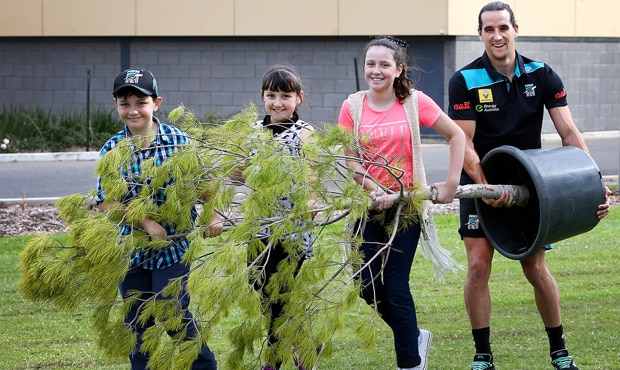 Daniel, Jemma and Chloe help Kane Mitchell with the Lone Pine to be planted as the Port Adelaide Football Club's war memorial
An Australian-first partnership
The partnership between the Port Adelaide Football Club, Treenet and the council is an Australian-first and will serve as a model for future Avenue partnerships in future years.
The City of Port Adelaide Enfield is currently determining the final location of the first Port Adelaide Avenue of Honour.
"This is an Australian-first and it will leave a lasting legacy in Port Adelaide's heartland and will lead other communities to follow in the club's footsteps," says Treenet director David Lawry.
"Port Adelaide is where most of the 6600 South Australians who died in World War I had their last glimpse of home, and the ground on which the relatives stood as they farewelled their boys on the decks of the departing ships.
"We only have to repeat this a thousand times and we will have achieved our aim of honouring each individual with a tree that will stand as a permanent reminder of the people we treasure, so to have the Port Adelaide Football Club and its community support this project is something everyone should be proud of.
"Port Adelaide has certainly set the standard for other organisations to follow."
Sponsor the Port Adelaide Avenue of Honour
Individuals or businesses wishing to sponsor a tree in the Port Adelaide Avenue of Honour can do so for a once-off tax deductible donation of $200, visit Treenet's donation portal here.
Simply select Avenues of Honour 1915-2015 and then Port Adelaide Enfield/Port Adelaide Football Club to donate and register as a benefactor of the scheme.
You will then be contacted ahead of planting with further details about your tree, sponsored soldier and planting. You can also request a receipt for tax purposes.
All donors will be acknowledge with their persona name, family name or business name on each plaque commemorating their fallen soldier.
Treenet will also accept requests to sponsor a specific fallen World War I soldier.
For more information
Contact the Treenet 2015 Avenue of Honour Project
David Lawry OAM, Director
Office: (08) 8313 7078
Email: david@treenet.org

Contact the club's Heritage and History committee
08 8447 4044 or heritage@pafc.com.au