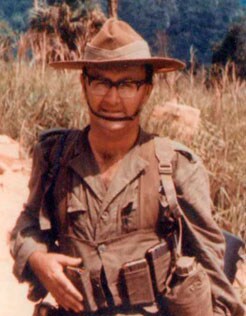 MAJOR PETER BADCOE was one of Australia's greatest war heroes - a highly-decorated soldier whose acts of bravery and courage saw him awarded the medal for three separate acts during the Vietnam conflict.

Major Badcoe died on a battlefield in Vietnam on 7 April 1967 - his last action on that day seeing him single-handedly try to stop a Vietcong machine gunner from firing on allied South Vietnamese troops.

Born in Adelaide on 11 January 1934, Major Badcoe grew up and was educated in his home city before joining the South Australian public service as a clerk.

In 1952 he served for seven weeks in the 16th National Service Battalion and on 12 July of that year entered the Officer Cadet School in Portsea, Victoria, from which he graduated Second Lieutenant on 13 December 1952.

In August 1966, Lieutenant Badcoe was posted to the Australian Army Training Team as subsector adviser to the Nam Hoa district of Thu Thien province. As an adviser he was concern with military operations and training carried out by the Ruff Puffs in his district.

In December 1966 he was re-allotted to the second headquarters of Thua Thien as operations adviser. It was as province operations adviser that he carried out the actions for which he was awarded the Victoria Cross.

On 23 February 1967 he was acting as adviser to a regional force company in support of a second operation in Phu Tho district when he monitored a radio transmission which reported the death of an American subsector adviser and the wounding of an American medical adviser. With compete disregard for his own safety Major Badcoe moved alone across 600 metres of fire-swept ground, attended to the wounded medical adviser and ensured his safety. He then organised a force of platoon strength and led them in a successful assault against the enemy machine-gun post near the body of the American adviser. He killed the machine-gunners in front of him, picked up the body of the dead American and ran back, over open ground still covered by hostile fire, to the regional force command post.

Two weeks later, early 7 March 1967, the Sector Reaction Company was deployed to Quang Dien subsector to counter Viet Cong attack on the headquarters. Badcoe, who had left the command group when their vehicle broke down, joined the company headquarters and personally led the company in an attack over open terrain to capture a heavily defended enemy position. His action prevented the enemy from capturing the district headquarters and averted certain heavy losses.

Exactly one month later, on 7 April, Badcoe was on an operation with the 1st Army of the Republic of Vietnam Division Reaction Company, supported by armoured personnel carriers, in the Huong Tra district. As the 1st Army moved forward to its objective the company came under heavy arms fire and had to withdraw to a nearby cemetery for cover. Badcoe and his radio operator were left fifty metres in front of the others, under heavy mortar fire. Badcoe ran back and rallied his men and got them moving but they were again stopped by heavy fire. He rose to throw grenades but was pulled down by his radio operator. When he got up to throw another grenade he was killed by a burst of machine-gun fire. Soon after friendly artillery was called in on the enemy position and it was assaulted and captured.

Major Badcoe was buried at the Terendak cemetery, Malaysia, his epitaph being 'Hi lived and died a soldier'. In November 1967 an Australian and New Zealand soldiers' club in Vietnam was officially opened as the Peter Badcoe Club.

For his services in Vietnam, in addition to the Victoria Cross, Badcoe was also awarded the American Silver Star. South Vietnam awarded him the National Order of the Republic of Vietnam (Knight), three Crosses of Gallantry (with Palm, Gold Star and Silver Star) and the Armed Forces Honour Medal, 1st Class.
Port Adelaide presents the Peter Badcoe VC Medal as part of ANZAC Round commemorations during each AFL Premiership season.

It is a tradition that dates back to 2004 where Josh Carr was presented the very first award by the club.

Major Peter Badcoe VC served in the Vietnam War and is the most recent South Australian to be awarded the Victoria Cross - the military's highest honour for bravery.

The medal is awarded to the player whose conduct and play during the ANZAC Round, or corresponding home game preceding ANZAC Round, best demonstrates the qualities of skill, courage in adversity, self sacrifice, teamwork and fair play.
| | | |
| --- | --- | --- |
| Year | Name | Club |
| 2004 | Josh Carr | Port Adelaide |
| 2005 | Warren Tredrea | Port Adelaide |
| 2006 | Brendon Lade | Port Adelaide |
| 2007 | Chad Cornes | Port Adelaide |
| 2008 | Kane Cornes | Port Adelaide |
| 2009 | Lenny Hayes | St Kilda |
| 2010 | David Rodan | Port Adelaide |
| 2011 | Michael Rischitelli | Gold Coast |
| 2012 | Josh Kennedy | Sydney |
| 2013 | Hamish Hartlett | Port Adelaide |
| 2014 | Travis Boak | Port Adelaide |
| 2015 | Travis Boak | Port Adelaide |
| 2016 | Joel Selwood | Geelong |
| 2017 | Robbie Gray | Port Adelaide |