A PROMISING START to the 2017 season didn't quite go to plan for Karl Amon after the mid-year bye.
Playing the first six games of the year before being squeezed out in Round 7 for returning skipper Travis Boak, Amon was swept back into the Power line-up for the trip to China and played the Suns and Cats.
Having seemingly established himself among Port's best 22, disaster struck in Round 10.
A seemingly innocuous knock to the knee against Geelong turned out to be a fractured patella.
That injury carries with it the dreaded recovery period of 'indefinite' - leaving the young winger sidelined and a week-to-week proposition for a return to football.
His recovery eventually turned out to be six weeks, and Amon admits it was a frustrating time.
"We thought it was a minor knock to the knee, and then we got a scan and it showed a fractured patella," Amon told portadelaidefc.com.au.
"I just had to rest, which was a little bit frustrating for me.
"Once we got that done, we slowly got back into some exercise and into some running."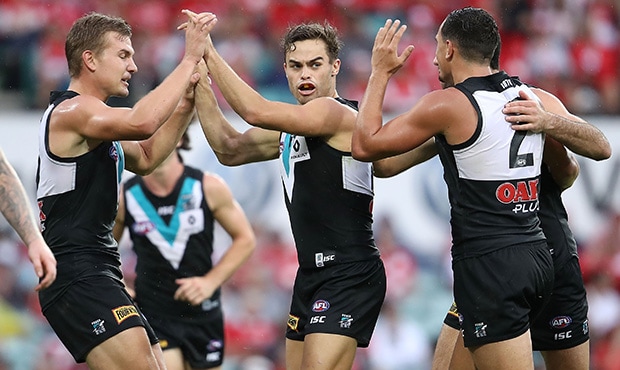 Karl Amon celebrates with teammates against the Swans in Round 1 [pic: AFL]
Playing his return game against Central District in the SANFL, and then featuring in the following week's win over the Bays at Alberton, Amon was inserted back into the Power in the Round 19 thriller against the Saints.
"It's been really good," Amon said of his last three AFL games.
"When I had my knee [injury] I was just trying to get back playing football as quick as I can, spent two weeks in the SANFL and then was lucky enough to come in against St Kilda."
Amon returns at a critical time for a Port side stuck in a fierce fight to cement its position in the top eight.
A win over the Western Bulldogs at the new Mars Stadium in Ballarat on Saturday will firm the Power's credentials for a home elimination final.
It will also keep them in the mix for a double chance if any of the top five fall over.
A loss puts Port at risk of an away elimination final, something the Bulldogs are fighting for after being pushed out of the top eight last weekend.
Amon says a new venue in Ballarat will pose a challenge for both sides, but is also philosophical – it's still a footy oval.
"At the end of the day, it's going to come back to being a normal football game, it's on the same dimensions as [any] football oval, with the same lines," Amon said.
"We've just got to come out and bring our pressure and our hunt.
"That was our main focus going into the week after the Showdown, we wanted to absorb their [Collingwood's] pressure and play some tough inside football.
"I think we did that - it was a really good response from the boys - but we've got a long way to go and can still get better in that area.
"They [the Bulldogs] are still in the hunt and have the ability to play some really good football... we're going to have to match that to get the win."
Port Adelaide plays the Western Bulldogs at Mars Stadium in Ballarat at 1.45pm AEST on Saturday 19 August.
More on portadelaidefc.com.au...