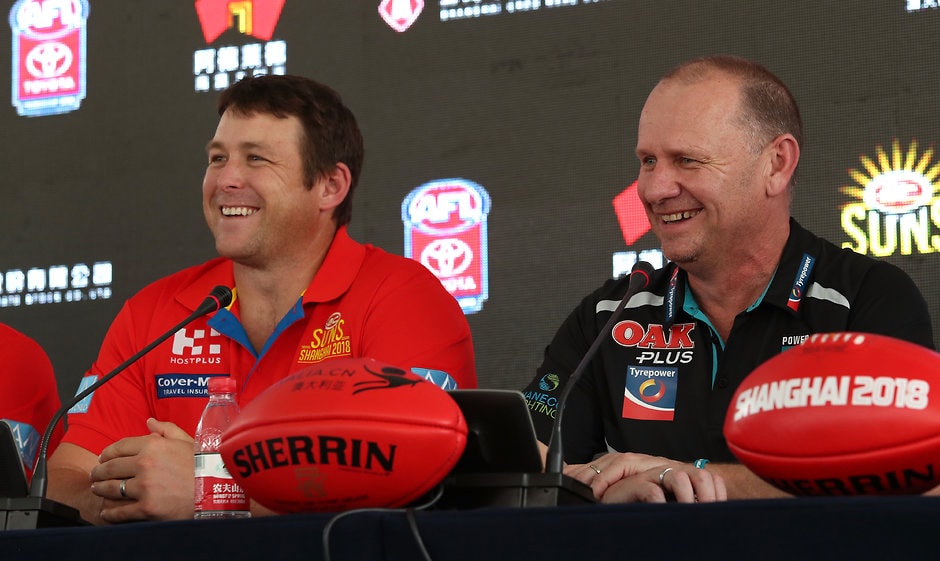 PORT ADELAIDE coach Ken Hinkley says he expects a "fired up" Gold Coast side to take the field in Shanghai when the sides meet on Saturday afternoon.
When the Suns played the Power at the Jiangwan Stadium last year, the Port Adelaide side won by 72 points.
The Power also demolished them by 115 points when the sides met at Adelaide Oval in Round 23 in 2017.
"I reckon they'll be pretty fired up to be honest," Hinkley said at the official pre-match press conference in Shanghai on Thursday afternoon.
"I think they'll have a bit of venom to represent their footy club in a better fashion than they did on the scoreboard (last year).
"I'm sure they represented their club well off the field but in AFL football it's all about the game and the result.
"I know (Sun's coach) Stewy (Dew) and (captain) Steven May who was here, they'll be fiercely competitive about trying to make sure they take the win home."
The Suns come into the game on the back of three-straight losses and with just one win in their last five outings.
But, Hinkley said he had seen some impressive signs under new coach, former Port Adelaide player, Stuart Dew.
"They're clearly playing a more defensive brand of football and they're working really hard to lock the ball in their front half," Hinkley said.
"I have really admired what they're trying to do and they've started with some fundamental stuff and it's paying dividends for them."
The Power played out a thrilling five-point victory over cross-town rival Adelaide last Saturday night with Steven Motlop kicking the winning goal with just over 20 seconds to play.
The side came from behind after a poor opening and showed a huge improvement to get over the Crows in the second half.
Hinkley said getting away from Adelaide together was the perfect tonic to get over the emotional win.
"They'll move on, they'll get ready to play football," he said of his players.
"That's the good thing about getting here on a Tuesday and getting here away from the Adelaide bubble.
"We understand the importance of a Showdown over there but when we have to get on with next week, it's good to be in this environment, the team's all together for the whole week and it really helps."
Hinkley said the challenge for his players was replicating the form it showed late in the Showdown.
"We've got to play the same style regardless of where we play," he said.
"We understand the test that's up in every week of AFL football and we've got another one (on Saturday)
"The boys understand what happened last week and we've got to try and do that again this week."
Port goes into the game with an unchanged line-up for the first time this season, barring any injury.
It has Jack Trengove, Trent McKenzie, Dom Barry and Karl Amon in Shanghai as emergencies.
More on portadelaidefc.com.au...