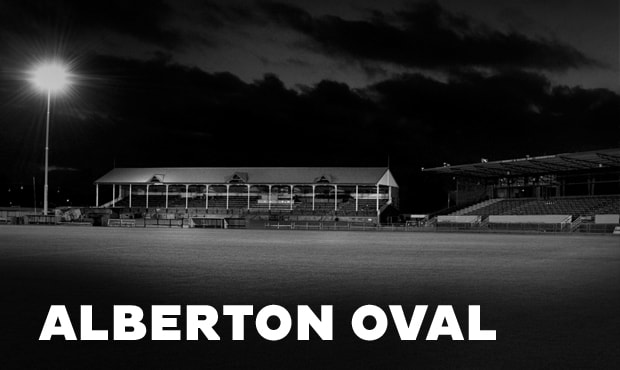 TEN years after its establishment, Port Adelaide moved from its then-home of Buck's Flat on the Glanville Estate to the newly laid Alberton Oval, in Alberton - about four kilometres out from the main Port.
Constructed on the land of Mr John Formby by the Alberton and Queenstown Council as a cricketing ground in 1877, the hallowed turf of the football club was opened on 8 November 1877 as the Queen and Albert Oval.
The first sporting match played at the ground was a cricket fixture between the touring Tasmanian XI and a selected eleven of the Queen and Albert Cricket Association.
The ground shortly changed its name to the familiar 'Alberton Oval' within a handful of years.
The ground was used by many sporting teams during its early years, but Port Adelaide has used the ground as a training base continuously since 1880, and only twice moved from the ground as its home playing venue: first, in 1975 and 1976 owing to a dispute with the Port Adelaide council, and then in 1997 when it entered the AFL (although Alberton was still used for SANFL games).
With iconic grandstands built in 1903 (now known as the Fos Williams Family Stand) and 1964 (the Robert B. Quinn M.M. Stand), the ground is one of the most picturesque in South Australian top-level football.
The club won its first game against the now-defunct Kensington club 1-nil in 1880 and has continued on to an impressive SANFL winning record at the venue of more than 75 per cent.
First SAFA (now SAFL) match at Alberton Oval
1880
Alberton Oval, 15 May
Crowd: 29,340

Port Adelaide 1 goal def
Kensington 0 goals

Venue records
Biggest crowd: 22,738, 1977 v Norwood [SANFL attendance record at any suburban venue]

Biggest score:
33.24 (222) by Port Adelaide v South Adelaide in 1988
Biggest margin:
160 points by Port Adelaide v West Adelaide in 1903