In 2014, the Port Adelaide Football Club in partnership with the South Australian Aboriginal Sports Training Academy established the Aboriginal AFL Academy. This partnership saw Port Adelaide become the first AFL club to house and dedicate its time to educational success of school aged Aboriginal and Torres Strait Islander footballers.
The program invites a squad of 36 players into the Academy, where they attend a once-a-week education and training day at Alberton Oval during the school year.
Mentored by Port Adelaide staff, coaches and players, the Academy participates in a range of high-performance activities. The players also complete a Certificate III and IV in a variety of disciplines such as fitness and Aboriginal studies.
Since the inception of the program five Academy members have been drafted to AFL clubs; Adelaide's Wayne Milera (2015), Richmond's Tyson Stengle, Carlton's Kym Lebois, Geelong's Brandan Parfitt (2016) and Gold Coast's Izak Rankine (2017).
In 2018, the Aboriginal AFL Academy program featured:
A squad of 36 students, including 20 Year 12 and 16 Year 11 participants

Attendance at Alberton once a week for 33 weeks

Football tours against other schools and Academy programs, locally and nationally

Participation in Port Adelaide's AFL Indigenous Round tour to Melbourne

Elite individual fitness and training programs for participants

A cultural trip to North East Arnhem Land to attend the annual Garma Cultural Festival as part of their Stage 2 Aboriginal Studies.
Direct enquiries to Marlon Motlop, Aboriginal Programs Coordinator, mmotlop@pafc.com.au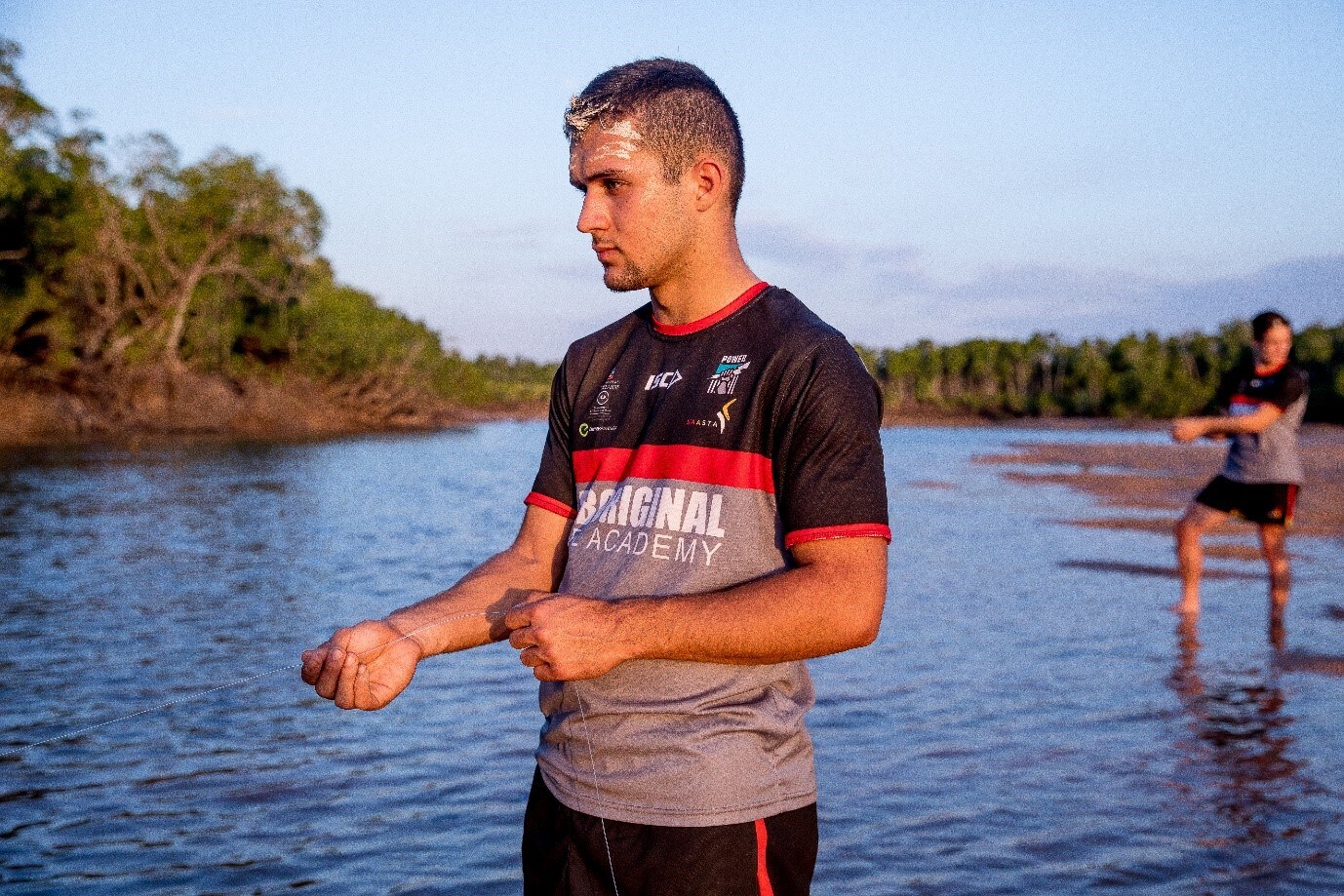 Testimonial Tyran Hill – Former Aboriginal AFL Academy Student and current PCL Trainee
It was in China on a cultural tour in 2016 that I was first introduced to Uncle Pauly and the Aboriginal AFL Academy (AAA), and since then I have never looked back. Despite having aspiration to become a role model for others, especially other Aboriginal students, I had always lacked confidence in myself and my knowledge of culture, so I saw my acceptance as an opportunity that I had to chase.
Being a Wiilman person, a large majority of my Indigenous family lived in Western Australia, meaning my ties to culture were not overly strong. Throughout the course of my first year in 2017, we worked towards achieving our Certificate III in Fitness in partnership with Pushing Performance, which not only allowed the completion of my SACE a year early, but opened the possibility of working in the Fitness industry after school.
However, I believe that the personal skills I developed throughout the year were more beneficial and meaningful than anything. I began the year as an introverted boy, apprehensive about his own abilities, and closed 2017 as an independent man, proud to share his story with anyone.
Yes, I was determined to reach my full potential, but it could not have been possible without the support and patience of the experienced students, and the understanding and encouragement of my mentors in Marlon and Uncle Pauly.
I was privileged enough to be selected to travel with a small group of AAA students to New Zealand as a reward for our determined efforts towards our education, and it was overseas where I really stepped out of my comfort zone and flourished.
I now not only felt confident at the Academy, but at school and my football club also. For my high achieving work towards my Certificate III in Fitness, Pushing Performance offered to fund the completion of my Certificate IV and employ me as a Group Trainer. It was an opportunity that I could not decline.
In 2018, I began Year 12 with desire to achieve an ATAR high enough to qualify for studying a Bachelor's degree in Exercise Science and Psychological Science at University. Returning to AAA, I was not only excited to see what the year ahead had in stock for me, but eager to encourage the development of others in way that I had in my first year.
I was awarded captaincy by Marlon and the playing group, which led to an experience that I am more than grateful for. I developed leadership qualities to complement my newly found confidence, and I had reached my goal of becoming a figure that the others could look to for support.
In 2018 we completed our Stage 2 Indigenous Studies, which opened the opportunity for a small group of us to be rewarded for our tireless efforts by attending the 2018 Garma Festival in the Northern Territory. The experience was life changing. I was 17, but the Garma trip was the first time I have ever been exposed to my own culture so strongly and openly. I learnt so much about not only my people, but myself, and returned to Adelaide with so much passion, pride and assurance of who I was.
Shortly after Garma, I was asked to travel to Tennant Creek with Wade and his WillPower team, and here I was able to embrace the knowledge I had gained, while learning more from the youth also. At the end of 2018, I had completed Year 12, been accepted into my preferred University course, had completed my Certificate IV in Fitness and was now a fully qualified Personal Trainer at Pushing Performance.
Saddened to know that my time at AAA was soon going to end, I was thrilled to hear that there would still be a place for me for the next two years, this time however on a full-time traineeship with the Aboriginal Programs team. Now, I am spending my time completing a Diploma of Business and assisting with both Aboriginal AFL Academies, as well as the Power Cup and WillPower programs.
I think back to my first letter from Power Aboriginal Programs asking me to enter the AAA and wonder what would have happened if I had never chased that opportunity. I never would have completed my Certificate III and earned my first job. I would have lacked all the leadership qualities that I had gained over my two years in the AAA.
The luxury of focusing on only three subjects in Year 12 would not have existed, and I would then not have been able to find the time to complete my Certificate IV. My current traineeship definitely would not have existed. The most important thought however, that scares me every time, is that I would never have learnt more about my culture.
I owe so much to the Power Aboriginal Programs for all of the opportunities they have given me.
However, nothing is more meaningful than the knowledge that I have learnt about myself and my culture as an alumni of these programs, and it is something that no one will ever be able to take from me.
Program Partners