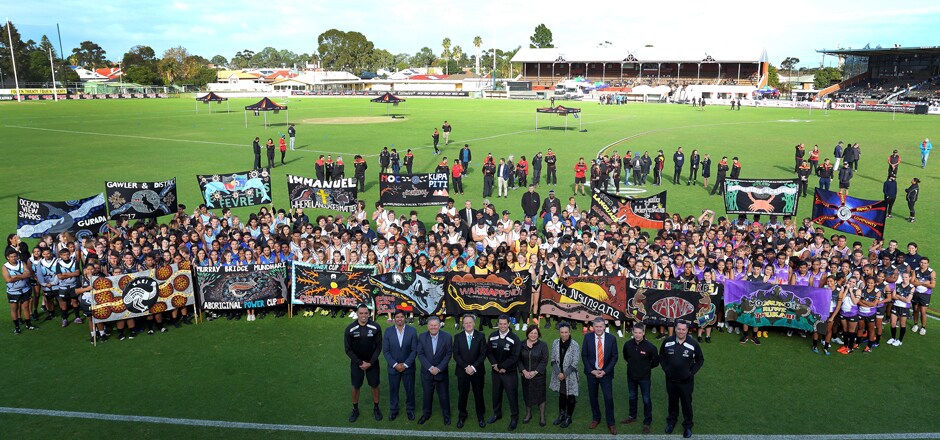 The Aboriginal Power Cup is Port Adelaide's flagship Aboriginal community program. Established in 2008, this year marks the eleventh year of the program, which will see over 450 students from 70 schools in South Australia participate.
With a competitive football carnival as its centerpiece, the Aboriginal Power Cup focuses on engaging young people in Aboriginal culture, education, promoting healthy lifestyle choices and developing teamwork, leadership and life skills.
Aboriginal Power Cup is facilitated through the SAASTA academies and also includes Warriappendi School and Immanuel College. Within Term 1 through the elected Aboriginal Studies subject, PAFC run classroom based modules which include support from current PAFC players. Term 2 the Aboriginal Power Cup carnival is held to commemorate the hard work and commitment of students in their current studies.
The grand finals of the Aboriginal Power Cup are played as a curtain-raiser to a Port Adelaide game at Adelaide Oval. To reach the final, teams must meet the 80% minimum school attendance requirement, and rank highly in both the academic and behavioral components of the program.
The Aboriginal Power Cup Program has directly been linked (in SA) to the CTG Target of Year 12 Attainment.
| | | |
| --- | --- | --- |
| The total number of year 12s enrolled in the Power Cup (in 2017) | 128 | |
| The total number of Aboriginal students enrolled in SACE participating in Power Cup (in 2017) | 416 | |
| The total number of Aboriginal students in Year 12 who completed their SACE in 2017 who participated in Power Cup | 123 | 96% |
| The total number of Aboriginal students who completed the SACE Power Cup Subject in 2017 (2016: 92%) | 370 | 89% |
| The total school attendance % | 95% | |
Aboriginal Leadership Conference
The Aboriginal Leadership Conference, established in 2010 is open to students from the Aboriginal Power Cup who are on the cusp of completing Year 12. Students spend 2 days with PAFC and external stakeholders who provide a range of tailored support mechanisms and workshops including:
Aboriginal Culture and Identity
Leadership skills
Pre employment & resume / job interview preparation
Entering the workforce and working in teams
Information on career and further education opportunities
Informal Q&A sessions with TAFE and Universities
Sexual Health and Wellbeing information
Substance misuse workshops
In 2017, we had 95 students attend and successfully complete the program. These students have now transitioned to our Powerful Futures Program, with the aim to assist them to transition into further education or employment.
Direct enquiries to Kellie Graves, Manager - Aboriginal Programs at kgraves@pafc.com.au
Program partners