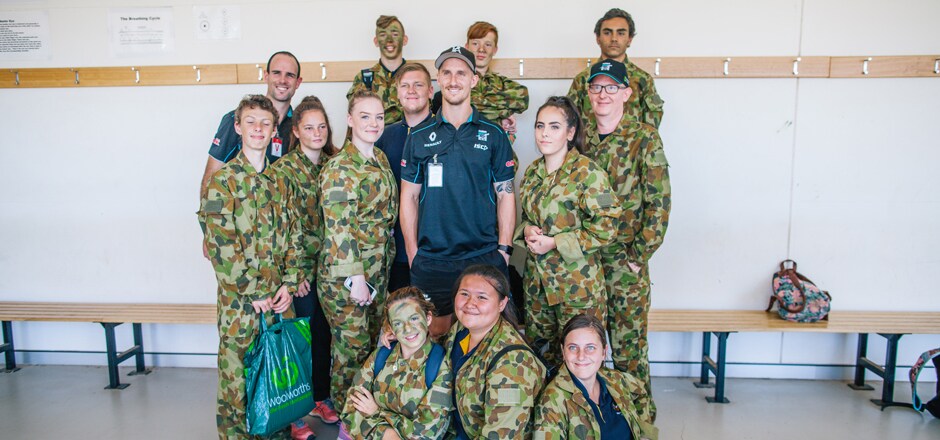 Empowering Youth is an innovative program that works with disengaged young people across South Australia. The program encourages students to stay connected with their education and to take responsibility for themselves and others by making positive decisions in relation to their health, lifestyle and career path. The program covers a range of topics including healthy lifestyles, wellbeing and resilience, leadership, finances, and career pathways with a goal of developing physically active and socially engaged young people in the community.
Program delivery takes place each fortnight over the course of one semester and involves a mix of class work, physical activity, excursions and a graduation ceremony. Students are also eligible to complete 10 South Australian Certificate of Education (SACE) credits for Stage 1 Integrated Learning upon completion of the program.
The program includes two excursions throughout the year to the Royal Australian Air Force (RAAF) Base, Edinburgh, to work with Australian Defence Force Members from 7RAR. The focus of the day is on teamwork and resilience, where students experience a number of activities conducted by military personnel. The excursion is offered as a reward for attendance and participation across all weeks of the program.
At the conclusion of the successful completion of the program, students participate in a graduation ceremony that is held at the Port Adelaide Football Club. Students' family and friends are invited to attend with the program's corporate and community partners to celebrate the success of their students.
Direct enquiries to Nathan Risitano, Youth Programs Coordinator, nrisitano@pafc.com.au
"The Empowering Youth Program has helped me gain confidence in myself and encouraged me to become a more social person. The program has also helped me to work hard at school and as a result gain work experience with the Port Adelaide Football Club. Participating in work experience has helped me gain a better understanding of myself, the role of the program coordinators and what amazing work the club does within the community." – Ebony, Empowering Youth participant
Program Partners
| | | |
| --- | --- | --- |
| | | |
| | | |