The Power Intercultural Program is designed to celebrate vibrancy of cultural diversity and expression, promote inclusion and build social cohesion by recognising the positive contribution of different cultures within Australia.
The program is delivered to both male and female secondary school students in Years 10 and 11 from schools across South Australia with large multicultural populations.
Sessions are delivered by current and past Port Adelaide Football Club players as well as female role models and are conducted over the first semester of 2018. Students are also eligible to complete 10 SACE credits for Integrated Learning upon completion of the program.
Topics include:
Exploring individual culture, Aboriginal culture and other cultures within the school community;

Developing an understanding of cultural differences;

Developing an understanding and skills of the game of Australian Rules Football.
As an extension to the program, schools are invited to attend the annual carnival day where students represent their school in a 9 a-side football competition and participate in additional
activities which include an interactive careers exhibition, a cultural dance station and AFL testing.
Students and families are also invited to attend a Port Adelaide Football Club game at Adelaide Oval with the opportunity to participate in the AFL curtain raiser and pre-game cultural performance which celebrates cultural diversity and social cohesion.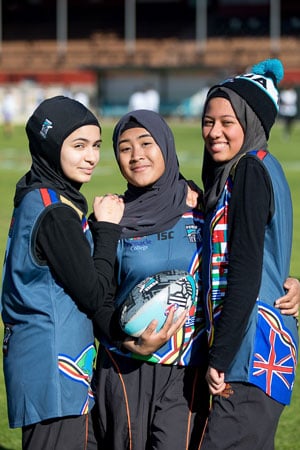 An open letter from Zahraa Al-Saraaf
The Power Intercultural Program has definitely changed me for the better. A stereotype about a female of my background is that she cannot do this, she doesn't have the capability to, and she is NOT ALLOWED to do this.
Yet here I am, writing about how the Power Intercultural Program has helped me with my identity and understanding who I truly am.
I had a life changing experience with the Port Adelaide Football Club earlier this year with becoming The Club's CEO for a day and I will never be the same after it because for once, I was in control. I got to walk around feeling proud and comfortable in my own skin.
I was making my parents proud of me, my family overseas talked about my experience for weeks and the Muslim community kept congratulating me for my success. I was the centre of attention and I found myself after this experience. I will forever be thankful towards the Port Adelaide Football Club for giving me the chance to discover my real identity.
The Power Intercultural Program has helped me with my own cultural awareness. I see my culture a lot differently than what I once did. I never thought that I would get the chance to do everything that the program has helped me achieve. I was never shy or quiet so this was my way to put myself out there, being the centre of attention helped me become a part of my community.
By extending the Power Intercultural Program students would have a lot more time to interact with other students. I personally made some friends in the half year that I was a part of this program and it's hard to face the fact that I probably won't see or be in contact with these friends anymore. If I had a year then I'd have been able to find a way to get in touch and talk about our new found interest in football.
I felt like I was a part of something bigger and for that half year that I was doing the multicultural program with Port Adelaide Football Club I was a part of a bigger family. If this extended to a whole year then I am certain that students would understand that being a part of a family/ community is a lot more heart-warming than some might think.
If I was given the choice to do this subject at school every year then yes! Sign me up please! Because why not. It'll go towards ones learning journey and then one day it might start to form a career path. After this program and the opportunities, I was given (CEO for a day), I feel as though I should restructure my future around a career path here.
It is usually rare for schools to interact with each other for fun activities. It is usually a science or career expo and so to have this as a reason to interact with other schools really opened my eyes. I don't walk around and see groups of schools all in one corner of a room, I see them interacting with other schools. Instead of seeing a cluster of blue uniformed students, I might see red and brown and green uniformed students, talking and laughing and just getting to know each other.
When I talk to my friends and we somehow run out of things to say we always sit and just recollect the memories we made when we had this program open. Inside and outside of the classroom, this memory has made something special between us.
Program partners: