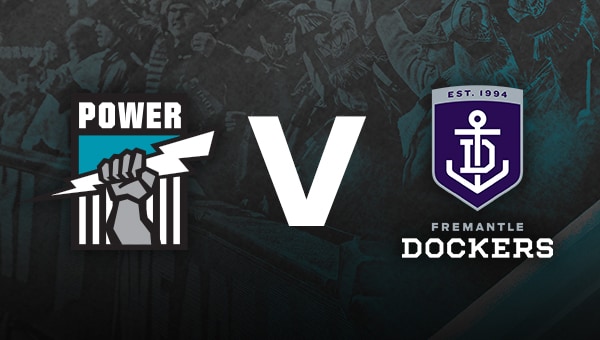 Sunday 25 August, 4.10pm, Adelaide Oval






Tickets
General admission daily tickets and premium reserved seats are available for this game. While you can purchase tickets at the gate, it's best to pre-buy. Head to Ticketek to secure your ticket to avoid disappointment. For pricing and a seating map, head to our tickets page.




General admission members
General admission members including 3-game, 6-game 11-game GA, country, flexi and interstate have access to this match, even if the game is declared a sellout.

General admission memberships are subject to capacity on the day. A minimum number of seats and standing room positions are always held for general admission members, but should this number be reached, no further general admission members will be able to enter the ground.

The club recommends general admission members arrive early to avoid disappointment.

Western stand guest passes are also available to purchase for Essential Platinum, Essential Gold and Adelaide Oval 22- game member via the Ticketek website.

NEW! Access your Membership via mobile ticketing! View instructions here.
Membership queries
If you have any questions in the lead up to the game, please don't hesitate to contact our member services department on 1300 GO PAFC or membership@pafc.com.au .


Gates open: 2:15pm
Player signing: 2:50 - 3:20pm (OAK Plus Fan Zone)
Player appearances: 3:20 - 3:50pm (Eastern Plaza)
March departs: 2.50pm
First goal of the game: 3:49pm
Team entry: 3:58pm
NTUA: 4:09pm
First Bounce: 4.10pm
Post match event: William Magarey Room, Level 3, Riverbank Stand
Kick 2 Kick: post game (weather permitting)
Bouncy castle, inflatable games and activities as well as voucher giveaways and thunder sticks!
Meeting Point: Gawler Place, Rundle Mall
Meeting Time: 2.30pm
March commence: 2.50pm
Arrive at Adelaide Oval: 3.10pm
What's happening in the South Plaza:
PAFC Membership tent
OAK Plus Fan Zone
The OAK Plus Fan Zone is back bigger and better this year! Take a photo with our player face cut outs, send a letter to your favourite player, play our very own PAFC Fooseball table or measure yourself up against the boys with a height chart, vertical and horizontal jump tester.
What's happening in the East Plaza:
McDonalds Power Playground
Specky inflatable, bouncy castle and handball target
DJ
What Roving activations will there be at the oval:
RAA Rangers
The RAA Rangers are back at all Port home games this year - keep an eye out for the bright folk in yellow!
Beats by:
This week's tunes playing at the oval have been hand picked by Paddy Ryder.
Social Media
Whether you're at the March, Fan Zones or in your seat at the game – we want to see game day through your eyes!

If you post any photos, statuses or tweets on social media on game day, make sure you use the hashtag #weareportadelaide to get your photo up on the big screen with our next generation 'fan-cam', Tagboard.

Keep a lookout for the GIANT "carnthepear" hashtag around the grounds. Take a photo with the hashtag and upload it to Instagram for your chance to appear on the big screen during the game!
Port Adelaide merchandise will be on sale at six different outlets at Adelaide Oval on game day.

There'll be three outlets located outside the grounds, with three more inside the stadium in the Western, Riverbank and Eastern stands.

Merchandise Outlets Round 23 opening times: 2.00pm
Merch stores inside and outside the oval
ROUND 23 GAME DAY SPECIAL
Up to 40% off merchandise!
* Offer only available at Adelaide Oval merchandise outlets on the 25th of August. No further discount applies.

The Port Store at Alberton is also open for all Power home clashes this season for supporters to pick up merchandise before the game.

Port Store Round 23 opening times:
Friday: 9am - 5pm
Saturday: 9am - 5pm
Sunday: 11am - 5pm


Parking, transport and security
Security
Adelaide Oval patrons are being advised to arrive early for all future events due to an increase in security measures.

Additional security staff and search technology will be present at entrance gates and other key locations by the Adelaide Oval Stadium Management Authority. Patrons are being asked to remember five key things ahead of their next visit to Adelaide Oval:

1. Arrive early: Increased security measures will have an impact on the time taken to admit patrons into the stadium. Please allow an extra 20 minutes and don't leave your arrival to the last minute.
2. Be patient: Security inspections take time, so please understand it will likely take a little longer to move people into the stadium.
3. Limit the number of bags you bring: Each bag has to be inspected, so the more you bring the longer it will take. Please prepare your bags for inspection by staff.
4. Cooperate with staff at all times: Adelaide Oval's security and event staff are doing an important job, so please help them by being cooperative at all times.
5. Be the stadium's eyes and ears: If you see something you think is suspicious, immediately inform Adelaide Oval staff or police.
Adelaide Oval - Card ONLY
Adelaide Oval wish to advise patrons that food and beverage outlets now accept payment by card only. This assists with speed of service and also reflects the strong consumer trend towards increased use of 'tap and go' payment facilities. All credit, debit and EFTPOS cards are accepted and all are exempt of surcharges. Patrons attending Adelaide Oval with cash only will be able to exchange it for a complimentary 'Cash Card' via Card Exchange booths located around the stadium. Any un-used 'Cash Card' credit can be used at future events or redeemed in full at any time.
Festival Plaza Redevelopment
If you're heading to the footy at Adelaide Oval this weekend, here are some tips to help you get around during the Festival Plaza redevelopment:
- Allow extra time - arrive at least one hour before the game
- If you're arriving by train, the northern entrance of the Adelaide Railway Station will be closed. Please use the North Terrace exit instead or better yet, join us on the March down King William Road!
- The shortcut via Station Road is also currently closed

Road Closures
War Memorial Drive will be closed from several hours before the game starts.

For further information about road closures and parking restrictions, please see here.

Parking
There is extremely limited parking available at Adelaide Oval. However, the club has partnered with UPark to offer members a bargain season footy parking pass at selected UPark locations, starting at just $88 – click here for more info.
Adelaide Oval Parking:
Open from 3:45pm – Due to recent wet weather casual parking will be very restricted
East Car Park: Adelaide Oval permit parking only – No casual parking
North Car Park: Adelaide Oval permit parking – No casual parking
Oval #2 Car Park: Adelaide Oval permit parking – Very limited casual parking
University Lane: Very limited casual parking
Permit and disabled parking will also be available at the Torrens Parade Ground.


Transport
Your Membership or game ticket is also your ticket to FREE travel on dedicated Game Changer Footy Express bus, train and tram services.
Game Changer Footy Express services make things easy for you and will get you to and from the game safely and conveniently. So leave the car at home and get a free ride to the game.
Travelling home on the tram? Go the Festival Plaza stop on King William Road for trams to Glenelg and the Adelaide Railway Station stop on North Terrace for trams to the East End or Entertainment Centre.
View the Game Changer Footy Express timetable here.