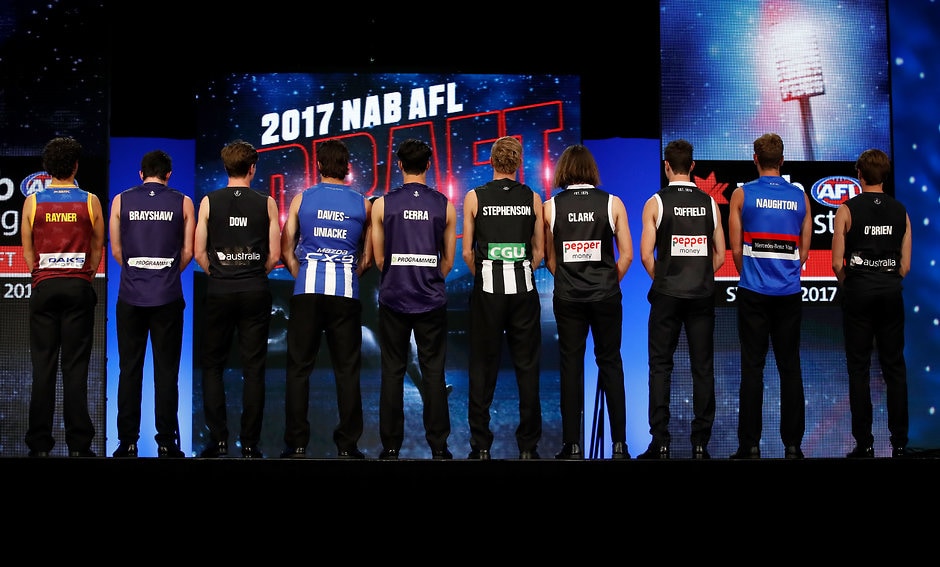 This story originally appeared on afl.com,au.
THE FIRST 10 picks of this year's NAB AFL Draft have been locked in ahead of October's trade period.
The Blues will have the pick of the crop with the No.1 choice, with midfielder Sam Walsh and key forward Jack Lukosius the leading candidates to be the prized selection.
Adelaide has two first-round selections – its own pick at No.7 and its second tied to Melbourne's finishing position – while Gold Coast's compensation pick is also expected to come in at No.3 overall.
Port Adelaide's dismal end to the season sees it hold the No.9 pick, and it could have another early selection if North Melbourne's top pick (No.10 overall) is involved in a trade for Jared Polec.
There may be slight changes to the order if priority picks are awarded.
The Blues and Suns are also active in the second round, with both clubs holding two picks in that section of the draft.
For this first time, clubs will this year be able to trade draft picks during the event.
Indicative draft order after the home and away season
ROUND ONE

CARL

1. Carlton

GCFC

2. Gold Coast

STK

3. St Kilda

BL

4. Brisbane

FRE

5. Fremantle

WB

6. Western Bulldogs

ADEL

7. Adelaide

ESS

8. Essendon

PORT

9. Port Adelaide

NMFC

10. North Melbourne

GEEL

11. Geelong

GWS

12. Greater Western Sydney

SYD

13. Sydney

ADEL

14. Adelaide (received from Melbourne)

HAW

15. Hawthorn

COLL

16. Collingwood

GCFC

17. Gold Coast (received from West Coast)

RICH

18. Richmond
ROUND TWO

ADEL

19. Adelaide (received from Carlton)

WCE

20. West Coast (received from Gold Coast)

PORT

21. Port Adelaide (received from St Kilda)

BL

22. Brisbane

GWS

23. Greater Western Sydney (received from Fremantle)

CARL

24. Carlton (received from Western Bulldogs)

CARL

25. Carlton (received from Adelaide)

GCFC

26. Gold Coast (received from Essendon)

PORT

27. Port Adelaide

NMFC

28. North Melbourne

GCFC

29. Gold Coast (received from Geelong)

ESS

30. Essendon (received from Greater Western Sydney)

SYD

31. Sydney

MELB

32. Melbourne

HAW

33. Hawthorn

SYD

34. Sydney (received from Collingwood)

WCE

35. West Coast

RICH

36. Richmond
ROUND THREE

ADEL

37. Adelaide (received from Carlton)

GCFC

38. Gold Coast

NMFC

39. North Melbourne (received from St Kilda via on-trades)

BL

40. Brisbane

GCFC

41. Gold Coast (received from Fremantle)

WB

42. Western Bulldogs

MELB

43. Melbourne (received from Adelaide)

GWS

44. Greater Western Sydney (received from Essendon)

PORT

45. Port Adelaide

PORT

46. Port Adelaide (received from North Melbourne)

GEEL

47. Geelong

GWS

48. Greater Western Sydney

COLL

49. Collingwood (received from Sydney)

MELB

50. Melbourne

HAW

51. Hawthorn

COLL

52. Collingwood

NMFC

53. North Melbourne (received from West Coast)

GEEL

54. Geelong (received from Richmond)
ROUND FOUR

GEEL

55. Geelong (received from Carlton)

GEEL

54. Geelong (received from Gold Coast)

STK

57. St Kilda

BL

58. Brisbane

WB

59. Western Bulldogs (received from Fremantle)

WB

60. Western Bulldogs

STK

61. St Kilda (received from Adelaide via on-trades)

ESS

62. Essendon

STK

63. St Kilda (received from Port Adelaide)

NMFC

64. North Melbourne

CARL

65. Carlton (received from Geelong)

GWS

66. Greater Western Sydney

SYD

67 Sydney

ADEL

68. Adelaide (received from Melbourne)

WCE

69. West Coast (received from Hawthorn)

COLL

70. Collingwood

WCE

71. West Coast

RICH

72. Richmond
ROUND FIVE

CARL

73. Carlton

GCFC

74. Gold Coast

STK

75. St Kilda

BL

76. Brisbane

FRE

77. Fremantle

WB

78. Western Bulldogs

ADEL

79. Adelaide

ESS

80. Essendon

PORT

81. Port Adelaide

NMFC

82. North Melbourne

GEEL

83. Geelong

GWS

84. Greater Western Sydney

SYD

85. Sydney

MELB

86. Melbourne

HAW

87. Hawthorn

COLL

88. Collingwood

WCE

89. West Coast

RICH

90. Richmond
AFL DRAFT VALUE INDEX
| ROUND ONE | ROUND TWO | ROUND THREE | ROUND FOUR | ROUND FIVE |
| --- | --- | --- | --- | --- |
| Pick/Pts | Pick/Pts | Pick/Pts | Pick/Pts | Pick/Pts |
| 1. 3000 | 19. 948 | 37. 483 | 55. 207 | 73. 9 |
| 2. 2517 | 20. 912 | 38. 465 | 56. 194 | 74. - |
| 3. 2234 | 21. 878 | 39. 446 | 57. 182 | |
| 4. 2034 | 22. 845 | 40. 429 | 58. 170 | |
| 5. 1878 | 23. 815 | 41. 412 | 59. 158 | |
| 6. 1751 | 24. 785 | 42. 395 | 60. 146 | |
| 7. 1644 | 25. 756 | 43. 378 | 61. 135 | |
| 8. 1551 | 26. 729 | 44. 362 | 62. 123 | |
| 9. 1469 | 27. 703 | 45. 347 | 63. 112 | |
| 10. 1395 | 28. 677 | 46. 331 | 64. 101 | |
| 11. 1329 | 29. 653 | 47. 316 | 65. 90 | |
| 12. 1268 | 30. 629 | 48. 302 | 66. 80 | |
| 13. 1212 | 31. 606 | 49. 287 | 67. 69 | |
| 14. 1161 | 32. 584 | 50. 273 | 68. 59 | |
| 15. 1112 | 33. 563 | 51. 259 | 69. 49 | |
| 16. 1067 | 34. 542 | 52. 246 | 70. 39 | |
| 17. 1025 | 35. 522 | 53. 233 | 71. 29 | |
| 18. 985 | 36. 502 | 54. 220 | 72. 19 | |