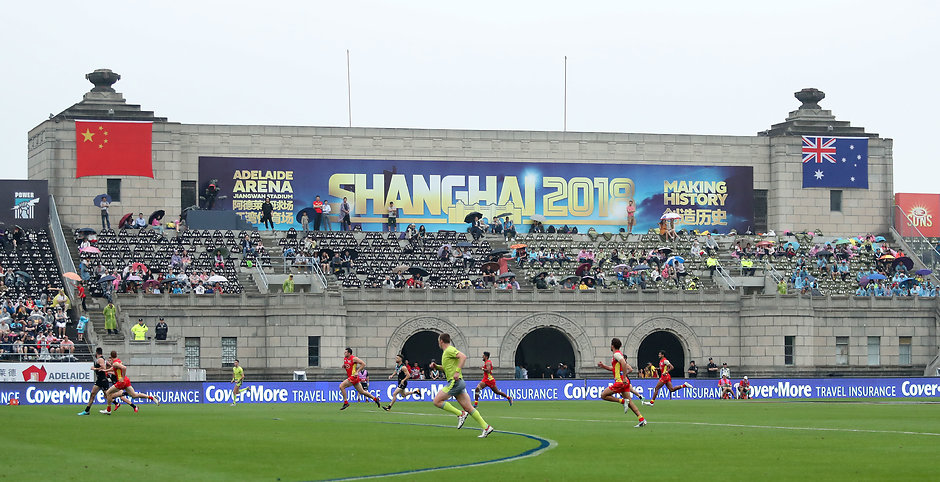 In a further boost to Port Adelaide's China strategy the South Australian State Government today announced it would continue naming rights for the club's 2019 game in Shanghai against St Kilda.
This announcement means the ground will be officially called Adelaide Arena at Jiangwan Stadium.
This boost comes only days after the AFL and the Victorian State Government confirmed ongoing support for the game and that St Kilda will be Port Adelaide's opponent in Shanghai for at least the next three years.
Port Adelaide chief executive Keith Thomas and South Australian Premier Steven Marshall confirmed the partnership at a media conference today in Adelaide's Chinatown.
"We are very excited to be partnering with the South Australian State Government as we head to Shanghai again in 2019," Mr Thomas said.
"For our club to be playing on Adelaide Arena at Jiangwan Stadium and representing the city of Adelaide internationally is something we are very proud of.
"We like to think of Adelaide Arena at Jiangwan Stadium as our home away from home and it's another meaningful way of bringing two cities and two cultures together which is at the heart of our China strategy.
"In May this year the game was another sell out with more than 5,000 South Australians travelling to Shanghai for the game and we expect another sell out in 2019 with interest from St Kilda's supporters already positive.
"This year's game was one of the most watched games in AFL history and we look forward to building on that audience again in 2019 with South Australia's brand, through the naming rights Adelaide Arena, receiving great exposure."
South Australian Premier Steven Marshall says the State Government is thrilled to support Port Adelaide's game in Shanghai.
"The State Government is delighted to support this magnificent event, with the stadium in Shanghai again to be known as the Adelaide Arena for the Port Adelaide v St Kilda game in China," said Premier Marshall.
"I was in China for the Port Adelaide v Gold Coast game in 2018 and it was a pleasure to not only attend the match but also to see firsthand the strong trade ties and business activity generated by the China game.
"We want to see this continue to grow year on year, so that the export opportunities between China and Australia can develop even further, resulting in more investment and more jobs, along with more Chinese tourists coming to visit Adelaide and the regions of South Australia.
"It's crucial that we foster these trade opportunities with our key trading partner, and we've already seen the success that comes with building our cultural ties with China through sport.
"Congratulations to the Port Adelaide Football Club for continuing to invest in the China game and well done to all the South Australian companies who are leveraging the export opportunities with China that have flowed from this game."
All information on ticketing and travel packages for the game can be found at www.shanghai2019.com.au
More from portadelaidefc.com.au...