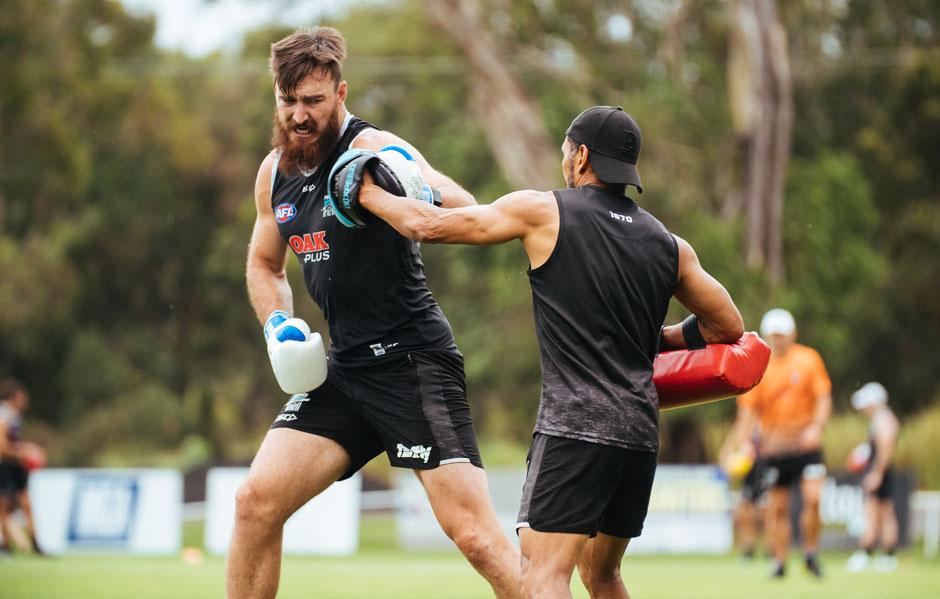 CHARLIE DIXON is set to return to on-ground running over the Christmas break with the rehabilitation of his right leg progressing well.

The Power forward has spent the past four months on a strict rehab program managing the recovery of a season-ending leg fracture sustained in Port's Round 21 clash last season.

Dixon's progressed to anti-gravity running while in Noosa for the Power's pre-season camp and is looking forward to moving one step closer to his football return with some light on-ground running over the break.

WATCH: CHARLIE DIXON PRESS CONFERENCE

"I've only done some 'Alter G' (anti-gravity treadmill running) which was a couple of days ago, and I'm a little bit ahead of where I was at," he said in Noosa on Sunday afternoon.

"I had a 45 minute on and off run…[there was] no pain anywhere in the leg or knee or anything like that, which is good.
"I'm hoping to do a bit [on-ground running] during the break around New Years time - I'll be doing some walk-jogs which should be good."

While the main group is put through their paces in Noosa with gruelling full training sessions and running, Dixon's been pulling his weight in the rehab group, hitting the gym and pool on a modified program.

On Sunday he hit the track with his teammates, showing good signs in light kicking and intense solo boxing session.

But his eye remains on the prize – running – and he's aware of the work that's ahead in order to be football-fit for season 2019.

"I always try to ease back in the gym when I can't run, but with what I'm doing – whether it's boxing and gym and swimming, it ends up building the upper body and getting bigger," he said.

"I've got to try and shed that one back once I'm running around, which won't be too hard.

"For the first few weeks, I'll be at the back of the pack but will hopefully get it going after that."
More on portadelaidefc.com.au...