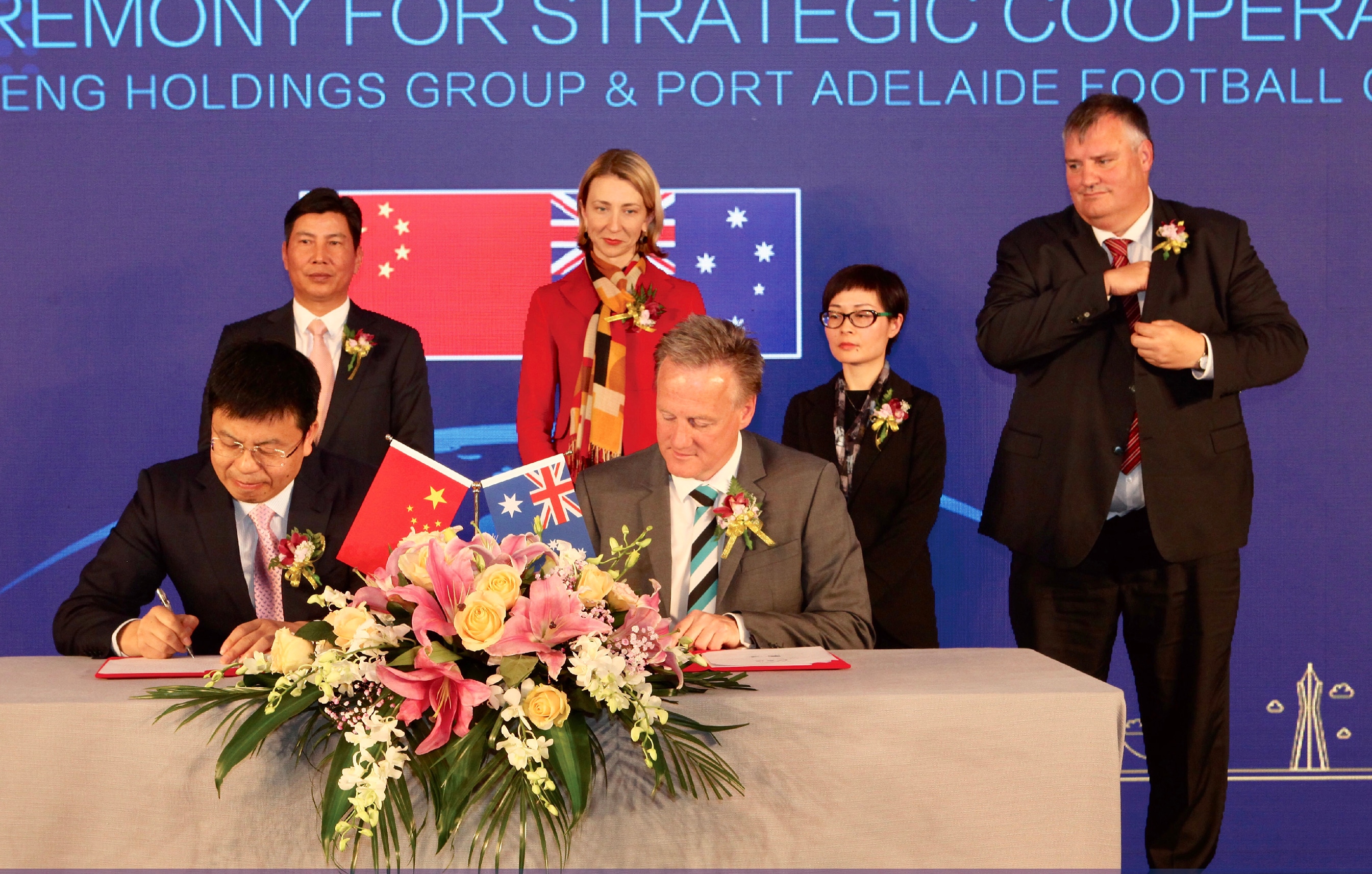 Port Adelaide has signed a five-year partnership with the Jincheng Holding Group, a real estate, health and education group headquartered in China's Zhejiang Province.
Jincheng Group also owns Entel Education Group, which consists of several schools and kindergartens who educate more than six thousand students across China.
Port Adelaide's partnership with Jincheng will see both organisations working together to deliver significant educational outcomes for Chinese students here in Australia.
Power Footy, a program that includes weekly football lessons and digital materials produced by Port Adelaide regarding the unique aspects of Australian culture, is already being delivered to high school students that attend schools owned by Jincheng Group to prepare those students for life in Australia.
Port Adelaide chief executive Keith Thomas says the partnership maintains the club's successful, non-traditional engagement with key Chinese stakeholders.
"This agreement with Jincheng is not a standard sport sponsorship, but it does reflect Port Adelaide's desire to always search for meaningful ways to maximise the club's ability to encourage positive community outcomes," Mr Thomas said.
"International education is vitally important to the Australian economy. By helping international students to successfully transition into life in Australia, we believe they will enjoy their study experience more. By helping to provide meaningful social connection through football and broader community activities, we believe these students will become long term advocates for Port Adelaide and South Australia."
Mr Thomas explained that there is often great pressure on international students coming to Australia and they can feel "lonely and isolated".
"Our China-based Power Footy program helps prepare these students for their transition to Australia, and support them once they arrive," he said.
"This is an important piece in Port Adelaide's aspiration to align its engagement with China with international education. Sport is an important aspect of a young person's life, and can have positive social, health, and educational outcomes.
"We aspire to be involved in the full cycle of Chinese students in Adelaide, helping them prepare for life in Australia prior to arrival, providing social and work experience opportunities whilst studying in Australia, and maintaining the connection with alumni after they graduate. We want these students to have a life-long relationship with Port Adelaide."
The Jincheng Group, who has annual group turnover of AUD$2.4 billion and group assets of AUD$4 billion, has more than 5000 employees across China.
Jincheng Group Chairman Mr Wu Wanglou said he was equally delighted to partner Port Adelaide.
"When I visited Australia in August, I was deeply impressed by Port Adelaide Football Club and imagined the potential of working with them to provide a unique opportunity for our students," Mr Wu said.
"The idea of providing programs to prepare our students for life in another country, services that enhance their experience as international students in an elite Australian university, and internships and job opportunities after graduation, is a compelling proposition."
Port Adelaide will make further announcements about this partnership in the new year.