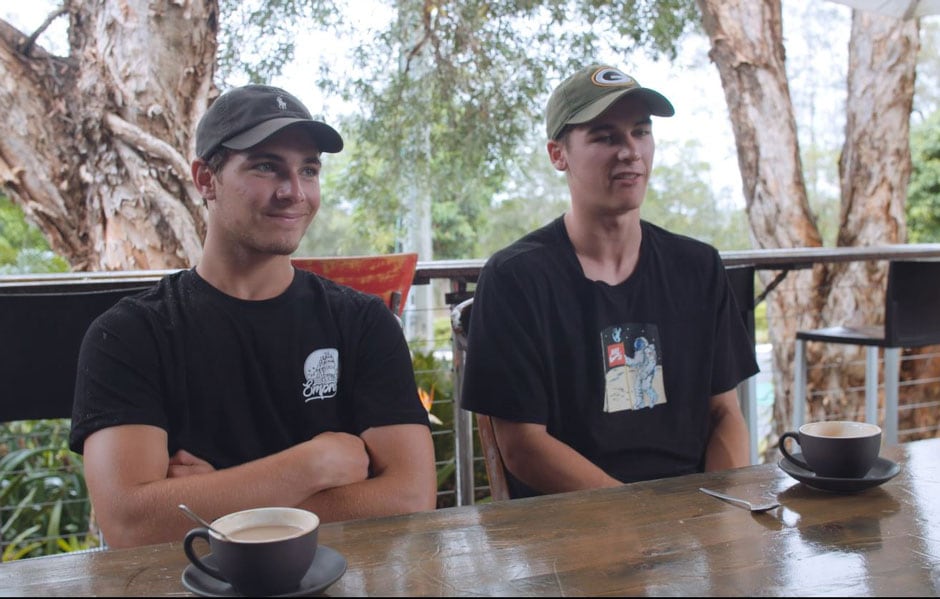 Boyd Woodcock knew Connor Rozee was going to be a good player, even before the pair were teenagers.
As teammates in a North Adelaide Football Club under 13 development squad, Woodcock and Rozee were drawn together because they had each moved to Adelaide from the country – Woodcock from the Yorke Peninsula and Rozee from Port Augusta – to further their chances of making a career out of football.
"He was always a gun and obviously still is now so he was pretty easy to notice," Woodcock told portadelaidefc.com.au of the first time he saw Rozee.
"He was captain that first year through under 13s as well, and through the age groups as we moved up, we were always captain or vice-captain and in leadership groups together."
At junior club Broadview, the pair won a premiership in the Under 15s.
It was a difficult time navigating teenage life away from their regional homes but, for Rozee, having mates like Woodcock made it easier.
"There were a few of us that had come down from the country and we also played our club footy together as well so we had a fair group of boys that played for Broadview, our local club as well," he said.
"So we had a pretty tight group out at North Adelaide which made it easier on the field but we were pretty close off it."
As they progressed up the age groups with the Roosters they both excelled.
Representing South Australia at the Under 16 AFL National Championship in 2016, Rozee won the Kevin Sheehan Medal as player of the tournament, as his side took out the title.
Woodcock booted three goals in the deciding game as the Croweaters went through the tournament unbeaten.
In 2017, he then won the McCallum Tomkins Medal as the best player in the SANFL under-18 competition playing primarily as a midfielder.
"I think he's changed a fair bit in the last few years," Rozee said of Woodcock.
"We both came up as midfielders but he's been able to show he can go forward and play a few different roles under Josh Carr last year, especially coming into finals, he got chucked on a few players and can shut down a player and also hit the scoreboard as well so I think he's very valuable."
In 2018, both Woodcock and Rozee were selected to play for South Australia in the national Under 18 Championship, and both didn't necessarily stand out.
But in the back end of the season, both got their chance to play league football at North Adelaide under former Port Adelaide premiership player Josh Carr, and both caught the eye of AFL recruiters as the Roosters went from wooden spooners in 2017 to Premiers.
"It was obviously something we didn't think of at the start of the year, finishing bottom the previous year so just to make finals and play a finals senior game was a pretty awesome feeling," Rozee said.
"But to go all the way, every game was a knockout so to go all the way with Boyd and a couple of the other young boys, it's a pretty special moment, I think we'll remember it forever."
Rozee's form saw him catapulted up the AFL draft predictions, and he ended up being claimed at Pick 5 by Port Adelaide.
He was in Melbourne to get presented with his Power guernsey by inaugural Power captain Gavin Wanganeen.
Woodcock's future was not so certain. He knew he had finished the season strongly, including his three goals in the SANFL grand final.
But he wasn't sure he had done enough.
When Port Adelaide called his name with Pick 76, he didn't even notice he would get to stay in Adelaide with Rozee.
He said the thought of staying together hadn't even crossed his mind.
"Obviously we knew Connor was going to be drafted but we didn't know where," Woodcock said.
"I didn't know if I was going or not so we didn't really talk about it, so to be here today (together) is extraordinary.
"I think my girlfriend was the one who noticed it first to be honest. She said, 'oh good, me and Sophie (Rozee's girlfriend) can hang out a bit more'."
Rozee watched the second day of the draft in a coffee shop with some of his South Australian teammates who had already been selected.
He said a cheer went up when Woodcock's name was called, and it was a thrill to know they would be together at the Power.
Woodcock is equally happy to get his AFL chance with Rozee.
"I think the best thing about Connor is his versatility and his ability to play at either end of the ground and through the midfield as well," he said.
"He played a backline role for North Adelaide where he really stepped up and used his marking ability and speed to really push himself up that draft board.
"He'll be a gun for sure."
More on portadelaidefc.com.au...