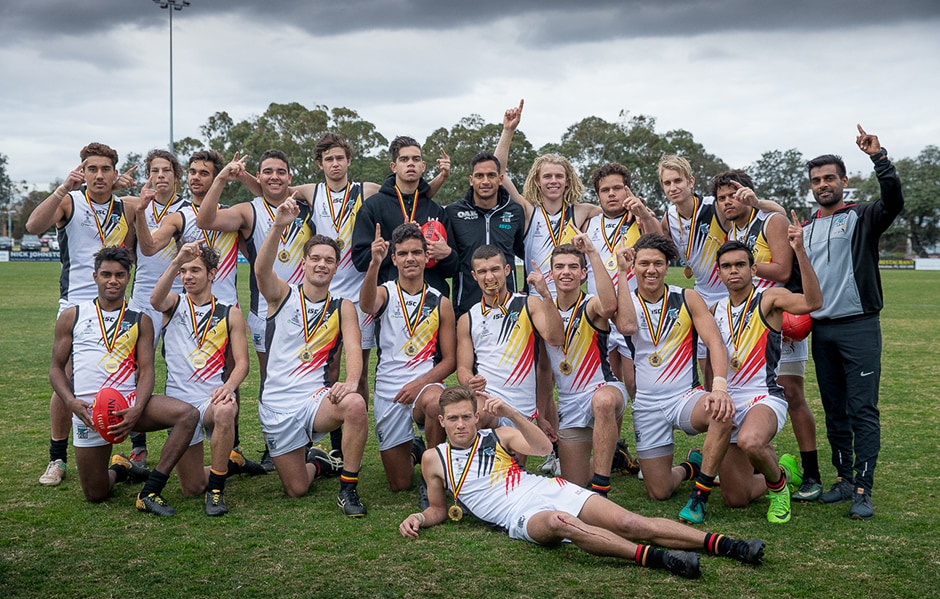 WANGANEEN, Burgoyne, Pickett, O'Loughlin, Wells and Betts. No, it isn't an AFL Indigenous All-Stars squad, it's a selection of the names you will find in Port Adelaide's Aboriginal AFL Academies in 2019.
In its five years, five players from the Aboriginal AFL Academy have been drafted by AFL clubs including Wayne Milera (Adelaide), Kym Lebois (Carlton), Tyson Stengle (Richmond/now Adelaide), Brandan Parfitt (Geelong) and Izak Rankine (Gold Coast).
In 2018, Port Adelaide launched its Women's Aboriginal AFL Academy, achieving great success with its inaugural intake of year 11 and 12 students.
The Academy was the latest addition to the club's suite of industry-leading programs for Aboriginal students, which focus on providing a quality educational experience for participants.
It also provides participants with a chance to refine their football skills with craft sessions.
Up until now, students completed a Certificate III in Fitness, which provided 100 SACE credits. From 2019, students will be able to complete Stage 2 Aboriginal Studies, along with a Certificate III in Sports and Recreation and/or Cross Disciplinary Studies (Sports Science).
Among those in the Academy in 2019 are Kysaiah Pickett - the nephew of Port Adelaide premiership player and Norm Smith Medallist Byron Pickett. Kysaiah Pickett is currently in the Level 2 AFL Academy, the South Australian State Development Program and is highly rated by AFL clubs to be drafted in 2019.
Another highly rated draft prospect, but not until 2020, is Isiah Dudley who is also part of the South Australian State development program while Tyrone Milera, who plays club football with Central District, could join his brother Wayne as a graduate of the Academy on an AFL list.
Deacon Braun from Alice Springs who was awarded Northern Territory's MVP from the Under 16s National Carnival in 2018 is also part of the Academy.
The Women's Aboriginal AFL Academy has retained many of its year 11 students from 2018, including Academy captain Lauren Pickering and her twin sister Haley.
It includes highly rated Northern Territory talent Molly Althouse who won the NT Football League Grand Final and was best on ground for the Darwin Buffettes. She was part of the NT Thunder Women's Academy and was part of the Immanuel College Open Girls side which won the grand final in 2018, while boarding at the college.
Kerryanne Rankine, who was part of the Academy in 2018 will continue on, looking to emulate her recently drafted brother Izak Rankine, while Tesharna Maher, daughter of former AFLW player Bronwyn Davey and niece of former AFL stars Aaron and Alwyn Davey is touted to be a potential AFLW draftee in 2020.
See the full squads below.
Aboriginal AFL Academy 2019
| | | |
| --- | --- | --- |
| | First name | Surname |
| 1 | Donald | Aitken |
| 2 | Gary | Betts |
| 3 | Deacon | Braun |
| 4 | Caleb | Burgoyne |
| 5 | Ronald | Carbine |
| 6 | Isiah | Dudley |
| 7 | Joseph | Egan |
| 8 | Leonard | Ferriera |
| 9 | Clifton | Finlay |
| 10 | Xavier | Grant |
| 11 | Sean | Henderson |
| 12 | Aiden | Hocking |
| 13 | Kynan | Kenny |
| 14 | Jeremy | Last |
| 15 | Anzac | Lochowiack |
| 16 | Tyrone | Milera |
| 17 | Neil | Milera |
| 18 | Tarqiun | Newton |
| 19 | Ricky | O'loughlin |
| 20 | Kai | Rankine |
| 21 | Kysaiah | Pickett |
| 22 | Connor | Sampson |
| 23 | Callum | Saunders |
| 24 | Jordan | Serle |
| 25 | Pheonix | Spicer |
| 26 | Jordan | Tippins |
| 27 | Jeremy | Wanganeen |
| 28 | Nasiah | Wanganeen |
| 29 | Lowen | Welch |
| 30 | Mani | Welch |
| 31 | Leonard | Wells |
Women's Aboriginal AFL Academy 2019
| | | |
| --- | --- | --- |
| | First name | Surname |
| 1 | Milla | Austin-Abdulla |
| 2 | Molly | Althouse |
| 3 | Paige | Binning |
| 4 | Tamia | Blackwell |
| 5 | Shakira | Bilney |
| 6 | Shazna | Chester-Campbell |
| 7 | Bilee Jaye | Franey |
| 8 | Shantaria | Fielding |
| 9 | Samyde | Forbes |
| 10 | Debra | Goldsmith |
| 11 | Makayla | Hansen |
| 12 | Tyarna | Hansen |
| 13 | Paige | Harrison |
| 14 | Chloe | Jenkins |
| 15 | Colleen | Karpany |
| 16 | Tesharna | Maher |
| 17 | Shekayla | Major |
| 18 | Shahleena | Martin |
| 19 | Lynarha | Newchurch |
| 20 | Taylor | Newchurch |
| 21 | Illara | O'Loughlin |
| 22 | Afton | Penrith |
| 23 | Haley | Pickering |
| 24 | Lauren | Pickering |
| 25 | Kerryanne | Rankine |
| 26 | Jocelyn | Shilling |
| 27 | Timiesha | Simpson |
| 28 | Jessie | Smith |
| 29 | Jakirah | Telfer |
| 30 | Joyce | Webb |
| 31 | Tyiesha | Wanganeen |
| 32 | Tesha | Wanganeen |