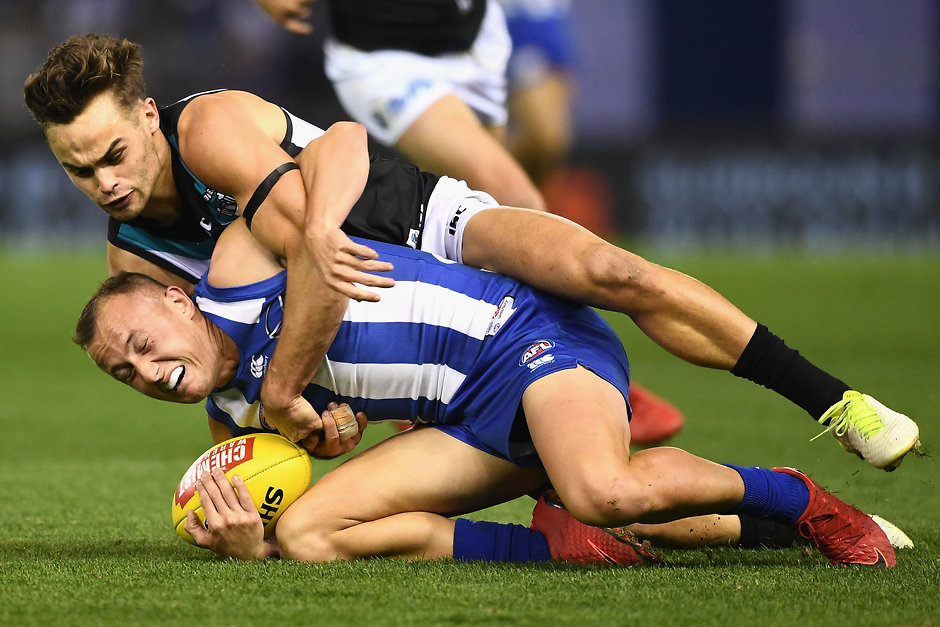 PORT ADELAIDE midfielder Karl Amon has put a knee injury and talk of an off-season trade behind him and is eager to cement himself in the Power side in 2019.
Amon, 23, had surgery in the post-season to correct a lateral meniscus tear in his right knee.
The classy left-footer admits his knee issues were worrying him for the last 18 months but says he feels great now – demonstrating his fitness by finishing among the leaders in Port's post-Christmas time-trial at Alberton Oval on Friday.
"I've sort of just got confidence in my body and in my knee so I like to think I'm in pretty good condition," he said during an interview on Adelaide radio program SEN SA Breakfast.
"My body is right, and the other boys are flying as well.
"Jack Trengove is a really good runner and won the first time trial…. so he's breathing down my neck.
"There's also a new draftee in Kai Pudney who I think is going to give me a good test."
After managing just six AFL games in 2018 despite good form in the SANFL, Amon was considering a trade to another club to seek more opportunity.
A trade never eventuated and that has just increased his motivation to break into the Power side.
"Ken (Hinkley) and I had some honest conversations towards the end of the season last year and we sort of came to the conclusion that if there was an opportunity elsewhere, especially back home, that both parties would look at it and we were comfortable in talking about that and seeing what was out there," Amon admitted.
"But the fact that I'm back here, I'm happy here as well. I'm lucky enough to have another contract for this year.
"I was thinking that (it might be awkward coming back) towards the end of the off-season but it was like nothing really happened.
"It's a great group of boys here and great coaches so they were always welcoming, it was like nothing was really spoken about so it was pretty easy coming back."
While he has already achieved one goal of getting his body right, the fleet-footed wingman is now targeting making a big impression on the Power's fresh coaching group ahead of the JLT Community Series and Round 1 of the AFL Premiership Season.
"In terms of goal setting, it's just about putting my right foot forward and improving and trying to get a spot in the team pretty early, and then trying to cement that spot for the rest of the year."