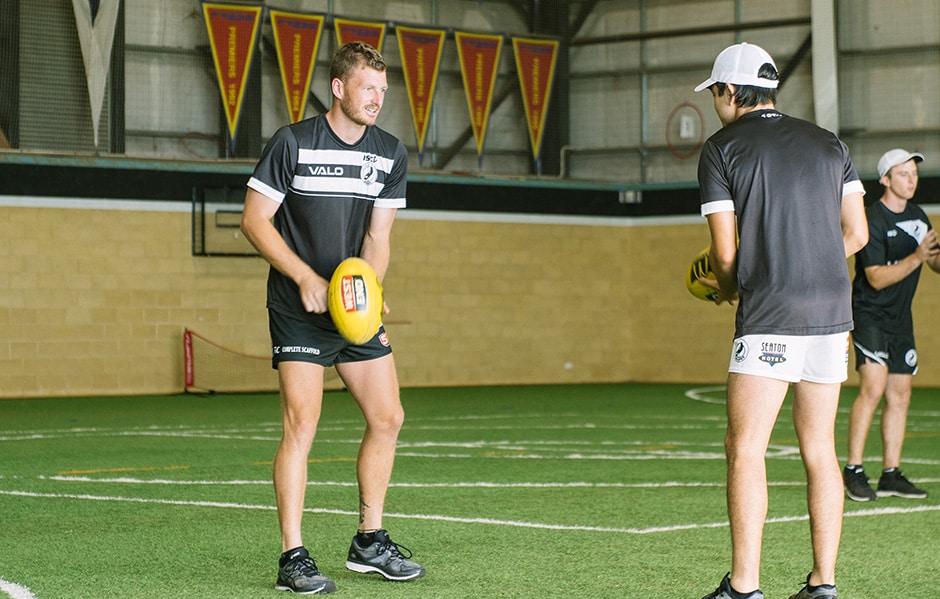 NEW Port Adelaide SANFL recruit Matt Appleton is vowing to prove his worth at league level for the Magpies, channelling the disappointment of missing North Adelaide's 2018 premiership.
Appleton played 15 of the Roosters' 18 minor round games in 2018, but was dropped to the Reserves in the finals, watching on as his teammates achieved premiership glory.
The 25-year-old was part of the Roosters team which won the Reserves flag on the same day.
"I was happy winning a flag with the twos but it was also disappointing having played 15 of the 18 league games during the year and then getting dropped coming into the finals," he told portadelaidefc.com.au after joining Port Adelaide in the off-season.
"I still have a lot of close mates there at North but I am hoping to bring some of that success across and prove a point at league level, and then hopefully win a premiership for this great club.
"It's a great club with a lot of history and culture."
Appleton has grown up knowing success. He was the Alan Steward Medallist as best afield in the 2012 Under 18 Grand Final, playing for Woodville-West Torrens, and was also part of the Eagles' 2014 Reserves premiership side.
In 2015, he was named a joint winner, with Norwood's Dylan Reinbrecht, of the Reserves Magarey Medal, after each polled 16 votes.
"We only played a handful of games in the twos but we were lucky enough to play well enough in those games to win it," Appleton explained.
"I have been in and out of the league sides a bit over the last few years so hopefully I can cement myself in the league team with Port Adelaide, obviously depending how many AFL lads we've got coming in, but I'm looking to play as many games as possible this year.
"I'm here to play league footy, but I understand the way it works.
"It'd be disappointing if you were having a good run and got pushed out of the side but we know they're first in line."
Originally from the Moonta Football Club on Yorke Peninsula, Appleton is among at least six new faces on Port Adelaide's SANFL contracted list.
He said knowing the club's SANFL manager Shane Grimm and new leadership player Cam Sutcliffe has helped the transition.
"Shane Grimm used to coach me, and I knew Cam Sutcliffe who was a previous teammate and we played a bit of footy together.
"I played with Cam and Jack Elsworthy at the Eagles, and Lachie Smith as well in the juniors and we all had some success there.
"Me, Jack and Lachie played in a reserves flag there so we hope to bring that winning culture back to Port Adelaide.
"I also think I can show some leadership in a relatively new team and I think the individualised program here will help me better my game."
Appleton is eager to endear himself to Magpies supporters, starting with the side's first pre-season trial match against South Adelaide on Friday 8 March.
He has described himself as a quick and hard-at it midfielder who loves to get the ball.
"My hands around the contest," he said.
"I'm pretty clean when I get the ball and I think I use the ball well as well.
"I've got a bit of toe about me sometimes as well so I just look to get the footy and be clean with it and get away from the stoppage quickly."