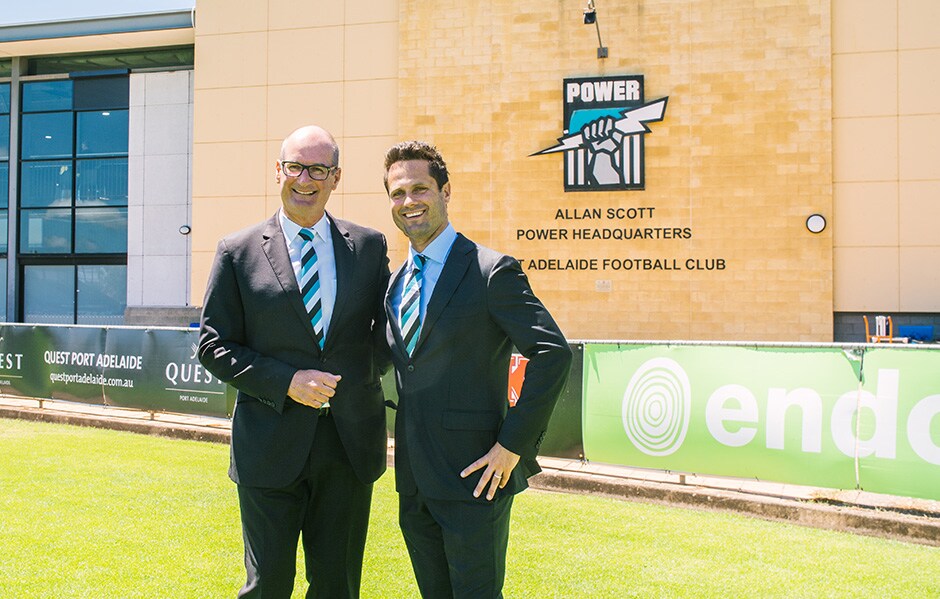 AS a 12-year-old Gavin Wanganeen made a decision to jump on a bus in Adelaide's northern suburbs to take him to football training with the Port Adelaide Football Club at Alberton Oval.
Little did he realise then just how far that decision would take him.
A superstar of the game, Wanganeen became the first Aboriginal player to win the Brownlow Medal at age 20 in 1993, following that up with a premiership with Essendon days later.
He returned to Port Adelaide to become the club's inaugural AFL captain in 1997, and soon became the first Aboriginal player to reach 300 AFL games.
Now, aged 45, Wanganeen is again blazing a trail for Indigenous Australians by becoming the first Aboriginal former player to join an AFL club board with his election to Port Adelaide's board of directors.
"Many years ago I was the first Indigenous player to win a Brownlow Medal and then the first Indigenous player to play 300 games," Wanganeen said during a press conference on Friday.
"And now to be the first Indigenous past player board member, you know there's a lot of first there but it's something I'm extremely proud about.
"Indigenous numbers in this great game of ours have been pretty high for a number of years - somewhere around the ten or eleven percent I think - so to see those percentages go up and spread into other areas of the AFL I think is really important and hopefully this is a path going forward for the next generation."
Wanganeen was chosen by members in an independent election process.
It is the latest incredible achievement for the man who began his senior career winning a SANFL premiership with Port Adelaide as a 16-year-old and bookended it with the club's historic first AFL premiership in 2004.
"I remember jumping on a bus on Monday and Wednesday at 5pm, a bus that our dear Bobby Clayton - a legend of this club - provided for the juniors in the northern suburbs, I jumped on that bus and little did I know how far it would take me - just that decision to jump on that bus," Wanganeen said during a press conference on Friday.
"In the blinking of an eye, your footy career goes so fast and now that I'm out of the game… I've watched the club as a fan.
"As a past player who has experienced success on the biggest stage, and winning premierships, that's an inner deeper passion of mine and I thought it was time to seriously think about nominating for the board and going into an environment where I was able to make a significant contribution to my club going forward."
Wanganeen replaces one of his SANFL premiership teammates, George Fiacchi on the board.
After winning seven SANFL premierships, Fiacchi was instrumental in reuniting the SANFL and AFL arms of the club and spent six years on the board as a member-elected director from 2012.
Wanganeen said it was difficult to come up against Fiacchi and the other two candidates, who he said each carried valuable experience.
Wanganeen played 300 AFL games, including 173 for Port Adelaide, between 1991 and 2006.
He is a renowned artist, avid supporter of Port Adelaide's Aboriginal programs and a founding member of the Indigenous Players Alliance.
He said his greatest ambition for his time on the board would be to use his skills and knowledge in the game to see the club achieve the premiership success that he did.
"I'm a very passionate Port Adelaide person. I played with passion and I really want to see the players experience premiership glory. It's something that I would like to see in the short-term."
Port Adelaide Chairman David Koch said Wanganeen's election complemented the appointment of internationally renowned tennis coach Darren Cahill to the board.
He said Wanganeen would bring his high-performance nous to the group.
"Darren is globally renowned as a tennis coach and will be contributing as well.
"It's very much a focus of the board that we get the football expertise around the board table and that's where Gavin and Darren Cahill will be particularly useful.
"Both of them will be on the football committee dealing with the football department."
Koch thanked Fiacchi for his contribution to the board over the past six years and his dedication to the club for many more before that.
He explained that Fiacchi would not be lost to the Port Adelaide Football Club, with the likelihood that he will be involved in several board committees.
"We don't lose George," Koch said.
"He has great IP in terms of being with the board for six years, he knows our agenda.
"We have a series of board committees where non-directors are a part of that – on governance and finance and brand and marketing and George will be playing a part in that.
"'We certainly don't lose George and that's the great thing about a club that everyone is just so passionate about, and the more they get involved, the luckier we are."