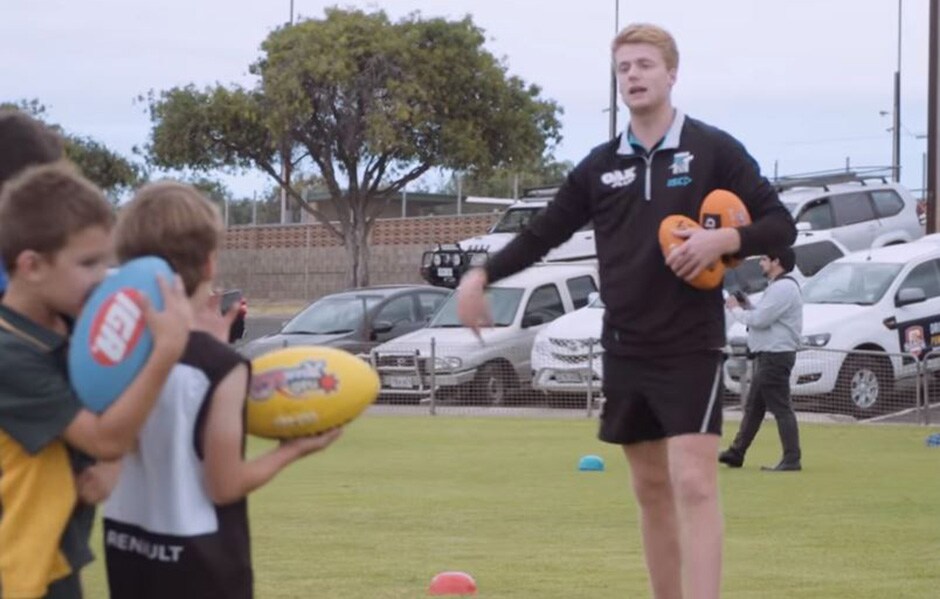 PORT ADELAIDE will travel to Whyalla on Monday 18 February, followed by a number of destinations on the Eyre Peninsula the next day for its annual Community Camp.
The trip comes after Port Adelaide announced a five-year major partnership with the GFG Alliance, which has significant links to Whyalla as the owner and operator of the city's steelworks.
As part of the camp, Port players will visit schools, hospitals, nursing homes, kindergartens and football clubs to brush arms with locals who they might otherwise not get an opportunity to meet.
The various camps from around the league give regional football fans direct access to the game, with 750 players set to spread far and wide across Australia into regional and rural communities.
Port Adelaide's Youth Programs Manager Jake Battifuoco says it's a great opportunity for the players to give back to the regional community.
"The boys love getting into the schools and having a kick with the kids," Mr Battifuoco said.
"The whole club gets involved and it is a very rewarding experience for staff, players, and members of the regional community."
Port's visit will include a number of football-themed activities and coaching clinics to encourage the next generation of footballers to involve themselves with the game.
The club will host a free junior coaching clinic at Bennett Oval - 37 Mcdouall Stuart Avenue, Whyalla Stuart - from 4:30pm-6pm on Monday afternoon with a jumping castle and face painter for the kids.
At the same time, Power assistant coach Jarrad Schofield and development coach Scott Thompson will be hosting a coach education forum at the Weeroona Bay Football Club for all junior and senior coaches.
"We encourage all local kids in the area to come along to meet the players, have a kick and catch, and an autograph signing session," Mr Battifuoco said.
"The same for the local coaches - it would be great to see a big turnout for the opportunity to meet and learn from our coaches in a pretty unique setting."
Following the conclusion of the junior coaching clinic and the coach education forum, a Sportsman's dinner will be held at the West Whyalla Football Club - corner of Playford Avenue and Slee Street, Whyalla - with arrivals from 6:30pm for 7pm start. The cost is $45 per head for a three-course dinner.
"This is a great chance for locals to meet the players and have dinner with them in a casual setting, while listening to some discussion about the pre-season and the year ahead," Mr Battifuoco said.
"All money raised during the visit goes back into local football in the region, so we encourage as many people as possible to get involved."