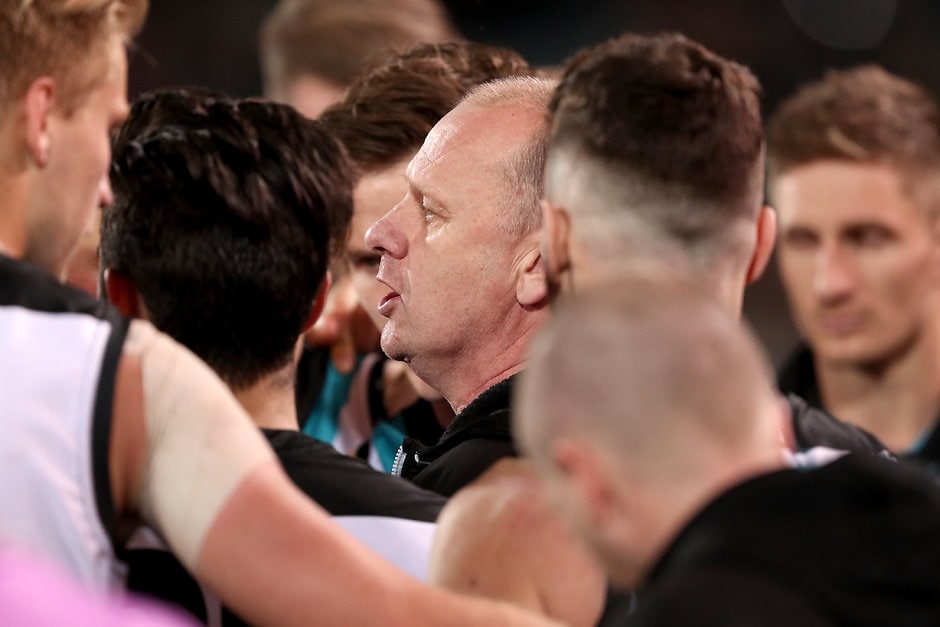 This story originally appeared on afl.com.au
PORT Adelaide coach Ken Hinkley has vowed a radical overhaul of the Power's game style, admitting his side became "slow and boring" in imploring the club's frustrated members to not lose hope.
During an often-animated Annual General Meeting at the Port Club on Friday night, Hinkley and Power chairman David Koch were grilled for about 40 minutes by members who were unimpressed with the club missing the finals last year after starting the season so well.
Hinkley said the team's 11-4 record in the first 15 rounds covered over cracks that were exposed the longer the season went.
"We, like a lot of people in the room, were concerned and worried about the style of football we were playing if it was going to be capable of getting us through," Hinkley said.
"Clearly, it wasn't, at the end of the year when we found ourselves slowed down way too much compared to the way we like to play.
"In my time here, we've normally played a quite exciting brand of football.
"We will be playing that exciting brand of football and doing everything we possibly can to change that model of being slow and held up by the opposition.
"We've brought some genuine speed into our football team and we'll put that to work.
"At the back end of last year, we were a slow and boring football team to watch and we put ourselves in some dangerous spots."
The Power had a busy off-season, with forward/midfielder Chad Wingard (Hawthorn), winger Jared Polec (North Melbourne) and defenders Jasper Pittard (North Melbourne) and Jack Hombsch (Gold Coast) departing.
West Coast's premiership-winning ruckman Scott Lycett, ex-Hawk Ryan Burton and former Brisbane utility Sam Mayes are quality additions, along with top-20 draft picks Connor Rozee, Xavier Duursma and Zak Butters, who bring plenty of pace.
"I've got great confidence in the playing group," Hinkley said.
"We've positioned this football club for a great opportunity in the next good period of time, not just a short period of time.
"If we produce the football this list is capable of, we will be a part of the finals, there's no doubt about that."
The majority of the 200 members in attendance voiced their displeasure at the idea of having co-captains this year, wanting to maintain the club's 149-year tradition of having a sole captain.
"We're working towards having an announcement as soon as we possibly can and we'll make the right decision for the football club," Hinkley said.
"I hear the emotion about what it is … but the game keeps getting more demanding.
"Whether we go with one or two or three captains … we'll make the decisions that are right."
Koch added: "If a tradition is detrimental to your football department, do you do that?"
"The most successful club which has been in 21 of the last 25 finals is the Sydney Swans and they had co-captains for 16 years."
Hinkley rounded out the night with a spirited defence of captaincy contender Ollie Wines and his decision to water-ski, with work-life balance taking precedence over the risk of injury.
Wines could miss the first month of the season after dislocating his shoulder while wakeboarding on Australia Day.
"It's not something I will stop him from doing," Hinkley said.
"Everyone talks about this work/life balance.
"Then when something goes not quite right, they want to jump up and down and say you shouldn't do that, but I think it's a load of crap."
Meanwhile, the Power have secured mining giant GFG Alliance, owned by British billionaire Sanjeev Gupta, as a major sponsor.
The deal will help fulfill Koch's promise of wiping away $1 million of the club's debt this year.