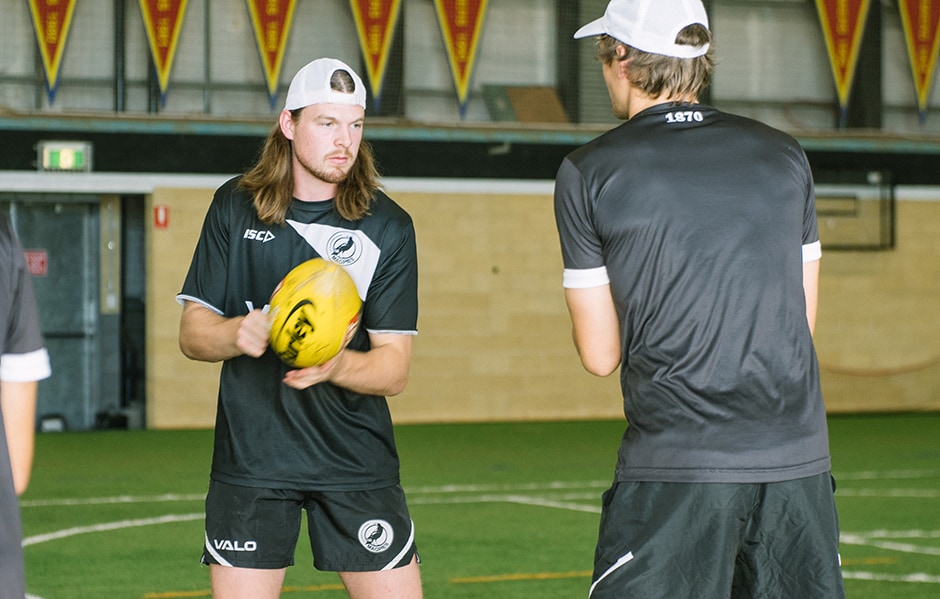 ADAM MAHNEY admits he almost didn't come back to Port Adelaide but the lure of winning a premiership and seeing his name on the club's honour boards alongside his father's and grandfather's was too hard to ignore.
Mahney has linked with the Magpies as one of their SANFL contracted players after a year away from the club.
After rising through the ranks in Port Adelaide's underage sides, Mahney is back for a shot at success with the league side, working under coach Matthew Lokan.
His father, Wayne Mahney, played in the club's three-peat from 1988 to 1990 and his grandfather Graham Mahney was a member of the side that won the historic 1959 flag, the Australian record sixth-in-a-row.
"I really want to give it another crack and try and win another premiership for this great club," Mahney said.
"It would be unreal to see my name up there on the honour boards with my dad and grandpa.
"It is a special place and it would mean so much to me."
With the SANFL rules dictating that all available and fit AFL-listed players must play ahead of those on SANFL contracts, Mahney is well aware there may be times he is forced to miss games.
If that happens, the 21-year-old will return to Rosewater where his father is coach.
"Dad is coaching there and the strange thing is he and Lokes have a pretty similar approach so it is funny coming here where Lokes does a lot of the same skills stuff," Mahney said.
"I don't think they know each other that well but it makes it easier to settle into either set-up when there are some similarities."
A former under-18 best and fairest winner at the club, Mahney describes himself as a hard at it defender who can play a shut-down role and set up play out of the backline with his penetrating kick.
Mahney was part of the 2015 state under-18 academy squad which featured Power defenders Riley Bonner and Ryan Burton and midfielder Cam Hewett as well as Richmond's Jack Graham and Essendon's Aaron Francis among others.
But his new side at Port Adelaide is less familiar.
"I have played with and against a couple of the players here, even all the way back to junior footy," Mahney said.
"Tom Corcoran, I played here with the Magpies with him but most are pretty fresh faces.
"The good thing is they have with new ideas and a new outlook and everyone has been really positive.
"It's been good with a different set-up now but I think it's better - the training is really individualised to our needs and I think that will help get the best out of us."