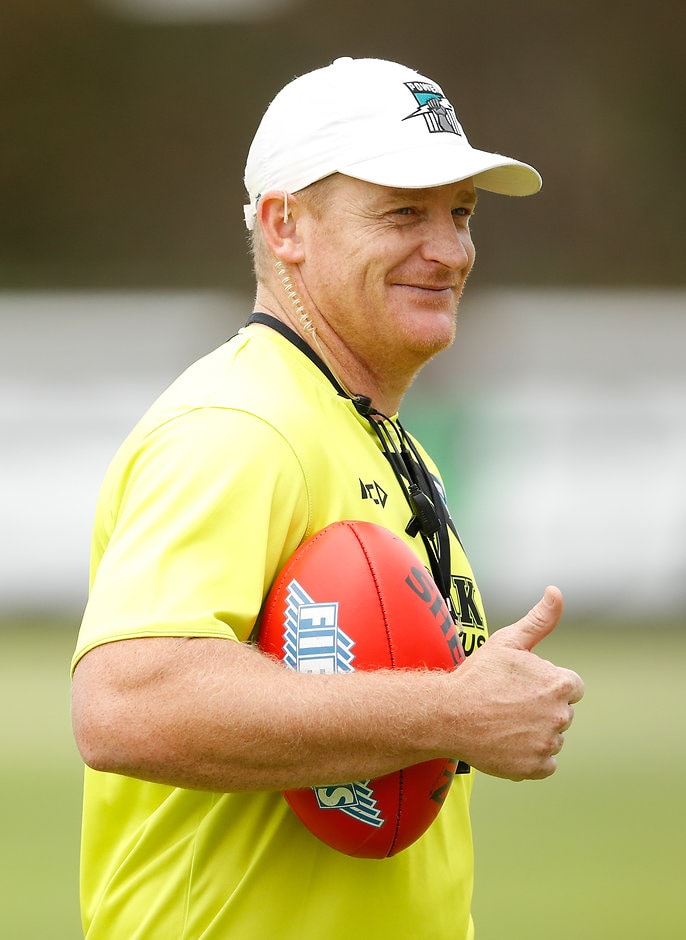 PORT ADELAIDE senior assistant coach Michael Voss held a press conference on Friday ahead of his side's JLT Community Series game against North Melbourne.
Voss was asked about Paddy Ryder's fitness after his rolled ankle last week, about whether Hamish Hartlett would play and who else could miss out as the Power trims its squad to 23 ahead of the game.
He also discussed what he wants to see from the side during the game and what kind of reception he expected former Port Adelaide players Jared Polec and Jasper Pittard to get on their return to Alberton.
Here are the best bits:
Michael Voss on Paddy Ryder's fitness to play:
"He'll play and he'll be fine. We haven't named the side with a thought that he'll need a rest. We probably came into it a bit more last week but as it turned out he probably played more game time but he's pretty ready to go."
Michael Voss on how close the selected side is to the one likely to play in Round 1:
"I think anyone that's playing this week has got the jump on the others but they also understand they don't have exclusive rights on the others. They get a good look at it. We're keen to settle a few roles and if they're in this side then they're a strong chance for Round 1."
Michael Voss on whether the game will be treated as a dress rehearsal for Round 1:
"As close as we can possibly get it. We've still got to have a little bit (of experimenting). We're still in the progressive stage so we'll use this opportunity as a way to be able to try things and we've not shied away from the fact that we've tried to change the profile of what we look like. Not just about the way we play but even where players are playing so we're still in that progressive stage where we're learning more about ourselves and the combinations. When you've got a lot of new guys in there, there is some time afforded to getting them to work together and knowing what's required."
Michael Voss on Dougal Howard being cut from the side to face the Kangaroos:
"What we've tried to do is put the best form side out there so he'll miss. We feel like there's a couple of people who get the job ahead of him so he'll play tonight and try to put himself in some good form and then he'll be considered. All it means is for this game is that these players have the jump but it's not exclusive. We've got to get a 26 back into 22 so there's going to be some players that miss out. We're fortunate that we're having those conversations. At the back end of last year we were trying to find players. We were starting to fall over and starting to run out of players. Now we're getting personnel on the track, we're getting into real tight conversations around what we want and what's our ideal mix. We're more than content with going in with who is playing the best."
Michael Voss on Hamish Hartlett's fitness:
"We think he's still on track for Round 1 but we're certainly not committing him to any timing that's specific. It's just building back up his load and just being careful. We're still in that timeframe for an ACL. We would have liked to have activated that a bit quicker but the body hasn't necessarily allowed that. He just stepped back a little bit and now we're building him up for what we hope will be round 1. He's also a realist. As long as we're getting his energy on the track and he's getting around the boys."
Michael Voss on what he wants to see from the side on Saturday:
"We just want to make sure we're continuing to show we're making progress on what we did last week. We had a good two quarters and two quarters where we didn't play what we want. I guess it's trying to sustain that intensity and effort over a long period of time. The fact that we've got the team pretty settled helps but the profile of how we're playing we're still exploring and getting right so when you look at it you're going to see some exciting parts and you're going to see some parts where we need to improve. We're certainly looking at it as an opportunity to get as close to playing the way we want to for Round 1."
Michael Voss on how the side is playing out of defence:
"We played one tempo last week and it was fast so it might have been just a bit too often. We've just got to find that middle ground. There are some defensive things we are doing differently, the way we want to move the ball is something that's been spoken about a lot. We've got to find the balance between what has been considered in the past as too slow and then obviously last week, which we went a bit too fast too often, so we're still trying to find that middle ground."
Michael Voss on how Jared Polec and Jasper Pittard will be treated on their return to Alberton:
"It probably doesn't help that it's at Alberton – I could probably pick other venues (they'd rather meet us). I think where we're at is that we're so invested in what we're trying to achieve, it's well and truly fourth, fifth, sixth in line or probably not really even present in the front of mind. We've still got a lot to do and we're so invested in what we want to achieve and getting our players in form that that becomes a bit down the track."