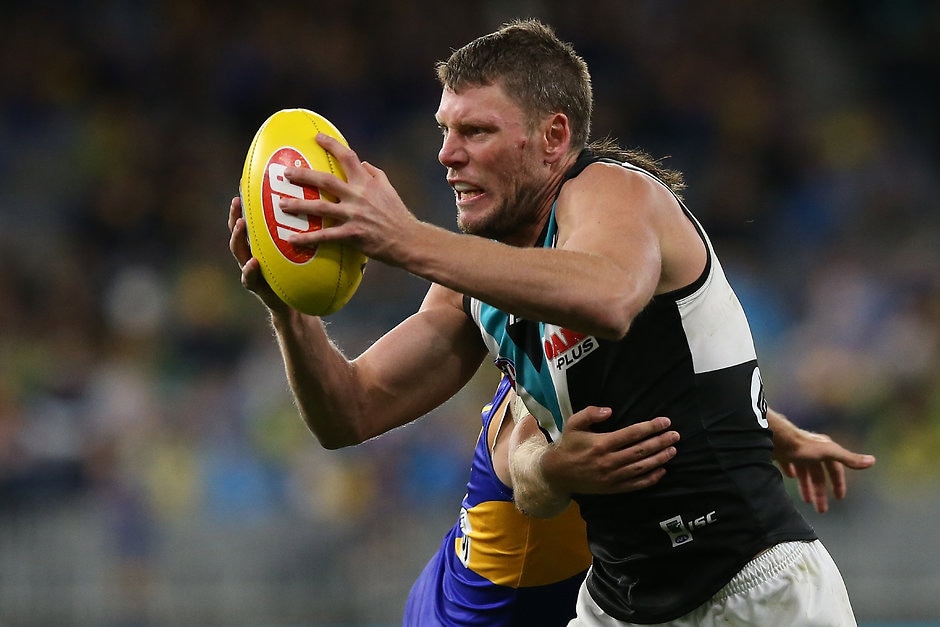 PORT ADELAIDE midfielder turned forward Brad Ebert has revealed he will be making his return to football in the SANFL this weekend.
Ebert, who has missed the last six weeks with concussion symptoms, says he is excited to get back into competitive football against Norwood at Alberton Oval.
"I'm playing for the Maggies this week," Ebert told Triple M's Roo & Ditts.
"It's exciting, the first time since '07. It'll be big, I debuted against the Redlegs in 2007, and now I'm going back there and doing it again.
"Just with the helmet and a few years under my belt."
Ebert revealed he travelled to Melbourne on Tuesday to have some final tests before he was given the all clear to return.
"I caught up with the neuropsyc in Melbourne yesterday," he said.
"I caught up with her and did some tests, and she said from now on she believes I'm okay, and if another one comes about, we just deal with that as another concussion.
"She was saying I'm fully recovered from that one, and yes the symptoms persisted but she is confident I am 100 per cent recovered."
Ebert admitted it has been a frustrating process, but the extensive tests and the extended stint on the sidelines have given him confidence.
"Because the symptoms persisted a little bit longer than normal, it meant they wanted me to sit out a little bit longer.
"If I get concussed again, that doesn't mean that's it. She is confident with my cognitive ability and where my mental aptitude is at."
The 242-game veteran in unsure where club vice-captain Hamish Hartlett will play this weekend, but if he is recalled to the senior team to face Fremantle in Perth, then Ebert says it will be well deserved.
"That's his third SANFL game, so he is another one who could be coming up," he said.
"He's one that has showed he has had some really strong weeks, and he will be a player that I'd imagine would be knocking the door down, but I'm not sure where he will be.
"What we do know, it that Ollie (Wines), Dicko (Charlie Dixon) and myself will be in the Maggies, so I'm looking forward to it."
Port Adelaide hosts Norwood at Alberton Oval on Sunday afternoon with the first bounce commencing at 2.40pm.
Prior to the Magpies' huge clash with the Redlegs, there is an Offical Pre-Match President's Luncheon starting at 12pm, with a two-course meal and drinks provided.
As well as celebrating the rivalry between the clubs, for the first time, Port Adelaide's plans to celebrate the club's 150th year in 2020 will be revealed.
To secure a table, book now at: events@pafc.com.au