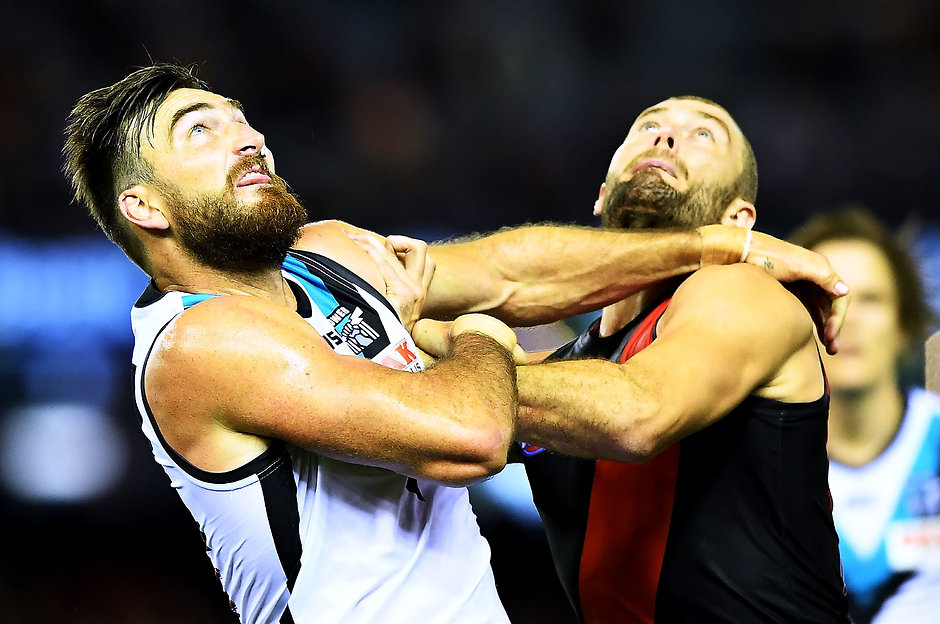 This story originally appeared on afl.com.au
KEN HINKLEY has a strong message for the football world – stop asking about replacements for injured Port Adelaide ruckman Paddy Ryder.
There simply isn't one ready.
The Power stumbled for the first time this season on Sunday with a 22-point loss to Essendon, with Bombers' big man Tom Bellchambers racking up 45 of his team's 46 hit-outs.
Dougal Howard, Charlie Dixon and Justin Westhoff combined well to provide a contest against the Bombers' ruckman, with the Power only narrowly falling short in the clearance and first possession count despite losing the game.
Hinkley said the ruck battle wasn't the "be-all-and-end-all" of the contest and instead blamed exposed inconsistencies for why the Power weren't able to string runs of goals together.
With Ryder expected to be out for another month with an Achilles injury, Hinkley said they were already doing all they could to cover his absence, with Billy Frampton, Peter Ladhams and Sam Hayes simply not up to AFL level yet.
"I should say this really clearly; we haven't got a ruck ready to play," Hinkley said.
"I think people should stop calling for that because they don't know. It's a ridiculous thing to do from outside to say, pick a young ruckman who's not ready to play.
"If you watched our SANFL yesterday, you would see some young rucks not ready to play.
"I'm not going to play people who don't deserve to be out there and can't physically compete when they're out there.
"Don't get confused with what we've got underneath. Don't go and say people should play if you're uninformed with their ability."
Midfielder Tom Rockliff could be a casualty of Sunday's loss with the out-of-form new recruit struggling with a calf injury he picked up in the first quarter.
Rockliff had just eight touches for the game, which he started opposed to Zach Merrett (who finished with 29), and played out the game hampered by his strapped left leg.
"He did a manful job to be able to almost hobble around out there as best he could," Hinkley said.
"He hasn't been in his best form, but last week I felt like he was building a bit better and this week he's had an incident that's slowed him down a little bit.
"We'll wait and see. He had a sore calf, the doctors were comfortable enough for him to keep playing.
"It's tightness … but when we say tightness it normally means there's something wrong, doesn't it?
"As coaches, we say, 'Tightness … we hope there's nothing wrong'.
"There's probably something wrong."
Hinkley added he wouldn't consider resting or dropping Rockliff despite his low-key start to life in teal if he were deemed fit to play.
"If people are fit, they're fit. I'm not going to fall into that trap," he said.
"He's a pretty good player. He hasn't started off at the moment in great form but let him build, he'll be ok."
Forward Todd Marshall will be assessed this week after developing concussion symptoms shortly before three-quarter time from an incident in the second term.
Hinkley said they would wait for the outcome of the AFL's investigation into a late-night incident involving Sam Powell-Pepper before declaring if the youngster was available for Saturday night's clash with Geelong at Adelaide Oval.
Powell-Pepper missed Sunday's game with a one-game club suspension for breaking team rules after the Power's round three win over the Brisbane Lions.
More on portadelaidefc.com.au...