IN just its second year, Port Adelaide's Aboriginal AFL Academy has had its first player drafted into the AFL.
And as much as Port Adelaide supporters will be disappointed to see talented Wayne Milera go to the club's crosstown rival Adelaide via pick 11, they will take great pride in seeing the success of an impressive young footballer join the elite ranks of the AFL.
Milera played every game for South Australia at the NAB AFL Under-18 Championships and also 11 senior games for Central District in 2015, including the first semi-final against Port Adelaide where he kicked three goals.
But throughout the year, he honed his skills with the Aboriginal AFL Academy's dual football and academic program.
Milera's involvement in the Academy meant he spent every Wednesday at Alberton working on his football skills and also focusing on some important off-field lessons throughout 2015.
In a recent interview with the ABC's 7:30, Milera said the Academy has prepared him for life as an elite athlete, and will help ease the transition to the Crows.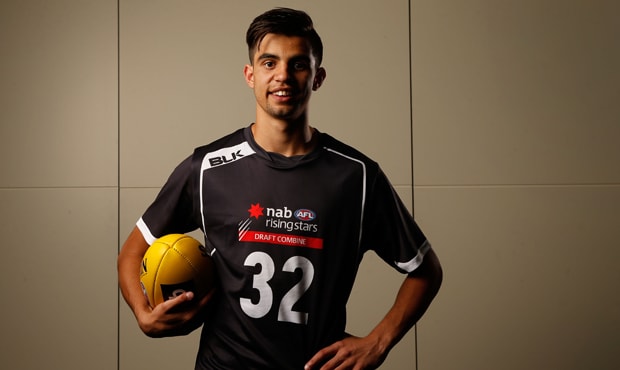 The Crows' swooping on Milera is as much an achievement for Port Adelaide's Aboriginal AFL Academy [pic: AFL Photos]
"The first half of the day we will do schoolwork for about three hours or so, and then the second half we will do skills stuff," Milera said.

"Because we are here at the Port Adelaide facility every week, they bring across coaching staff, their nutritionists.
"We get plenty of inside information about the life of an AFL player, it has helped heaps."
Port Adelaide's Aboriginal Programs Manager Paul Vandenbergh said the Aboriginal AFL Academy is a good way to educate its students on all areas of life in an environment young footballers feel comfortable in.
"We keep enforcing that this is an AFL club, this is what AFL players do and if you want to play AFL, this is what you are going to have to get used to," Vandenbergh says.
He also said the Academy also has a strong focus on educating the boys about culture and the job Milera will now play as a leader in the local Aboriginal and broader indigenous communities of the AFL.
"We do a lot around culture and identity, and that it is important to be strong from a culture point of view and then role model, especially for the younger kids," Vandenbergh said.
The remainder of the Aboriginal AFL Academy is currently touring China as part of a special cultural exchange, backed by Academy partners EnergyAustralia, the University of South Australia and the SA Aboriginal Sports Training Academy.
CHINA: Aboriginal AFL Academy tours world's most populous nation