PORT ADELAIDE forward Luke Reynolds starred with six goals as the Magpies won convincingly over the Adelaide Crows SANFL side on Saturday morning.
With a more experienced side than its Academy-based team that lost to Central Australia last week, the Magpies impressed in Chad Cornes's first game at the helm.
The effort of both sides was let down by poor foot skills early on, but despite being close in the first term and then going goal-for-goal with the Crows early in the second, Port Adelaide eventually blazed away.
The Magpies kicked five goals to Adelaide's two to set up a 20-point half time lead.
Contracted Magpie Luke Reynolds led the charge for the home side, scoring three first-half goals.
He finished with a bag of six.
Reynolds' accuracy was not the only thing that would have caught the eye of Cornes and his coaching panel.
The 21-year-old gave his teammates a target in the air and was dangerous at ground level too.
Flying high above a pack of players, Reynolds just missed what would have been mark of the day, but his brilliant recovery on the floor to dribble through his fourth goal showed he might just be knocking on the door for Round 1.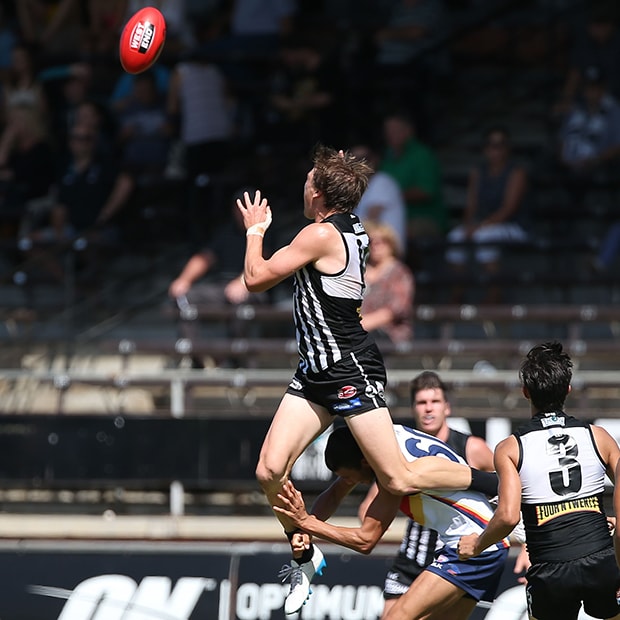 Luke Reynolds gets airtime against the Crows on Saturday morning [pic: Chris Kelly/portadelaidefc.com.au]
Paul Stewart worked hard across the centre and half-forward to give the home side plenty of run and carry, while newcomers Aidyn Johnson and Riley Bonner also showed promise with their strong tackles and clever ball use.
Port Adelaide held Adelaide's SANFL side to just the one goal in the third quarter.
Adelaide's attack was solid when it got a chance to go forward, but Sean Davidson and Tom Corcoran played well to either take a mark with the flight of the ball or force a turnover through pressure.
Kane Mitchell was the only other multiple goal scorer for the Magpies, finishing with two of the home side's 16, while Louis Sharrad carried forward last year's form as one of Port's most important inside midfielders and was instrumental around the stoppages.
Port Adelaide will play its second and final SANFL trial match against West Adelaide on Friday 4 March at Richmond, before beginning the 2016 season against Norwood at The Parade under lights on March 10.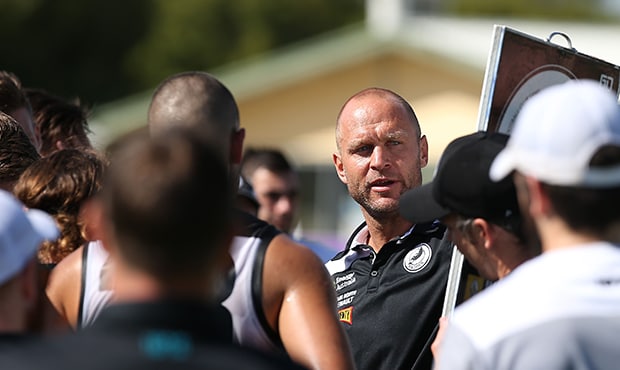 Chad Cornes guides his Magpies for the first time in a trial game [pic: Chris Kelly/portadelaidefc.com.au]
SCOREBOARD
PORT ADELAIDE 2.4 7.7 12.9 16.14 (110)
ADELAIDE SANFL 2.1 4.5 5.8 6.10 (46)
PORTADELAIDEFC.COM.AU'S BEST
Stewart, Reynolds, Palmer, Sharrad, Davidson
GOALS
Reynolds 6, Mitchell 2, Phelps, Palmer, Howard, Stewart, Bonner, T. Gray, Masters, Cooper
INJURIES
Nil


MORE ON PORTADELAIDEFC.COM.AU ...

Game review: Power v Dees as it happened


Hinkley: Disappointed by Power's effort


Clurey: Foot injury for defender