Following Port Adelaide's internal trial game, line coaches Nathan Bassett, Jacob Surjan, Brendon Lade, Trent Hentschel, Michael Voss and Stuart Cochrane review each player.
Backs, with Nathan Bassett and Jacob Surjan
Jack Hombsch
A good, solid game from Jack. Took some nice mark intercepts.

Jasper Pittard
A bit rusty in the first half, but looked much more composed in the second half.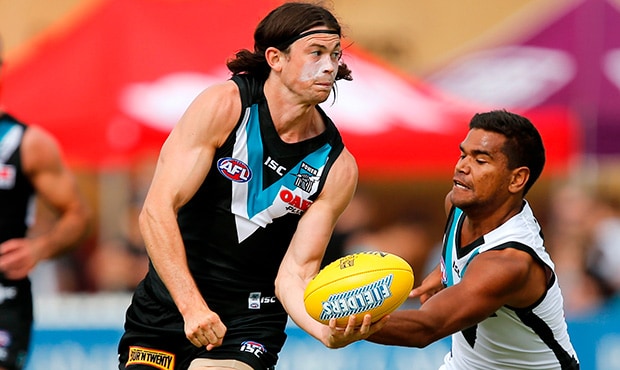 Hamish Hartlett
Very good. Won the ball, he was clean and set things up from down back.

Tom Jonas
Good hard defender, no one got a kick on him.

Tom Clurey
Clurey was pretty solid down back. He's building a good relationship with the other talls in Hombsch and Jonas.

Dan Houston
He was very good in the first half for the white team. His development has been good as a back and has nice composure.

Riley Bonner
He used the ball quite nicely and gave us some run, but he's still working on his defence.

Matthew Broadbent
He was very good in the first half. Didn't have a heap of involvement but used the ball well.

Jarrod Lienert
Jarrod didn't kick the ball as well as he can, but his defending is getting better and that's been his main area of focus.

Logan Austin
He was really good aerially against Dixon, especially in the first half. Defended the lead well, so that's his biggest area of improvement.

Emmanuel Irra
Took the game on a few times, which was good to see for a young, developing player.

Anthony Biemans
Played strong down back, really good competitiveness and we're looking forward to him having a role down back this year and across the ground depending on needs.

Jonathan Ross
Experimenting with him at the moment. He's been a forward/ruck, but we think he can play a role as a tall defender, especially if we're lacking for a bit of size. We saw some good signs.

Tom Corcoran
Played well. Just needs to tidy up his kicking a bit, but defensively he was solid.

Nathan Rudloff
He was good playing on the smaller half forwards. But played his role well.
Midfielders, with Michael Voss and Stuart Cochrane
Brendon Ah Chee
Had a solid first half on the ball, played his role really well and helped us nullify a lot of the black team's stoppages.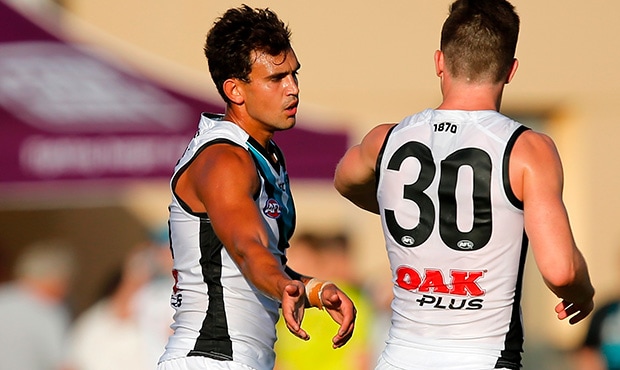 Karl Amon
Karl played mostly wing. Used the footy pretty well, got a little bit of the ball, and had really strong marking. He's had a big pre-season so we're really happy with what he should offer us.
Joe Atley
Showed us what he can do. Wasn't fazed by his stronger opponents. He got first possession at stoppage. While he got a bit tired as the game went on, he showed us the signs he's got what it takes.
Travis Boak
He was strong. Played forward and in the midfield, I think he's looking really good at the moment – clean – he's in real good shape at the moment.
Willem Drew
Drewy was one of the highlights of the younger players. Start on the wing, came in side, clean with his hands and was good running at speed. He sets up really well and gives us some structure. His been impressive this pre-season.
Brad Ebert
His last month has been really good. He did what Ebo does really well. Was tough inside, good with his hands.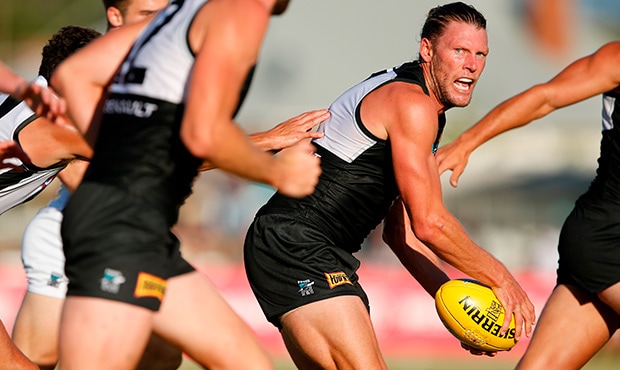 Cam Hewett
He got his hands on the ball a bit tonight. Played inside, some wing, but has been flexible and played at half back as well. He's still developing his midfield skills for the start of the season with the Magpies.
Jared Polec
Started like a house on fire. Played wing as well as inside mid. His connection was superb, racked up a fair bit of the ball. He played three quarters, he's in pretty good shape.
Sam Powell-Pepper
Sammy played a fair bit on-ball. Again, we're pretty happy with where he's at. He's going to continue to learn what it takes in the midfield. He had a crunching hit on Robbie Young, which I think we'll need to get used to seeing because of his big frame. Not a lot of footy, but pleased to see what he should keep bringing us.
Will Snelling
He's a really solid inside player and was one of the White team's best midfielders early in the game. Tired as it went on, but we were really happy with his hands and pressure around stoppage.
Jimmy Toumpas
Played on a wing and spent some time on half-back. He gave us some good shape around stoppages and held his position well. Got close to breaking even with his opponents.
Justin Westhoff
Played everywhere. He's obviously one of our most versatile players, showed his ability to play everywhere once again. Solid off the wing in a new role for him this year.
Ollie Wines
He got a lot of the ball and I think we've come to know Ollie as the inside bull we want him to be. He won some good clearance and his method away from stoppages keeps improving. He was pretty dynamic where we needed him to be
Chad Wingard
Superb early and his agility and movement were exception. He won a lot of the ball around stoppage and clearance. He'll spend more time in the midfield. Some guys know how to find the footy and he's one of those guys.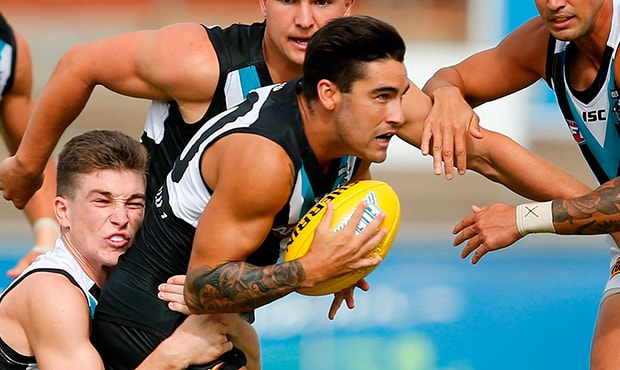 Steven Summerton
Had a quiet night really, it was a step-up for him, but we've also adjusted some changes into our midfield structure which he's learning now. He always gives us good leadership, voice and communication and did that tonight.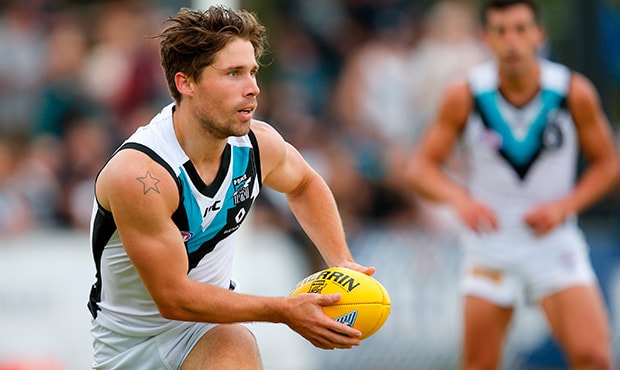 Louis Sharrad
Always physically asserts himself and got in a stoush with Sam Powell-Pepper late in the game. Not a big influence on the game, but we know if he has a role through the midfield, he'll give us what we need.
Robbie Young
Robbie showed us some of what we know he can offer. Spent a bit of time in the midfield, but he generally adds a dynamic factor to our group.
Forwards and Rucks, with Brendon Lade and Trent Hentschel
Charlie Dixon
He kicked three goals in the third quarter. He took a little while to get going, but played really well in that third quarter. He wasn't happy with his first half. He and Jacko looked pretty good together, both kicked a couple of goals each, so that's good.

Brett Eddy
He showed some really good signs playing against our best defenders. He was probably the best forward on the white team for the day – he kicked a goal and set up a couple of others. His experience is handy down there.

Sam Gray
It was a bit quiet from Sammy today, although his preseason's been really good. We were a bit disappointed with his efforts today but he went on ball for a period and got the other guys going for a bit, which was good.

Jarman Impey
Another high forward who was a little bit quiet today. But he went on the ball in the last quarter and did really well, so I was happy with how he finished off the day.

Aidyn Johnson
AJ did some really tough things today. He kicked a couple of nice goals, and smashed Jasper Pittard! He did some really good things today.

Nathan Krakouer
There are some things he needs to work on, but he kicked three goals for us. He took a couple of great marks, put on some good pressure. His accuracy was a little off to begin with, but he's normally a really good kick.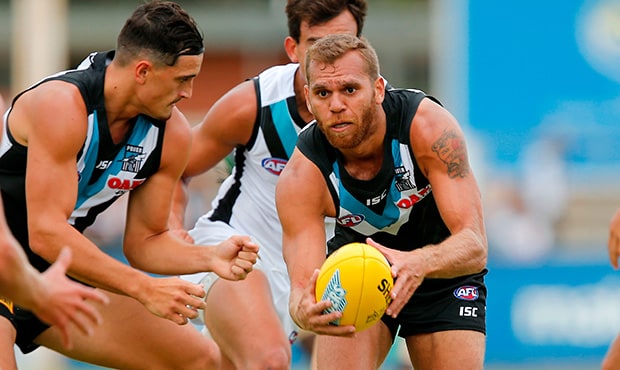 Jake Neade
All our high forwards were a bit quiet today – just in the conditions. He always offers, he runs in the right patterns - he did most of that right today.

Jackson Trengove
Jacko gave a really good contest all day. Whether in the air, or on the ground. He kicked three goals as well, so hopefully he can keep doing that.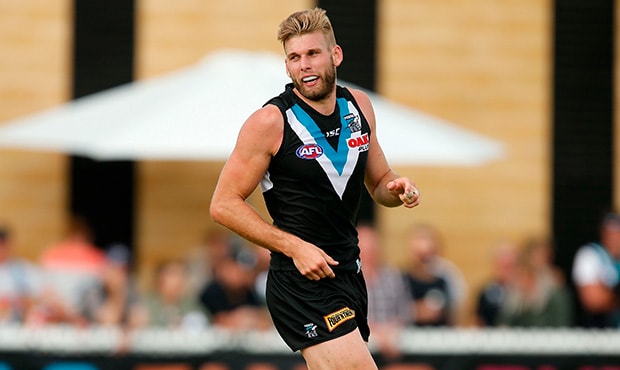 Aaron Young
We tried him in a different role today and he played really well – he kicked four goals. All our forwards have a couple of little things we need to touch up on in terms of our systems, but overall, he played really well.

Matthew White
Whitey's calf got a little tight, so he came off in the second half. He was on a lot today but didn't get used.

Matthew Lobbe
Very good – probably the best on ground today, for both teams. It's the best game he's played for a while, he was great. He's been training really well, so hopefully that continues over.

Paddy Ryder
It took Paddy a little while to get going, to get back in the game again. But he's been doing really well at training so he'll continue to improve.

Billy Frampton
Billy didn't have a great day today – he didn't kick very well, but then he did take a good mark and kick a goal. He's just got a few things to work on – he's still young.

Peter Ladhams
'Pistol' showed a few things – he was pretty good. He did some nice things up forward in the ruck – we were happy with his game.
Luke Reynolds
Brought work rate and presented well up to the footy. Was good against big and strong bodies with his own.
Tom Gray
Brought effort against some of our better defenders. We were happy with his work rate.