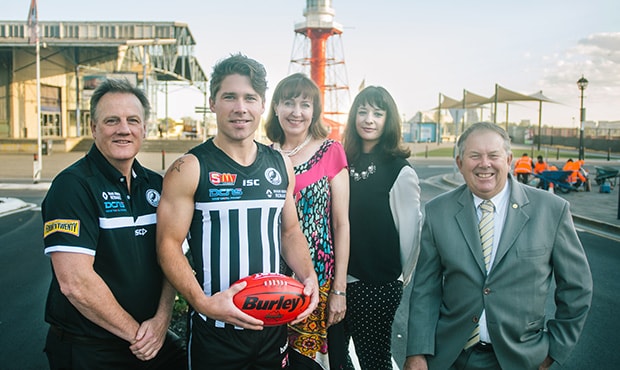 PORT ADELAIDE and French submarine builder DCNS have announced a partnership that will help revitalise the Port Adelaide township and district.

The partnership is a two-pronged approach to help DCNS engage with the Port community surrounding the Future Submarine shipyard and to develop relevant education programs in local schools to encourage the next generation of scientists, mathematicians and engineers.

Port Adelaide, as the oldest football club in South Australian senior football, will provide a vessel to achieve this by bringing DCNS and Australia's native game together.

This will be done by DCNS becoming a joint major partner of the club's heritage brand – the Magpies – in the SANFL competition; its logo appearing on the front bib of the famous prison bar jumper during 2017.

DCNS' overall investment in Port Adelaide is equivalent to that of an AFL-level principal partner, but its funding will be distributed across the club's SANFL operations and Power Community Ltd, specifically the Power Community Youth Program (CYP).

Through the partnership, the Power Community Youth Program will adopt a new, significant emphasis on promoting science, technology, engineering and mathematics (STEM), and in-school respect.

That is additional to the 17-year-long focus of the CYP on promoting healthy lifestyles to primary school children.

DCNS branding will also appear at Port Adelaide home games at both Adelaide Oval and Alberton Oval.

"When we first spoke to DCNS about forging a partnership, community development was always front of mind for us and they shared that view."

Port Adelaide chief executive Keith Thomas said the DCNS partnership would continue to grow throughout the 2017 season.

"This partnership allows DCNS to focus their efforts on the heart of our community, which is now the heart of theirs here in Australia," Mr Thomas said.

"We are proud to have this association with DCNS, to have their logo on the front of our heritage jumper in the SANFL, and to be working them to promote STEM curricula to girls and boys in the schools visited by our excellent Power Community team.

"This is a partnership of potential, and we're excited about what we can build together with DCNS."

DCNS Australia chief executive Brent Clark believes the partnership will achieve significant benefits in both the Poft community and the classroom.

"DCNS is committed to training the next generation of scientists, mathematicians and engineers," Mr Clark said.

"Our partnership with Port Adelaide and the South Australian Department of Education will focus on developing a lesson plan for problem solving.

"It will be rolled out in schools across the state and will hopefully encourage more students to consider a career in science, technology, engineering and maths.

"Port Adelaide is home to a proud football team and will be home to the new workforce of the future submarine program.

"This is an exciting time for everyone in South Australia and particularly the local community in Port Adelaide."

Education Minister Susan Close is also the state MP for Port Adelaide and says the investment from DCNS into the club will have important benefits in the minds of locals, and for the minds of students.

"I'm delighted to see any investment in the Port Adelaide township, and to me, the Port Adelaide township and the Port Adelaide Football Club are virtually indistinguishable," she said.

"I'm particularly pleased to see both DCNS and Port Adelaide prioritise the Community Youth Program with a focus on STEM subjects.

"To have a community football club in the AFL engaged in this work, and to have such a big company like DCNS prepared to fund a program like this, means our kids get the best chance to develop skills for their future."
More on portadelaidefc.com.au...