Guide Dogs SA/NT is the game day charity at Port Adelaide's sole match this weekend – the top-of-the-table SANFL clash between the Magpies and Eagles.
There, Guide Dogs SA/NT will be fundraising to support their development programs for guide dogs and autism assistance dogs.
A lot of work goes into training little puppies to become lifelong companions for those living with a disability.
For Magpies contract player Tom Corcoran and partner Riley Jarman, the chance to visit the Puppy Development Centre this week was a lot of fun.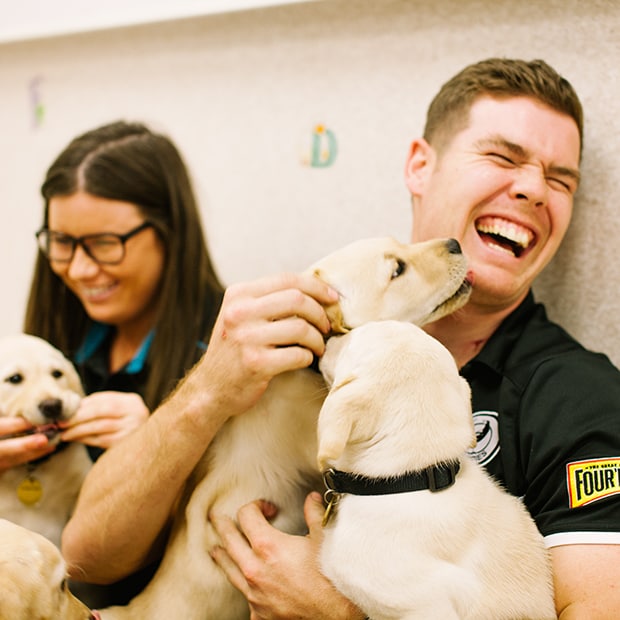 Tom Corcoran and Riley Jarman play with Polo's puppies [pic: Jordan Bianchini/PAFC]
The Jarman family (Riley's dad is former Crow and Rooster, Andrew Jarman) are heavily involved with guide dogs, as Puppy Raisers and Brood Guardians of Polo, the mum of the latest litter of puppies born at Guide Dogs.
"Guide dogs make such a difference, we know the difference they make to families and the community," Riley says.
"We come in and help out, clean and care for the puppies. Unfortunately we can't take any of these puppies home, but we're really happy to help out."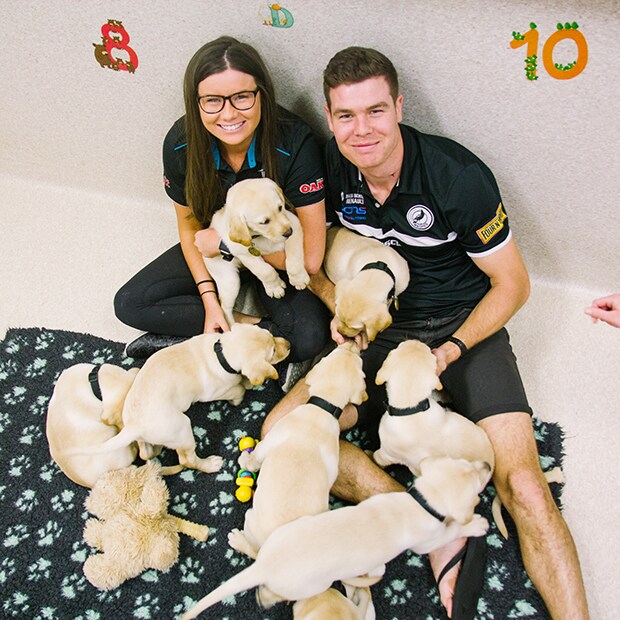 Tom and Riley had plenty of fun at Guide Dogs SA/NT [pic: Jordan Bianchini/PAFC]
Polo's puppies are undergoing the first stage of training to become guide dogs at the organisation's Morphett St base.
From there they will grow up to assist South Australians with a sensory disability - those living with vision impairment or children living with autism.
Sarah Crawford is Puppy Development Coordinator for Guide Dogs SA/NT's Morphett St Centre, and she describes the journey from puppy to working dog as being extremely complex.
"We start puppy development from the time they're three days old," Crawford says.
"We run this program to follow them through to about 8-10 weeks, so that when they go out to their puppy raisers, they're pretty well familiar with a number of things."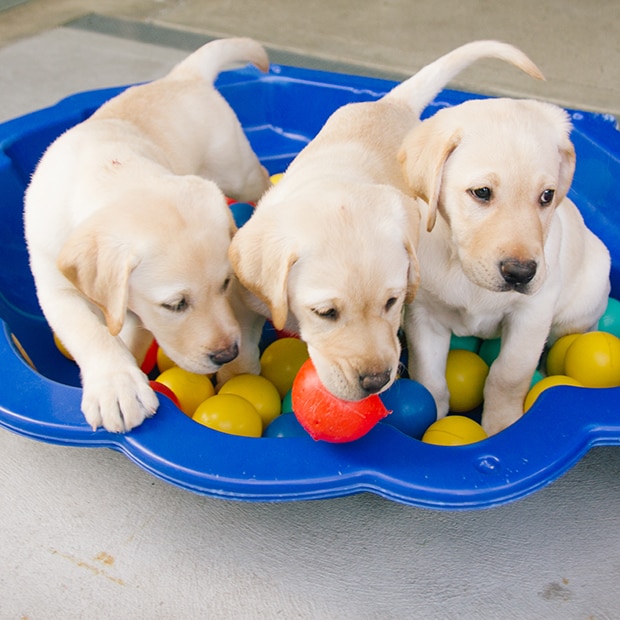 [pic: Jordan Bianchini/PAFC]
From tactile surface-familiarisation to the sound of a chair dragging across the floor, puppies need to know what different things sound like.
At the 5-6 weeks of age, the collars and leads go on and puppy staff start taking the puppies out-and-about to learn about the big, wide world.
Shopping centres are great grounding areas for this, with puppies exposed to a greater range of sounds, surfaces and speakers.
Then, it's time for them to go out to puppy raiser families, where they'll go through the next vigorous part of their training.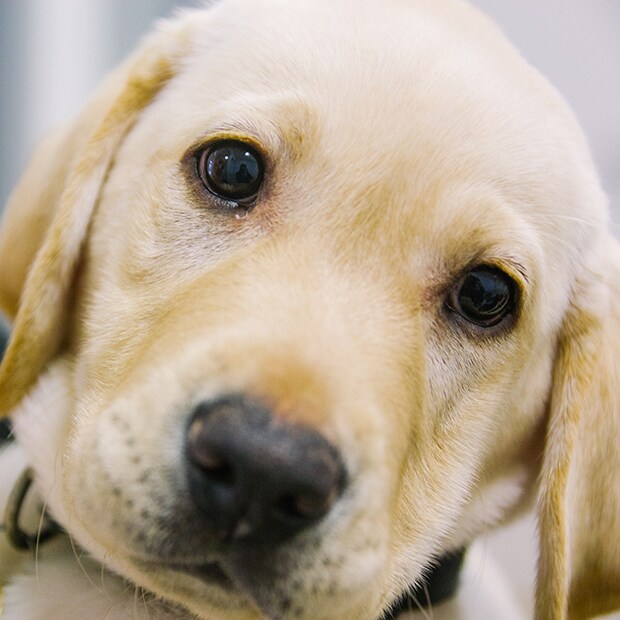 [pic: Jordan Bianchini/PAFC]
"With their puppy raisers, they spend about a year getting socialised to everything – restaurants, cafes, barbecues with friends, kids, cats, other dogs, anything the dog may come across in its working life," Crawford says.
With puppy raisers they'll become well-behaved, mature dogs that don't chew up the carpet or play-up when guests are over.
Finally, the grown-up dogs leave their puppy raiser families and head off to complete the final stages of their training under the guidance of an internationally qualified guide-dog or austism assistance dog trainer.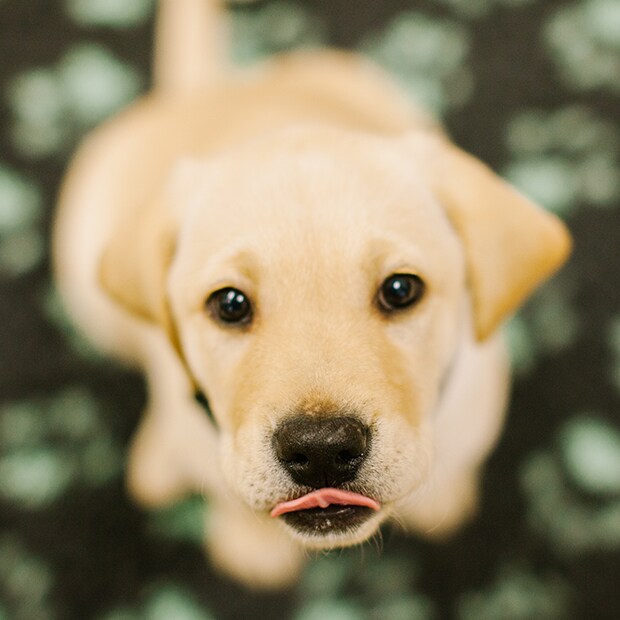 [pic: Jordan Bianchini/PAFC]
With the majority of Guide Dogs' work being funded by the generosity of the community, all collections by Guide Dogs SA/NT will go towards supporting the puppy development team's important work.
They will be collecting at the gates at Alberton Oval when the Magpies take on the Eagles at 2.10pm on Saturday 20 May.
More on portadelaidefc.com.au...