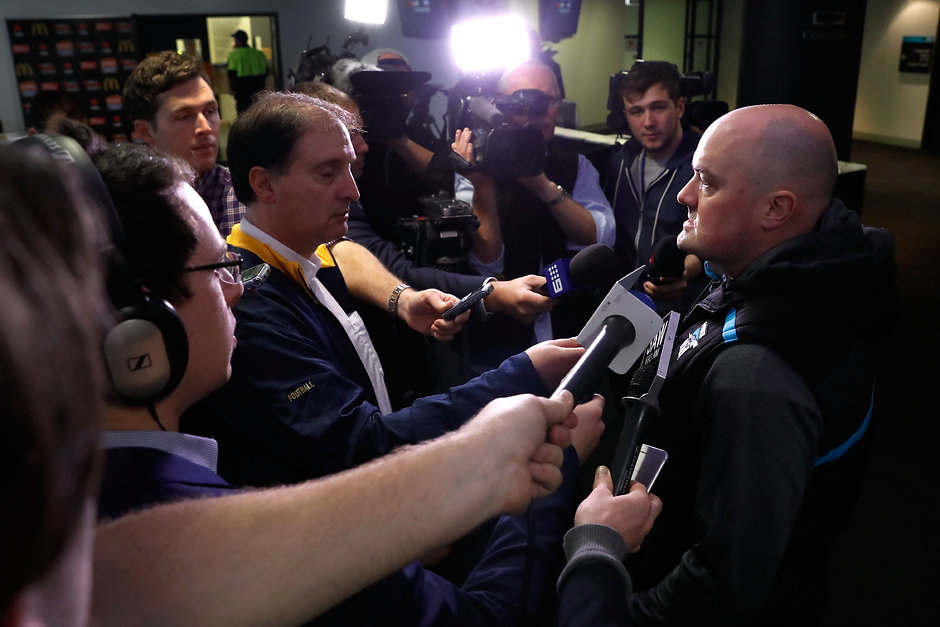 We sat down with our General Manager of Football Chris Davies to give our members and fans an understanding of our decision-making process throughout the trade period.
We discussed the key objectives heading in to this year's trade period, what we can expect from the new recruits, farewelling a number of players, and our positioning is the next two drafts.

What were the main priorities heading in to this trade period?
Our issues were clear throughout the season - we weren't able to finish our work inside 50, our composure lacked at times, and our accuracy in front of goal cost us.
There were at least two or three games during the 2017 season where if we'd been more effective going inside 50, we would have won - that makes a pretty big difference.
How will the three recruits help us to improve in 2018?
Tom Rockliff will provide flexibility for our midfield and forward rotations. It will mean that Robbie or Chad can play either in the midfield or forward for longer periods.
Jack Watts is a quality ball user - he's ranked second in the league for kicking efficiency inside 50, and he's able to hit the scoreboard.
Steven Motlop provides us with great run and carry, both through the midfield and forward, and is also a high-quality ball user.
Where can we expect the three recruits play in 2018?
Rockliff will be used both in the midfield and up forward.
Watts will act primarily as a forward, pushing up through the middle to help us with transitioning the ball in to the forward-line.
You can expect to see Motlop rotating on the wing and up forward.
But ultimately they all have several strings to their bow and will be able to add value wherever the team needs them.
What are their major strengths and what can they add to our team in 2018?
Rockliff is both an elite clearance player and crafty forward but we saw him play mainly midfield at Brisbane. He will provide us with great flexibility in our midfield group.
Watts will bring that genuine link-up play from midfield to forward with elite ball use which our forwards will be looking forward to.
Motlop will help us with his outside run, his forward craft, as well as, being an option in the centre square.
Rockliff and Motlop were both free agents, so they became even more attractive because we didn't have to give anything up. From a list profile perspective, we were happy to add some experience.
Do you have a message for our players leaving the club?
Each of the players leaving our club (Lobbe, Ah Chee, Young, Logan, Impey, and Trengove) have been outstanding people and contributors to the Port Adelaide Football Club.
They were seeking greater opportunities at AFL level and we are sad to see them go.
They go with our best wishes, and a heartfelt thanks for their contribution from everyone involved at the Port Adelaide Football Club.
With a few departures, what does that mean for us moving forward?
The departures have allowed us to accumulate some extra picks in the next couple of drafts, which we think will be strategically important.
It provides us with draft capital, which may help us move up the draft order in 2018.
Our picks in the 2017 draft are 46, 49, 59, 62, 63, 86 and 95.
We put a lot of planning into the trade & free agency periods.
We're pleased with what we got out of it but you can't properly judge these things yet.
Time will tell. Our preparation for next season is already underway and across the club we have a lot of hard work ahead of us.
More on portadelaidefc.com.au...