A submission to the AFL by Port Adelaide calls on the league to ensure an equal playing field for clubs impacted by last week's Court of Arbitration for Sport decision that banned 34 past and present Essendon players from competitive sport.
The Power lodged a formal submission with AFL House on Tuesday seeking the chance to recruit two 'top-up' players to Alberton in 2016 in place of the banned Angus Monfries and Patrick Ryder.
At present, the AFL has allowed those clubs with former Essendon players - now banned - on their list to upgrade rookies in their place.
The Bombers are able to elevate rookies and recruit additional former AFL players to field a side in 2016.
But Ken Hinkley says the AFL's allowances mean Port Adelaide will have only 42 players on its list this season compared to 43 afforded to the Dons.
"How does that work? How do you get penalised for not creating the problem and have to deal with it?" Hinkley told FIVEaa.
"It just doesn't make sense to me.
"Our football manager Chris [Davies] and our board will take care of that situation [with AFL negotiations] but you would think, at worst, we wouldn't start the season below numbers of the Essendon Football Club."
Part of the submission to the AFL to request the ability to bring in replacement player is based on the Power recruiting Angus Monfries prior the anti-doping controversy breaking in 2013.
Monfries had already been traded to the Power by that point.
"We've made the application to the AFL based on the fact they've ruled we basically can't replace the players," Hinkley said.
"We think that's one we have to examine a bit closer and they have to examine a bit closer for us in the fairness of the game and what we were part of.
"Yes, we had some visibility of Paddy, but we had no visibility of Gus [Monfries]."
Hinkley is also concerned the ability to not bring in like-for-like players will also hamper the Power's ability to manage its players effectively.
If the AFL rejects Port's proposal, the Power will be forced to choose from Nathan Krakouer, Kane Mitchell, Will Snelling, Dan Houston and Cam Hewett.
Krakouer – a defender – and Mitchell – a small midfielder – won't cover the positional gaps left by the banned pair.
Hinkley also worries that the Power may be called to rely on second-year ruckman Billy Frampton too early in his career without a ring-in ruckman.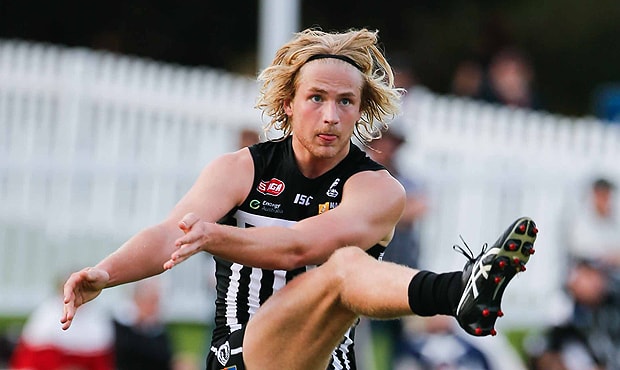 Billy Frampton in his debut year for Port Adelaide in the SANFL [pic: Chris Kelly/portadelaidefc.com.au]
Rucks can often take four years to develop into AFL-quality talent, and Frampton has played just half a season of football in the SANFL.
Without a suitable ruck option to elevate from the rookie list, Power fans will be praying Matthew Lobbe isn't hit by injury in 2016 should the AFL not provide the opportunity to bring a ruckman in.
"We've got a young ruckman on our list in Billy Frampton who potentially could get cooked through a season trying to carry the whole thing on his own," Hinkley said.
"I spoke about Lobbe and Ryder were going to play together … Frampton could now get put in a position where he has to get exposed way before his time and his welfare might not be in the best place for him to do that."
Hinkley also lamented the lack of planning by the AFL for a worst-case fallout from the Court of Arbitration for Sport, saying the Power was still unaware of what it was permitted to do with regard to interactions with its banned players up to November 13.


MORE ON PORTADELAIDEFC.COM.AU ...

Team Builder: Defenders

Quadzilla: Full body cramp for Wines


Inside Alberton: January 18

Boak: Skipper thrilled with team time trials