ONE OF Port Adelaide's most anticipated signatures has been secured on a new contract, with 21-year-old midfielder Ollie Wines extending his tenure at Alberton beyond the coming season.
Wines will remain a Power player until at least the end of the 2018 season, signing a two-year contract extension with the club.
Drafted to Port Adelaide with pick No. 7 in the 2012 national draft, the big-bodied midfielder debuted in the first round of his inaugural season and quickly established himself as an integral part of the Power's starting line-up.
He became the fastest player to appear in 50 games for the Power last year, in a season where he won a record third Gavin Wanganeen Medal as the club's best player under the age of 21.
His meteoric rise within the club was confirmed last year when his teammates voted him into the Power's leadership group.
The 21-year-old told portadelaidefc.com.au he wanted to put to rest speculation he might leave the club before the start of the 2016 season.
"There's something special about this club, and being a part of it was always my plan," Wines said
"I love this footy club, my teammates, coaches, and our fans and I'm very happy to be continuing my career here at Port Adelaide.
"Now just feels like the right time to re-commit to the club as I didn't want our Members thinking I might leave this year, when that wasn't part of the plan.
"The club and its supporters have been so welcoming of me and my family since I arrived at the end of 2012, and I've loved every moment here so far.
"Now I'm really looking forward to being part of some more special moments over the coming years with my teammates and the Port Adelaide family."
Wines has enjoyed a relatively hiccup-free career, however setbacks in 2015 gave him a new challenge to overcome.
"I was able to start early in my career and get a few games under my belt, unfortunately last year I suffered the hiccups that every AFL footballer eventually faces," Wines said of his wrist and shoulder injuries.
"You don't want to miss football, but I've been blessed that I've not had too many injuries and played a lot of footy, it was definitely hard to watch the guys keep on playing.
"Certainly, part of the reason I signed on was because of the great staff we have at the club, especially the fitness and rehab guys."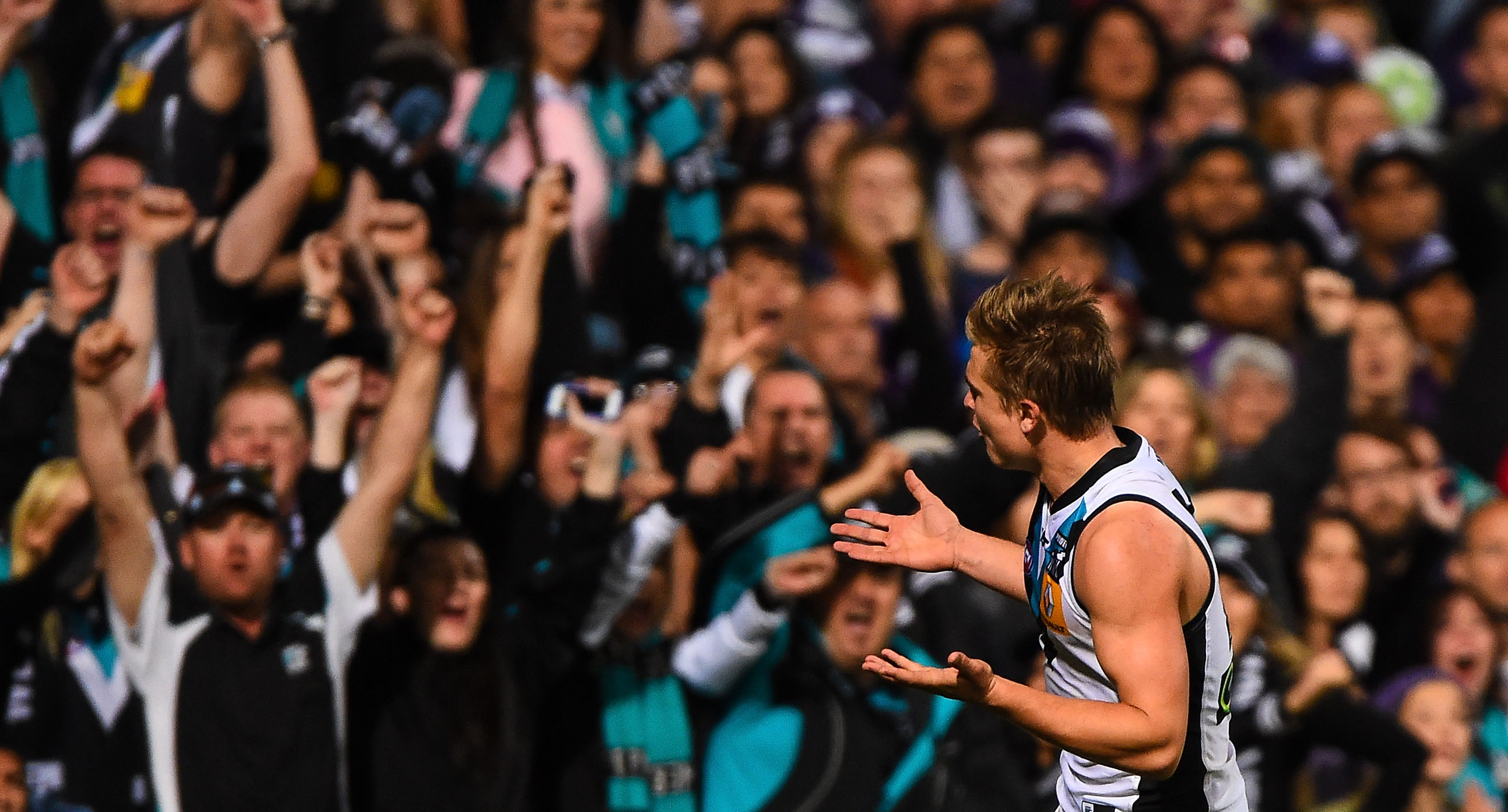 So who's ready for season 2016? [pic: AFL Media]
Ken Hinkley said Wines's prized signing was important for the Power heading into 2016 and praised the Echucan's attitude to football.
"Ollie is one of those players who you love having around your footy club," Hinkley told portadelaidefc.com.au.
"His work ethic, his professionalism around the club, his compliance on the field – all of these are qualities that he's built upon over the last three years and he continues to seek that improvement.
"I know he has put a great deal of thought and reflection into this decision – that's his style – but we were always confident he would put pen to paper.
"He's the sort of bloke who will live and breathe his footy club and his relationships with our players, coaches and supporters are very strong, it's great to have him on board again for another two years on top of this season."
Ollie Wines fact file
Recruited to Port Adelaide from Bendigo U18 with pick 7 at the 2012 AFL National Draft
Debut: Round 1 2013 vs Melbourne at the MCG
Games: 62
Goals: 26
Merits
Gavin Wanganeen Medallist as the best under-21 Port Adelaide player (2013, 2014, 2015)
2013 NAB Rising Star Nominee
Fast fact
Ollie Wines became the fastest Port Adelaide player in the AFL to reach the 50-game milestone in 2015


MORE ON PORTADELAIDEFC.COM.AU ...

Contracts: Young forwards extend to 2016

Membership: Ollie's signed up, you can too!


Tickets: On sale dates for Round 1 released


Family Day: Stand ready to go

Family Day: Perfect weather for annual trial