THEY span the beautiful, green pastures of France.
Graves. Thousands upon thousands of graves.
They are a solemn reminder of the violent and bloody conflict that spilled the blood of the world's soldiers in Europe, Asia, the Middle East and North Africa between 1914 and 1918.
Nearly 100 years have passed since the guns were stopped, here, in France where these green fields have healed over the open wounds of the earth and human flesh torn apart by gun, mine, shell and grenade.
The Great War, the First World War, brutally severed European peace, as Australian men from all walks of life were caught in the thick of the action, called to fight for King and Country.
Among the thousands of first Anzacs were footballers from across the nation, from the state leagues, from local associations, trading their weekend colours for the green tunics and slouch hats of the Aussie digger.
Some returned, many did not.
It was a different battleground.
Today, as much as football might be likened to war, it is not war.
Seeing the stones and crosses that mark the graves of fallen soldiers from Australia, New Zealand, France, Canada, South Africa, France, Belgium and, yes, Germany, throughout the Somme region quickly makes the comparison between the two truly impossible.
Among these dead are many South Australians, many from Port Adelaide and some, a few, from her football club.
A return of guernseys to those who didn't
Port Adelaide wore commemorative jumpers in tribute to all its players who have served in Australia's armed forces since 1915 against Hawthorn and Norwood earlier this year.
Among those were the names of four players who served in World War I, but never returned from France.
While a Gallipoli Lone Pine will stand at Alberton in permanent tribute to Port Adelaide's lost footballer soldiers today, the club has also 'returned' is commemorative jumpers to its fallen past players in the north of France as part of its commemoration of Remembrance Day.
They never made it back to Alberton's locker room, so instead the locker room was brought back to them, with 1915 replica heritage guernseys left at their memorial sites.
The deaths of Arch Gosling, Albert Chaplin, William Boon and Joseph Watson while serving in France was keenly felt back home. Families, friends, comrades and old teammates were left behind to mourn.
They were exceptional players, members of one of the great South Australian football dynasties.
Gosling was the eldest, one of the last of Port Adelaide's 'Magenta' era at the time of federation and one of the first 'Magpies' when black and white jackets were adopted in 1902. He played at least 75 games in nine seasons for the club.
His story is one of particular tragedy, but of a particular tragedy experienced by so many Allied troops for the first time in World War I.
Gosling's war ended as the result the gas – chlorine gas - introduced for the first time in this conflict.
Survival practically unheard of, this one-time Port Adelaide premiership player, officially died of wounds in Rouen on 5 June 1918, just over five months before the final armistice. He was 36.


Chaplin, Watson and Boon were three members of the great team of 'indestructibles' that conquered Australian football in 1914.
That team won it all. Every game, including the SAFL premiership decider against North Adelaide, and the Championship of Australia against Carlton.
Albert Chaplin was the first Magpie to fall, his death coming in September 1916 as part of the Battle of Mouquet Farm near Pozières.
Chaplin and his brother George both served together, first in the Middle East and then in France with the 52nd Battalion. Albert rose through the ranks to the rank of Sergeant.
The Chaplins are one of those stories of war and conflict where two brothers enlisted to fight, but only one came home.
The one who returned was the brother George, but for the two-time Port Adelaide premiership player Albert, Mouquet Farm would be his resting place.
Chaplin was killed as one of nearly half his battalion not to survive the push forward against Germans that day, his body, like so many others, was never found.
Now he's one of thousands of Australian names inscribed on the expansive National War Memorial at Villers-Bretonneux.


Boon was a member of the 8th Field Artillery Brigade and served from his enlistment at the end of 1915 through until 1918 when he was killed by a direct hit from a German shell on his position while fighting on the Somme in Méricourt.
His death came on 24 April. He is buried in a small cemetery just outside of Bonnay.
Cheltenham-born Joseph Watson died of a gun shot wound to the leg suffered at Bullecourt in 1917. The company sergeant major was part of a push to attack German trenches near the village that resulted in some 3,000 Australian deaths.
Thanks for looking after them
Gosling, Chaplin, Boon and Watson are fallen Australians, but France's dead.
Their immaculately preserved memorials and the respect shown towards all Australians by these local communities is a testament to the spirit of comradeship and good relations between both nations.
Villers-Bretonneux, the home of the Australian War Memorial, recently received a funding boost of €1 million from the Australian Government to upgrade the Franco-Australian Museum based at the local Victoria School in the town.
That will help preserve Australia's legacy in this tiny town of the Somme.
And in thanks to the local community for looking after the graves of its fallen players, Port Adelaide also presented heritage guernseys representing its former players to the children of the school, and the museum, as a symbol of thanks.
Australian Football is uniquely represented at Villers-Bretonneux, where it is the site of an annual game between expatriate Australians and the French national team on Anzac Day.
The novelty of having real life Aussies at the school to talk about this strange southern island nation, which plays a foreign brand of football, was thanked by Monsieur Fournet's class, which presented cards back to the club in the exchange.
As one of the students explained (in French).
"We give these cards as a gift, because Australians always give us gifts but we can't always give something back to them."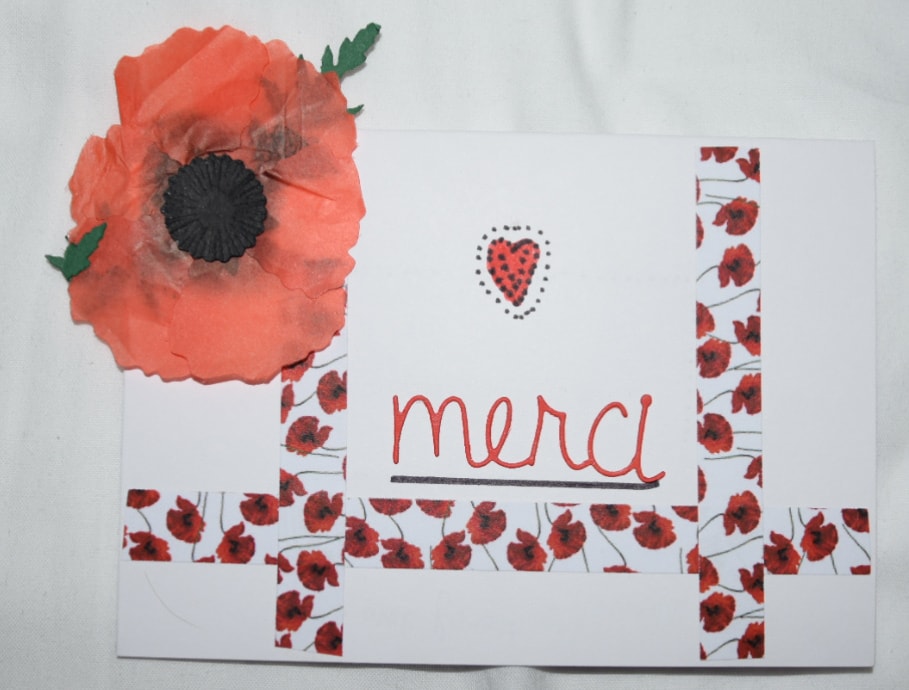 Actually, Villers-Bretonneux has given Australia a great deal.
Port Adelaide will provide biographical information to the museum on each of its players to have served in the region to aid the display of the exchanged guernseys.

Gosling, Chaplin, Boon and Watson were four of five Port Adelaide league players to die in World War I. In total, 12 Port Adelaide league players are know to have died in armed conflicts since 1915.