PORT ADELAIDE's rivalry with the Crows took another turn this week when Power utility Justin Westhoff and Adelaide AFLW draftee Maddi Newman in a sporting challenge of a different kind.
The pair were among a number of athletes and sports stars around the country taking part in the Big Issue Sport Sales Challenge.
Participants had to take to the streets, stand side by side with vendors of The Big Issue Magazine and try to sell as many copies as they could within 30 minutes.
The Big Issue is an independent magazine sold on streets around the country by people experiencing homelessness and disadvantage.
The idea of the challenge is that having sporting personalities standing side by side with vendors helps to challenge stereotypes about homelessness and disadvantage and it shows the community that Big Issue vendors are approachable and are working selling magazines on the streets.
Westhoff and Newman met their respective vendors in Rundle Mall on Tuesday before going their separate ways.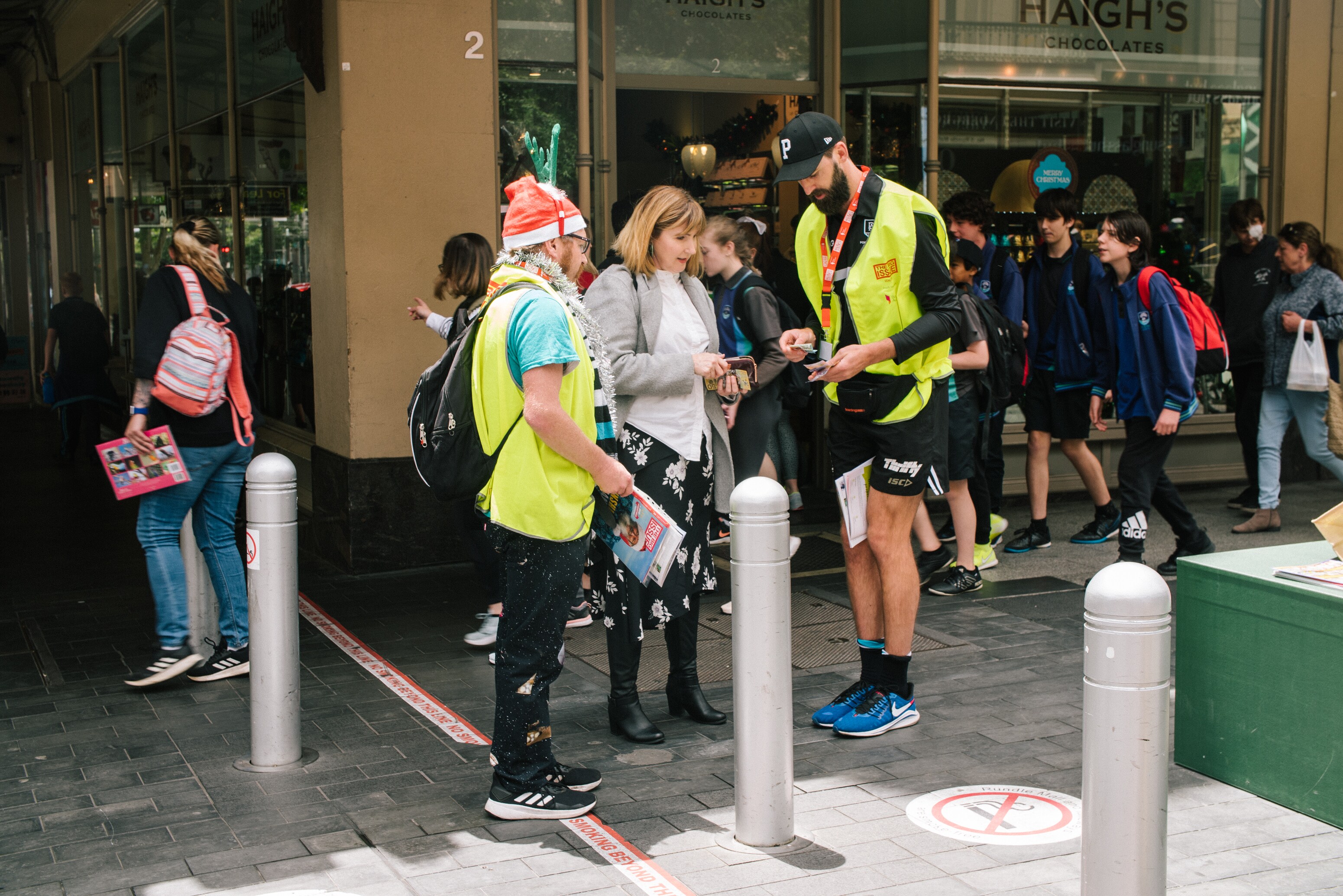 It was an interesting experience for Westhoff, who has a passion for supporting people experiencing homelessness or disadvantage.
"I'm definitely a better footy player than salesman but I still sold a few copies – especially if you include the calendars," he said.
"It's good that different people come together and help out where they can. If we all chip in it helps.
"Seeing how people react to different people and not knowing what the cause is – they can be a bit standoffish to people trying to sell The Big Issue in the street. You don't even need to buy anything, just having a conversation or saying hello can be important."
The Port Adelaide veteran was partnered with Daniel, a passionate Power supporter and a Big Issue Vendor of 12 years.
Daniel was thrilled to spend time with one of his heroes in honour of a good cause.
"It's been a lot of fun. I thought he was pretty good at selling. I look up to him as a hero and really respect him for what he's done," he said.
"To sell one magazine every five to ten minutes is pretty good.
"Selling the Big Issue has helped me with work and also being able to afford things. I also work as an artist and a writer. The Big Issue sometimes publishes my work, which has been good."
For the record Westhoff sold six magazines and two calendars while Newman sold one magazine and one calendar.
Other sporting organisations including South Adelaide and Norwood from the SANFL and South Australia's men's cricket side the Redbacks are also taking part.
Proceeds from the day's sales go to the local Big Issue office to support vendor activities such as the fortnightly breakfast and magazine launch.
This creates a fair system for vendors taking part in the Sports Sales Challenge and ensures all vendors benefit, including those who do not participate.
For his part in the day, Daniel was given ten free copies of The Big Issue to sell. Usually he buys them for $4.50 and sells them for $9.00.
The Big Issue's National Operations Manager, Jeremy Urquhart, was full of praise for Westhoff and Newman for giving up their time to take part in the challenge.
"It's an opportunity for clubs – which are an important part of the community – to demonstrate their support for people who are selling Big Issue magazines around the nation every day," Mr Urquhart said.
"By working shoulder to shoulder with a Big Issue vendor they get to learn a bit about that person and their story.
"Port Adelaide is a prominent, well loved, club in South Australia and even internationally these days really so having someone like Justin involved, helps shine a light on the work of The Big Issue and its vendors and maybe it helps create a regular customer for guys like Dan who are out here every fortnight when the magazine comes out."
The Big Issue last month celebrated its 600th edition. Find your local vendor to get hold of the annual Christmas edition, featuring messages from vendors to their regular clients, as well as the 2020 Big Issue calendar.