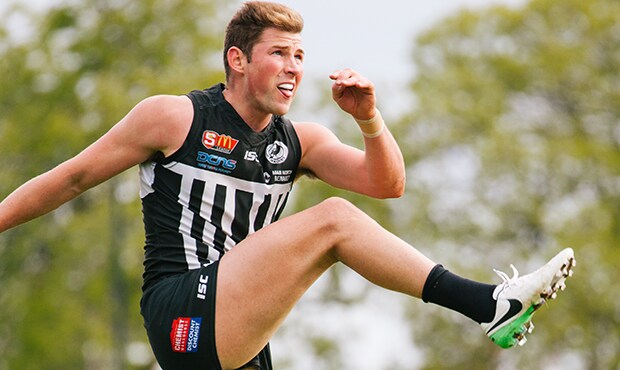 BRETT EDDY is the 2017 Ken Farmer Medallist as the SANFL's leading goal kicker.
It's the 28-year-old's second consecutive gong as the best shooter in the state league, and Eddy becomes Port Adelaide's first recipient of the medal since Scott Hodges in 1996.
Breaking the Magpies' 20-year drought at the top of the individual goal kickers' table was no easy task for Eddy, who missed three games at the start of the year after making his AFL debut.
The former Panther was contending with one-time Magpie Kory Beard, who was leading the charge for Sturt against Norwood at the Parade.
With both games taking place at the same time, getting goals was going to be important.
Eddy had one goal at half time, and Beard – who was three behind going into the round – was yet to score.
But three quick majors to the Double Blue in the third quarter at the Parade had Beard trailing by one.
Beard then drew level with his fourth goal of the afternoon – nine minutes into the final term.
Thanks to some unselfish play from his teammates, Eddy was able to get on the end of two late goals against the Roosters and seal the award.
The Victorian was sure to thank his fellow Magpies for their help after the game.
"It was good, I'm honoured to win the medal again and the boys looked after me in the last quarter," Eddy told portadelaidefc.com.au.
"I wouldn't be here, winning this medal, without those boys."
While happy to be crowned the Ken Farmer Medallist once again, Eddy said the final result – a 70-point win to the Magpies – was front of his mind on the day.
"You don't play for those things [individual awards], whatever happens you're grateful," Eddy said.
"Beardy's a good player and I knew he'd try and kick a couple, I just wanted to go out to win the game.
"[North] had a few guys retiring so we knew they were going to come out on their home deck.
"Three of the four games they've won this year had been at home, so we knew they were going to be hard to beat."
Eddy and Beard will go head-to-head at opposite ends of the Adelaide Oval on Saturday 2 September, when Port and Sturt play off in the SANFL Qualifying Final at 3.10pm.
More on portadelaidefc.com.au