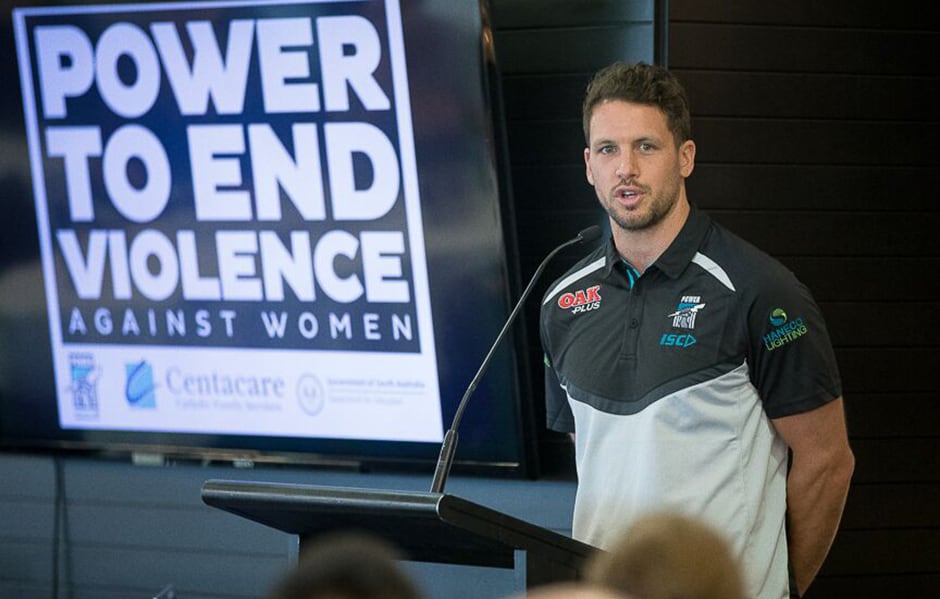 NEW research has shown the Port Adelaide Footbal Club's commitment to tackling domestic violence in schools is achieving real change, with young men and boys who take part in its programs becoming strong advocates for the cause.
Flinders University evaluated the Power to End Violence Against Women (PTEVAW) primary prevention program run by Power Community Limited, finding the program is inspiring high school students to challenge the ideals of masculinity and gender-based attitudes and behaviours, as well as teaching them about respectful relationships.
The study, undertaken by the University's Australian Centre for Community Services Research, found the program has had a 'measurable impact around messaging about respectful relationships and positive bystander intervention'.
The research has been released during the 16 Days of Activism Against Gender-Based Violence, a global campaign that runs from November 25 through to December 10.
The study also explored the Northern Territory-based NO MORE campaign, with each program using football to engage men and boys.
PTEVAW targets year 10 students in metropolitan and regional schools, and teaches them how to recognise and stand up to the disrespect of women in their lives.
The program has engaged with 4600 students since it launched in 2016.
It is delivered in two sessions across two weeks and is run in partnership with Centacare Catholic Family Services and the South Australian Department for Education.
Researchers found that participants in the program were retaining important messages about respectful relationships beyond the classroom, mostly because they were delivered by role models including past and current players like Russel Ebert and Ollie Wines.
Participants noted that meeting players and senior coaching staff at follow-up events, including leadership days, was equally important.
"When you're facilitating community programs I think you understand the results and impact that you're having in the community but it is also important to have that research base behind it that emphasises the measurable qualities of that good work and demonstrates that we're on the right track," said Ross Wait, General Manager of Power Community Limited.
"It helps to have the Port Adelaide brand, as a trusted organisation, and the players to make an impact on the community in a different way, because we have role models speaking directly to the students - and they stand up and listen to what is being presented to them.
"The teachers are doing a great job, but when we can go in there and complement their work with a different voice it creates a greater impact."
Research Fellow Dr Jonathon Louth, who led the study, said the report showed how the programs' use of sport and elite players could 'cut through' unhealthy biases and complicit silence.
"As a social glue, football clubs and communities are only just starting to reimagine their contribution to the reproduction of values and attitudes that permit behaviours or encourage silence in the face of actual or inferred violence against women.''
"What is quite powerful is the way the program challenges students to look at certain behaviours, such as street harassment or belittling and gendered language, and how this manifests in a mentality that contributes to a normalised continuum of disrespect and inequity.
"While we are not in a position to measure the extent to which the retention of key messages transitions into behaviour change over the long-term, the study reveals that there is an increase in awareness and there are early indicators of positive outcomes.
"As it stands, the program is vital for starting conversations and speaking across generations.''
The research was funded by Centacare, providing vital evidence that the program is working.
"For cultural change to occur, we need to raise an awareness of what people don't know they don't know,'' said Centacare's Deputy Director Pauline Connelly.
"This program has achieved that with the Year 10 students, and with awareness comes choices.''
While the report was ultimately positive about the PTEVAW program, it recommended some changes.
They included a suggestion that it be expanded to encompass entire school communities including girls and young women.
"Our only limitation is funding, and our funding partners considers that we have the most impact with young men, with year 10 students identified as a key target," Wait said.
"We would love to consider involving both males and females and broader school communities in this program to expand those discussions about gender equality and respect.
"We will analyse these findings and implement any changes necessary to make sure our program is having the best impact with the right people."
The report also recommends developing student leaders and allies to assist with delivering the program to their peers.
More on portadelaidefc.com.au...