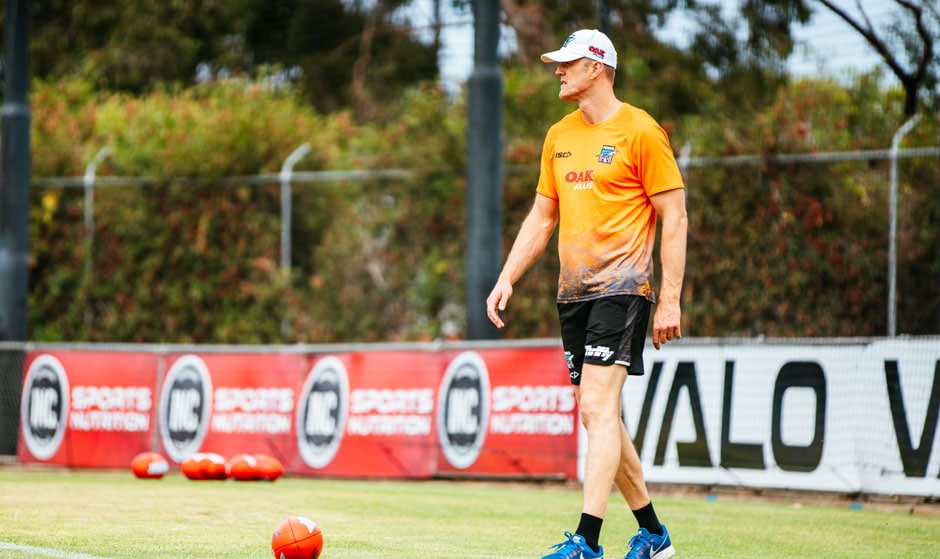 DEAN BROGAN has had a premiership reunion of sorts with some of his 2004 flag winning teammates since returning to Alberton as a part-time ruck coach in October.
And while there has been plenty of reminiscing, he realises his role is about building the next crop of Port Adelaide Premiership stars to give them an opportunity to experience what he has.
Brogan played 174 games for the Power before shifting to New South Wales to become a playing assistant coach at Greater Western Sydney where he managed another 19 games before retiring to focus on coaching.
He left the Giants at the end of 2017 and after a year back in Adelaide, the former basketballer is now back where his football journey started with Port.
"I'm grateful for the opportunity, the timing was right," Brogan told portadelaidefc.com.au.
"I had a year out having come back from the Giants, and worked with Chris (Davies) and Ken (Hinkley) about coming back in a part-time role and it's been great.
"Obviously, there are a lot of new faces and a lot of new faces coming through the door this year.
"The structures are still in place, there's a couple of old heads still around but from a playing group perspective there's a lot of young talent coming through and it's good to work with them."
Brogan has a full complement of ruckmen to work with, bar young tall Sam Hayes, who is still working back from a mid-season knee reconstruction.
With the developing Peter Ladhams and Billy Frampton, 2017 All-Australian Paddy Ryder and 2018 Premiership player Scott Lycett to work with, Brogan is excited at the prospects, hinting that the Power will play with two ruckmen.
"I think we have to," he said.
"Paddy's going to play and Charlie (Dixon) will come back from his injury and then we've gone out and recruited Scotty Lycett, a premiership ruckman from West Coast.
"It's a challenge for the coaches to make them all fit in and see how that goes but Collingwood and West Coast both played two rucks.
"They both played in the Grand Final so the model is there to be implemented, it's just about does it fit with us? Which I'm sure it will."
As for the younger members of his ruck crop, Brogan has been impressed with what he has seen so far, admitting he has only had about seven sessions to work with them.
"Hayesy's coming back from a knee (reconstruction) so he's a bit restricted in what he can do but he's coming along really well," he said.
"I've been super impressed with Billy and Pistol Ladhams - Billy, especially, hasn't missed a session, training really hard.
"I don't know them well yet and can only judge them on what I've seen and they train really hard, the boys love them so I'm really excited to see what they can do next year."
Brogan is well aware that his side finished the 2018 season poorly, but he is confident it will bounce back.
He said the side had good stock on every line, and a good spread of age groups and talent, and it was all about putting it together on the park.
It is a similar situation to the 2004 Premiership group which had suffered repeated near misses before finally clicking.
The current group has the benefit of learning from members of that team with Jarrad Schofield, Brett Montgomery and Brogan joining physio Michael Wilson and development coach Chad Cornes at the Power this year.
"Having Schoey and Monty and Chad and Wilbur as a physio here now, there's a really good connection between us and the playing group can see that," Brogan said.
"They probably want that when they get to our age.
"We don't talk about ourselves too much, it's not about us anymore, it's about the players but we're happy when they come up to us and ask questions.
"I guess we're all here to win a Premiership and if we can help (by explaining) by explaining how we went about things then that's what we're there for."
More on portadelaidefc.com.au...