PORT Adelaide great Chad Cornes has just returned from an eye-opening trip to Arnhem Land in the northern reaches of the Northern Territory.
The 255-game Premiership player jumped at the chance to help Melbourne's strategy and education coach Craig Jennings and ex-Demon Matthew Whelan educate coaches in remote communities with a goal to increase the number of indigenous coaches in the AFL.
Here the member of the Power coaching group recounts the trip and the life-changing experiences it provided.
"I know it's the oldest living culture in the world but it's the first time I had anything of significance to do with it. I'm disappointed in myself that I haven't done something like this earlier." – Chad Cornes
Last year on an AFLCA coaching tour to the Midwest of America, I made a connection with Craig Jennings who is the Strategy and Innovation coach at Melbourne Football Club. We are completely different in a lot of ways so it was a little strange that we hit it off so well. I learnt a lot from him during those days in the US, and we kept in regular contact throughout the year.
Craig is very passionate about getting more indigenous coaches into the AFL, and that's a passion I now share. Having played with so many indigenous legends over my time at Port Adelaide, I find it strange that more don't stay in the AFL system after they retire form footy.
With this in mind, Craig, along with Matthew Whelan, who is also from Melbourne, came up with the idea to travel to Arnhem Land to try and help their coaching and football community. This was assisted by the Gary Dhurrkay Foundation who already do a lot of great work in the area. Their focus is to encourage educational engagement for kids in remote communities and connecting these kids with high profile ambassadors. The AFLCA were also a huge help in assisting us with flights and accommodation.
We met in Darwin on Wednesday night, then flew out to Gove early Thursday morning. Craig Oldroyd who is the CEO of the Gary Dhurrkay Foundation greeted us and became our tour guide for the next few days. First stop was Yirrkala where former Geelong player Nathan Djerrkura lives. We learnt a lot about the father of land rights, Roy Marika, and his importance to the community, with a huge mural of him next to their oval, which was in quite a good condition.
They have an outstanding arts centre, and we saw some of the elders painting some brilliant pieces, but the highlight was viewing some old church doors covered in Aboriginal art which were saved and restored and are apparently insured for something like $30million.
One thing that really frustrated me though was how expensive things were at the one and only local store there. The store owners – who I'm sure aren't locals, obviously have a monopoly and seem to charge whatever they want. $6 for a bottle of water, $5 for a can of coke just didn't seem right and we all thought that the locals deserved a lot better than this. Looking back on it, it really angers me.
After this, we went down to the beach for a quick swim, well sort of. A local ranger had been taken by a croc nearby a few weeks earlier, but the water was so warm and crystal clear, it was too nice not to go in… very quickly mind you.
Right near the beach, we noticed a tree which had heaps of green ant nests on them. This is where Daniel Motlop gets his green ants from to make his special Green Ant Gin. We ate a few and I can see why Mots' gin is so popular
We then made our way to Wallaby Beach which is where a lot of didgeridoos are made. Last year we had specially made didgeridoos presented to our indigenous boys at Port Adelaide, so it was cool to be able to see where they were made. They now produce a lot of them and they sell them overseas to China to help make money for their communities.
We handed out some AFL merchandise to the kids there, and the smiles on their faces is something that will stay with me forever. Throughout the whole trip I was blown away that kids who have so little in terms of material possessions are so happy. Every community we went to, kids would jump all over us wanting to play, run up to our car to introduce themselves and were just generally so happy to see and interact with us.
The next day we went to Milingimbi Island, which was about 40 minutes away in a light plane. The people there absolutely love football and for such a remote place somehow knew who we were - including stats about me and what I had done. That blew me away a bit. But then I saw their oval with barely a blade of grass on it and you could see how devastating the lack of water had been to the community. We were told a lot of people have had to leave the island because it's so dry, and the lack of water has become a real issue. Seeing the oval like that and knowing how much they love their footy was really eye opening, and made me think that more should be done for communities like this – it didn't seem fair to me.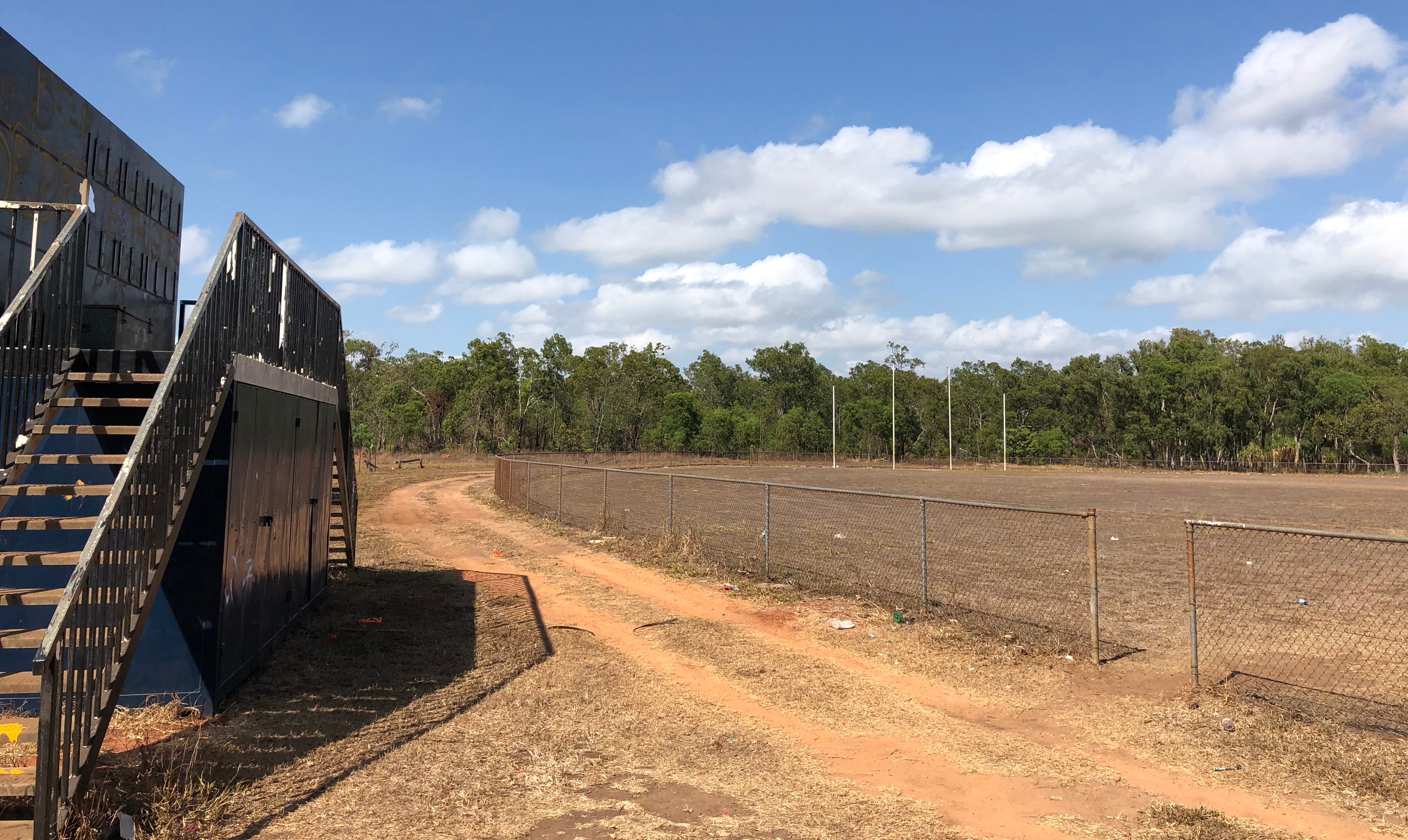 We then met some rangers who had just caught a wild croc and to see a live croc being caught was amazing. I saw them skinning the croc and it showed me how respectful the people are of their land and all that comes with it. Not one bit was wasted. They even keep the skin to make things out of it.
Some of the local kids showed us how to use a spear which proved really handy the next day when I used a spear to catch a small shark just from the shore.
We went to a school assembly and language proved a bit of a barrier because they mainly speak in their language so we had to use a translator at times. I think we got a few basic messages across but we mainly played around with the kids on the basketball court and again, seeing how happy the kids were and how much they enjoyed playing with us was quite special.
We then met with some of their local coaches and anyone who was interested in coaching and footy really. Jenno did some really great presentations using all sorts of visuals and artwork including and indigenous culture presentation he created with Nevile Jetta, and used before a Melbourne game during the year.
We left Millingimbi with enormous respect for their land, culture and people. To top it off, the pilot let me fly the plane home – well 70% of the way, which was a lot of fun.
The next day I had one of the most remarkable experiences of my life. One of the local women had recently passed away, even though the area was all closed off with no one outside of their community or close family allowed in, due to some connections through Craig Oldroyd, we were allowed in. Some of these funeral ceremonies go for three weeks so it was incredible for people from outside their community to be brought in. Matty Whelan who is indigenous himself was quite emotional after it, seeing how the different groups from around the area come together. There were elders on the outside playing the didgeridoo and singing, younger men on the inside doing tribal dances for over an hour and the women on the outside were all dancing and everyone was just in sync, it was non-stop for over an hour. A few people were looking at us like 'what the hell are you doing here?' but every now and then there must have been a little nod at them to say it is ok, that we were allowed to be there. The husband of the lady even came up to us at the end to thank us for coming and to tell us that we were welcome back.
"It was a really quiet car ride back that night because we were just taking it all in and thinking about how lucky we were to be able to experience that. It was definitely one of the more amazing and emotional experiences of my life."
What this trip has done for me has opened up my eyes to a few things. First of all, what our indigenous boys go through when they get drafted, leaving places like that. You can see why they wouldn't want to leave because of how beautiful their country is and just how close they are to their family and how much respect they have for each other. And then whenever there's a death, the ceremonies go for two to three weeks and I can now understand why the boys have to go home for extended periods. It would be so hard for a young indigenous boy to leave all that behind.
Having a greater understanding and more empathy for our indigenous boys after seeing that will be a good thing for me going forward.
Seeing such beautiful land – their beautiful land – being taken over by mines makes you really feel for them. I know they get compensated for it, but that doesn't make it right. I left thinking these people have been treated very poorly by our government.
Going forward, now I am really keen to help out with Paul Vandenbergh and our Aboriginal Community Programs in any way possible. It has definitely opened my eyes. I know it's the oldest living culture in the world but it's the first time I had anything of significance to do with it. I'm disappointed in myself that I haven't done something like this earlier but I'm keen to get involved more going forward.
As for getting more Indigenous coaches into the AFL, Jenno's plan is for our trip to be a bit of a pilot program, and create some interest and get people talking about it. In terms of helping their coaches, because of the language barrier – I'm not sure how much knowledge we passed on, but I do know they loved us being there. I've already had coaches from Port Adelaide interested in coming on the next one. The plan is for indigenous players in the AFL to see coaching as a legitimate career pathway. They've got so much to offer as such special, knowledgeable and skilled people.
More from portadelaidefc.com.au...