IN AN AFL first, Port Adelaide has adopted virtual reality into its training regime.
Port has filmed training sessions with three dimensional cameras, with the vision transferred to 3D goggles which offer 360 degree views, sighted through virtual reality goggles.
"They (players) can use the goggles and all of a sudden be almost playing football while they're on the couch, which is helping them educate," Power coach Ken Hinkley said on Friday.
Port is the only club using the technology implemented by Jumpgate Virtual Reality.
Hinkley said the technology, which places the goggle wearer in the thick of training action, was a valuable educational tool.
"This game is brutal. You pound them out on the track all the time," he said.
"It's nice to be able to try and learn and educate them a little bit more on the game without actually physically having to hammer them all the time.
"And that is one of those advantages it does for us."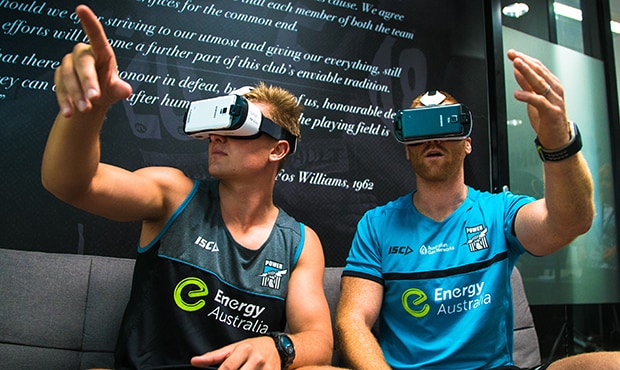 A series of scenarios at Port's match simulation training, such as centre bounce stoppages, has been recorded by crew standing within the contest, rather than relying on boundary line or behind goal vantage points.
Users of the goggles can also be equipped with headphones, allowing them to hear instructions from the coaching staff while viewing.
Hinkley said the technology, used in the NFL in America, was in its infancy at Port.
"One thing we have been really good at is we have been prepared to look for opportunities to get the boys education," he said.
"We are just growing with it ourselves ... it doesn't mean it's the only way but it's another good way for us to try and educate young players."