Raph follows Robbie's lead
With the players always on the cutting edge of hairstyles, it's no surprise some of the younger members of the Port family are following their lead.

We're just happy that Kane Cornes' son Raph opted for the Robbie Gray haircut rather than following in the rather hairy footsteps of Aaron Young and Sam Colquhoun.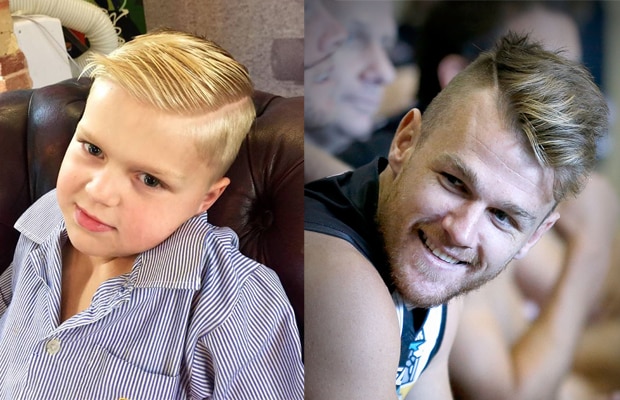 Raph Cornes and Robbie Gray

Model citizens
Angus Monfries and Hamish Hartlett have been getting some practice in for their post football life modelling careers, recently shooting a new suit campaign with Peter Jackson.
The great man @AngusMonfries in his natural habitat. Thanks to Peter Jackson for looking after the boys again. pic.twitter.com/iR9znOvU0a

— Hamish Hartlett (@hharts8) February 18, 2015

Shilah
Speaking of fashion, Jackson Trengove kept himself busy in the off-season with the launch of his new clothing company Shilah.

Plenty of the boys have been getting around the brand but something tells us it's about to hit the big time after our very fashionable chairman David Koch was seen donning a Shilah shirt around the club last week.

Hammer meets Hughesy
Hamish Hartlett has been getting amongst the shows at the Fringe Festival, heading along to comedian Dave Hughes at the Garden of Unearthly Delights. By all accounts Hamish was happy to get through the show without copping any abuse from Dave Hughes.

Hammer also got along to Soap at the Royal Croquet Club with Brad Ebert, Kane Mitchell, Jasper Pittard and Tom Jonas.

Logan Austin
Word around the club is that new draftee Logan Austin has already earnt himself the nickname Texas. Apparently it is the brain child of assistant coach Matthew Nicks, with the young guns two names both towns in Texas.