OLYMPIC athlete Erin Phillips will be Port Adelaide's first female AFL footballer, should the Power be awarded a licence in the national women's competition.
The announcement comes as Port Adelaide commits to nominating for a women's football team in the national competition.
The daughter of eight-time Port Adelaide premiership player Greg is an elite female basketballer, with an Olympic silver and a world championship gold medal to her name.
Those come in addition to her two WNBA championship titles won with the Indiana Fever and Phoenix Mercury in 2012 and 2014.
She currently plays for the Los Angeles Sparks.
Phillips, 30, has agreed to effectively become a 'marquee' player for Port Adelaide in the event the club is granted a team in the future national women's competition.
Aside from being there to watch her father captain Port Adelaide during the nineties, Erin was a talented junior footballer in South Australia before age restrictions on girls changed her focus to basketball.
"It was pretty unbelievable, really, since I was born I've wanted to play football for Port Adelaide like Dad," Phillips told portadelaidefc.com.au.
"For this to happen now is quite incredible, quite surreal."
The commitment to play for Port Adelaide is real, but with the AFL yet to determine which clubs will form the initial competition, Phillips' elite basketball career will be unhindered in the immediate future.
That will allow her to focus on her preparations for the upcoming 2016 Summer Olympics in Rio de Janeiro, where she will be vying for a place in the Australian Opals line-up.
In the meantime, Phillips says she hopes her commitment helps add to the positive movement towards developing strong female footballers at grassroots levels, especially in her home state.
"My first and foremost priority is the Opals, and to make it to the Olympics in 2016," Phillips said.
"This announcement hasn't changed my passion and commitment for basketball or Australia – it's my No. 1 priority right now.
"The chance to follow in Dad's footsteps and play for the club is something that I'm really excited about doing.
"Obviously the competition is two years away and there are many unknowns, but I'm proud to be offered this opportunity to play for Port one day, and to be part of the journey.
"Really, this announcement isn't about me, it's about another club saying it wants to help give women and girls the opportunity to play football at the elite level.
"It's exciting to be part of that."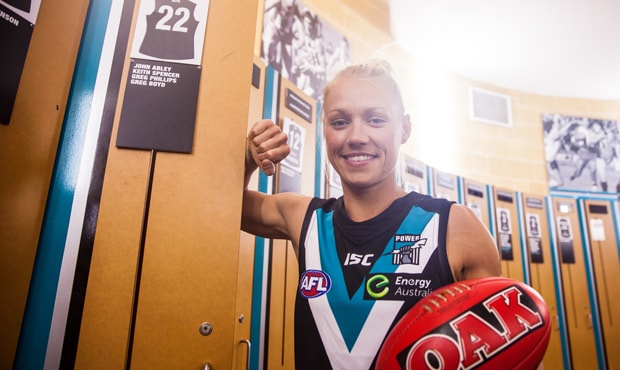 Erin outside the No. 22 locker bearing her father's name [Picture: portadelaidefc.com.au]
Added Power for female footy
In making the announcement on Wednesday, Port Adelaide also affirmed its commitment to working collaboratively with women's football in South Australia to develop girls and female football in the state.
Port Adelaide's head of football Chris Davies says the form of the club's involvement in female football will be directed by the AFL and local women's competitions.
"The AFL announced only yesterday their intention to attract athletes from other sports to widen the talent base for the national women's competition, and we're delighted to have Erin declare her intention to be involved through her passion for the Port Adelaide Football Club," Davies told portadelaidefc.com.au.
"While we're focussed on our potential involvement in the national elite competition, we are acutely aware of the need to provide a foundation for the future of the game.
"We're very enthusiastic about working in a complementary way with the AFL, the local Adelaide Football League and the SANFL in driving participation in the game in South Australia."
Port Adelaide will look at options to develop an elite talent academy program in 2016 – similar to its successful Aboriginal AFL Academy – which will allow talented women and girls to train and further develop their skills with the Power, additional to their training and playing duties at local clubs.
"There's no doubt that from a talent perspective, an academy program similar to our existing Aboriginal AFL Academy will help fast-track the development of female footballers in SA," Davies said.
"Those involved would train in an elite environment with elite coaches at Port Adelaide and could then use that experience to benefit their local clubs and strengthen the quality of their competitions.
"We're committed to the commencement of such a program in 2016."
CLUE ANSWER: How our riddle foretold of Erin's signing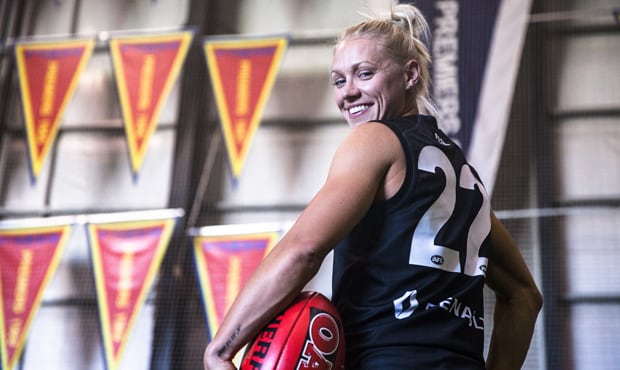 Phillips says she'd love to take over the No. 22 jumper made famous by her father in over 300 games for Port Adelaide [pic: portadelaidefc.com.au]
A love for the game
While Phillips is an elite basketballer, her first love was her father's footy club – Port Adelaide.
Greg Phillips played in 343 League games for Port between 1976 and 1982, and later 1987 and 1993.
He captained the club during that time, and played in eight premierships – a feat that headlined a long list of achievements accrued at Alberton during that time.
Erin would watch her father play football for the Magpies, forming part of a group that paved the way for the club's eventual admission into the AFL as the Power.
Growing up, Erin played for local junior club SMOSH West Lakes – quickly becoming one of the best players in her teams – before age restrictions on girls playing footy in upper age groups ended her chance to participate in the game.
She switched her focus to an emerging basketball career, but would later play in the Little Heroes Foundation's 'Slowdowns' – even winning a best-on-ground merit for her remarkable skill with the ball.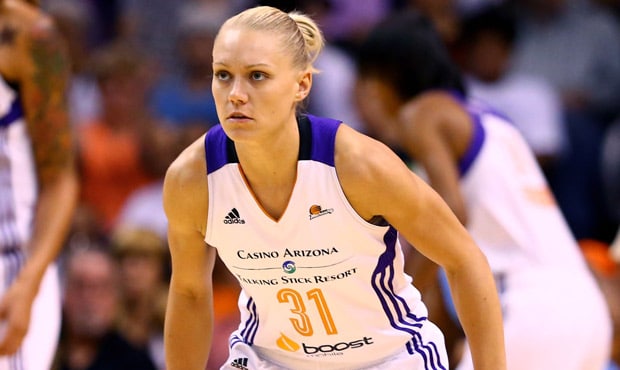 Phillips playing WNBA for Phoenix Mercury in her last championship-winning year
Phillips on the world stage
After playing for the Adelaide Lightning, Phillips has built up an impressive resume of achievements.
She was taken at selection 21 in the second round of the 2005 WNBA Draft by the Connecticut Sun, and played in every game of her debut 2006 season.
A torn anterior cruciate ligament kept her sidelined from the 2007 season, but she returned in 2008 to play eight games after winning silver with the Opals at the Beijing Olympics.
She later joined the Seattle Storm as a free agent for the 2011 season, and then joined the Indiana Fever in 2012, where she played in her first WNBA championship.
Phillips later played for the Phoenix Mercury – winning another championships in 2014, before joining the Los Angeles Sparks for the 2015 season.
More to come...
Port Adelaide has now made three Christmas announcements, with more to be 'unwrapped' in the coming days.
Thursday's announcement will be made on portadelaidefc.com.au at 11:30am (ACDT).
A clue to Port Adelaide's fourth announcement will appear on portadelaidefc.com.au at 6:00pm on Wednesday night.
Erin Victoria Phillips Bio
DOB: 19 May 1985
2x Women's NBA Champion (2012, 2014)
Gold Medal – FIBA World Championships, Brazil (2006), Commonwealth Games (2006)
Silver Medal – Beijing Olympics (2008)
Bronze Medal – 2014 FIBA World Championships, Turkey (2014)
1x Women's NBL Champion (2008)
3x Polish PLKK Champion (2010-2012)
Career progression
Adelaide Lightning, WNBL (2002-2008)
Connecticut Sun, WNBA (2006-2009)
Ramat Hasharon Electra, Israel (2008-2009)
Lotos Gdynia, Poland (2009-2010)
Wilsa Krakow, Poland (2010-2013)
Indiana Fever, WNBA (2011-2013)
Phoenix Mercury, WNBA (2014-2015)
Los Angeles Sparks, WNBA (2015-present)
South East Queensland, WNBL (2015-present)