FOOTBALL PARK at West Lakes has been demolished, bringing down more than 40 years of the game's history.
When Port Adelaide moved to play its home AFL games at Adelaide Oval in 2014, it brought to an end four decades at Football Park punctuated by some remarkable highlights, history-making events and a touch of controversy.
The ground opened in May 1974 and it was indeed a field of dreams for Port Adelaide.
The club celebrated 13 Premierships at West Lakes.
It played in the first double-header ever held at the ground as well as the first game under lights for Premiership points.
It played in front of the highest crowd ever assembled to watch a SANFL game – the heartbreaking 1976 Grand Final – where 66,897 fans, mostly black and white, crammed into, and onto, Football Park.
In fact, some observers put the crowd figure around 80,000 after the SANFL was forced to shut the gates 90 minutes before the start due to the crush of people trying to get in.
In the modern AFL era Port Adelaide has enjoyed some wonderful memories at West Lakes including its first ever win in the AFL, the club's stunning victory over the Crows in Showdown I and the famous win over St Kilda in the Preliminary Final which set the Power on its path to its first Premiership in 2004.
Here are some of our favourite memories at Football Park:
Saturday 15 June 1974
Port Adelaide 21.19 (145) def Norwood 11.11 (77)
Port Adelaide debuted at Football Park against its traditional rival Norwood in a game which was originally scheduled for Alberton but was moved to West Lakes to accommodate the expected large crowd.
19,676 spectators saw the Magpies lead at ever change to eventually win comfortably by 68 points.
Darrell Cahill kicked five goals and was one of Port Adelaide's best along with captain Russell Ebert and the high-flying Max James.
Grand Final – Saturday 24 September 1977
Port Adelaide 17.11 (113) def Glenelg 16.9 (105)
In arguably one of the greatest Grand Finals of all time, Port Adelaide overcame a decade of premiership under-achievement, an early deficit and a long injury list to muster the energy to register a thrilling eight-point victory in the centenary year of the SANFL.
In front of a frenzied crowd of 56,717, the Magpies trailed the Tigers by 18 points early in the first quarter but fought back in a spiteful encounter.
It was Port Adelaide's fist Premiership flag in 12 seasons and provided one of the most enduring images in the club's history of captain Russell Ebert raising the trophy aloft.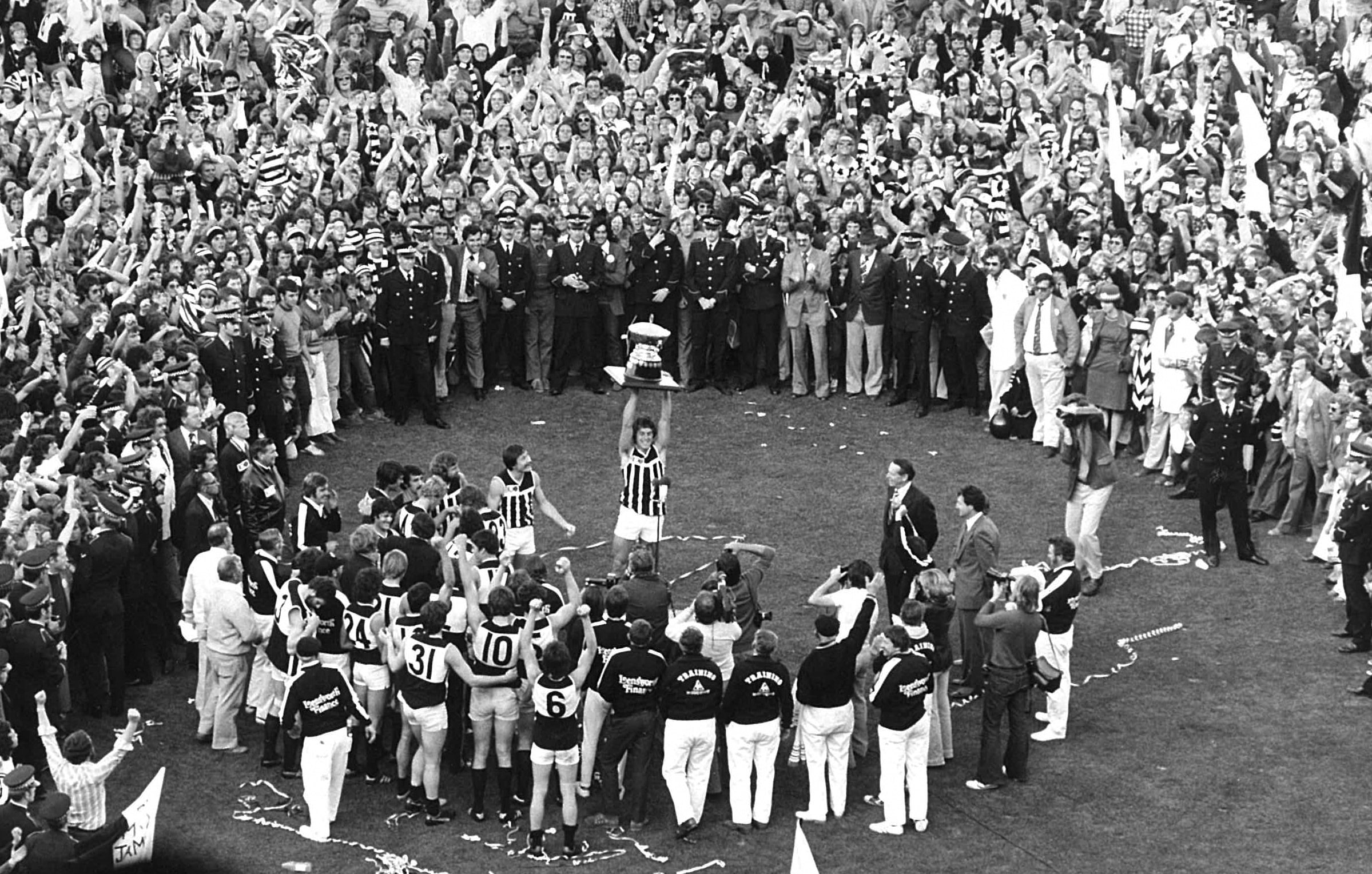 Saturday 19 April 1980
Port Adelaide 37.21 (243) def Woodville 13.4 (82)
The Magpies systematically demolished and humiliated the Peckers at Football Park by 161 points on the way to kicking the club's highest ever score of 37.21 (243), a record which remains to this day.
Port led by a ridiculous 104-points at half time and cruised to victory in the second half with Milan Faletic booting eight goals and Ross Agius, Stephen Clifford and Tim Evans all nailing five each.
Friday 4 May 1984
Port Adelaide 20.14 (134) def Norwood 14.7 (91)
In a historic moment, Port Adelaide clashed with Norwood in the first game under lights at Football Park for premiership points.
In front of a crowd of 19,612, the Magpies trailed the Redlegs by 16 points at quarter time before kicking into action and steamrolling them, booting 18.10 to 9.5 in the final three quarters.
Livewire forward Steven Knight starred for Port Adelaide with six goals while Tim Evans bagged five.
Grand Final – Sunday 7 October 1990
Port Adelaide 16.12 (108) def Glenelg 13.15 (93)
Port Adelaide produced one of its most valiant and courageous performances of all time to drag itself over the line against a more-fancied Glenelg in the 1990 Grand Final.
It was to be the club's 30th and third successive flag and came at a time when Port Adelaide had made a bold but unsuccessful bid to join the AFL.
The Magpies would finish the game with 16 fit players and after being carried off with a knee injury, forward Scott Hodges returned to the field to finish with six goals and set a new SANFL goalkicking record with 153 for the season.
Grand Final – Sunday 2 October 1994
Port Adelaide 15.16 (106) def Woodville-West Torrens 10.9 (69)
Billed as a one-horse race, the Magpies entered the 1994 decider the rank underdog after being beaten by the Eagles by 73 points a fortnight earlier in the second semi-final.
After conceding the first six goals of the game the bookies were laughing but with the second South Australian AFL licence decision looming, the Magpies willed themselves back into the contest with Scott Hodges booting three goals in eight minutes to turn the tide.
He booted five of his six goals in the last quarter as Port booted nine goals to one to claim a remarkable 37-point victory.
Darryl Wakelin was awarded the Jack Oatey Medal for his brilliant four-quarter effort at centre half-back.
Saturday 12 April 1997
Port Adelaide 18.21 (129) def Geelong 14.6 (90)
Many pundits thought Port Adelaide would struggle to win a game in its inaugural AFL season but in just the third round of the 1997 season it had 32,074 fans rejoicing under lights with an emphatic 39-point victory against a hardened Geelong side.
The Power jumped out of the blocks to set up a 21-point quarter-time lead and were never headed with Scott Cummings and Bowen Lockwood kicking five and four goals respectively and David Brown (30 possessions) and Donald Dickie (26) dominant in midfield.
Sunday 20 April 1997
Port Adelaide 11.17 (83) def Adelaide 11.6 (72)
The South Australian football public had long waited for this game since Port Adelaide's failed AFL bid resulted in the formation of Adelaide.
Going in as rank underdogs, the Power went into a cauldron made up of 47,256 mostly Crows supporters in Adelaide's home game, and despite an 18-point advantage at the main rbeak, injuries to Fabian Francis, Tom Carr and Gavin Wanganeen had Port down to just 18 fit men.
A physical altercation involving Scott Cummings and Crows defender Rod Jameson highlighted the tensions between the sides but the Power forward had the last laugh with four goals as his side held on bravely for an 11-point win.
Grand Final – Sunday 3 October 1999
Port Adelaide 14.17 (101) def Norwood 14.9 (93)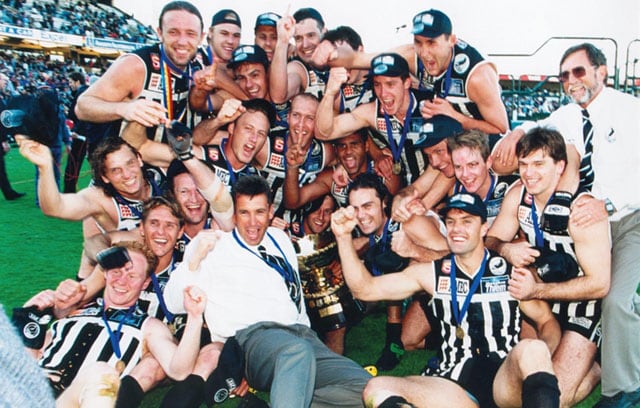 In the final SANFL Grand Final of the century Port Adelaide reinforced its reputation as the dominant team in the local competition recording a come-from-behind eight-point win over traditional rival Norwood.
The Redlegs appeared certain winners after controlling much of the match and leading by four points late in the contest before two late goals, including a 60-metre torpedo punt on the run by Phil McGuinness sealed an inspiring win.
Darryl Poole, who missed two previous premierships through suspension, was awarded the Jack Oatey Medal as best on ground for his 30-possession game in the ruck.
Ansett Cup Grand Final – Saturday 17 March 2001
Port Adelaide 17.9 (111) def Brisbane 3.8 (26)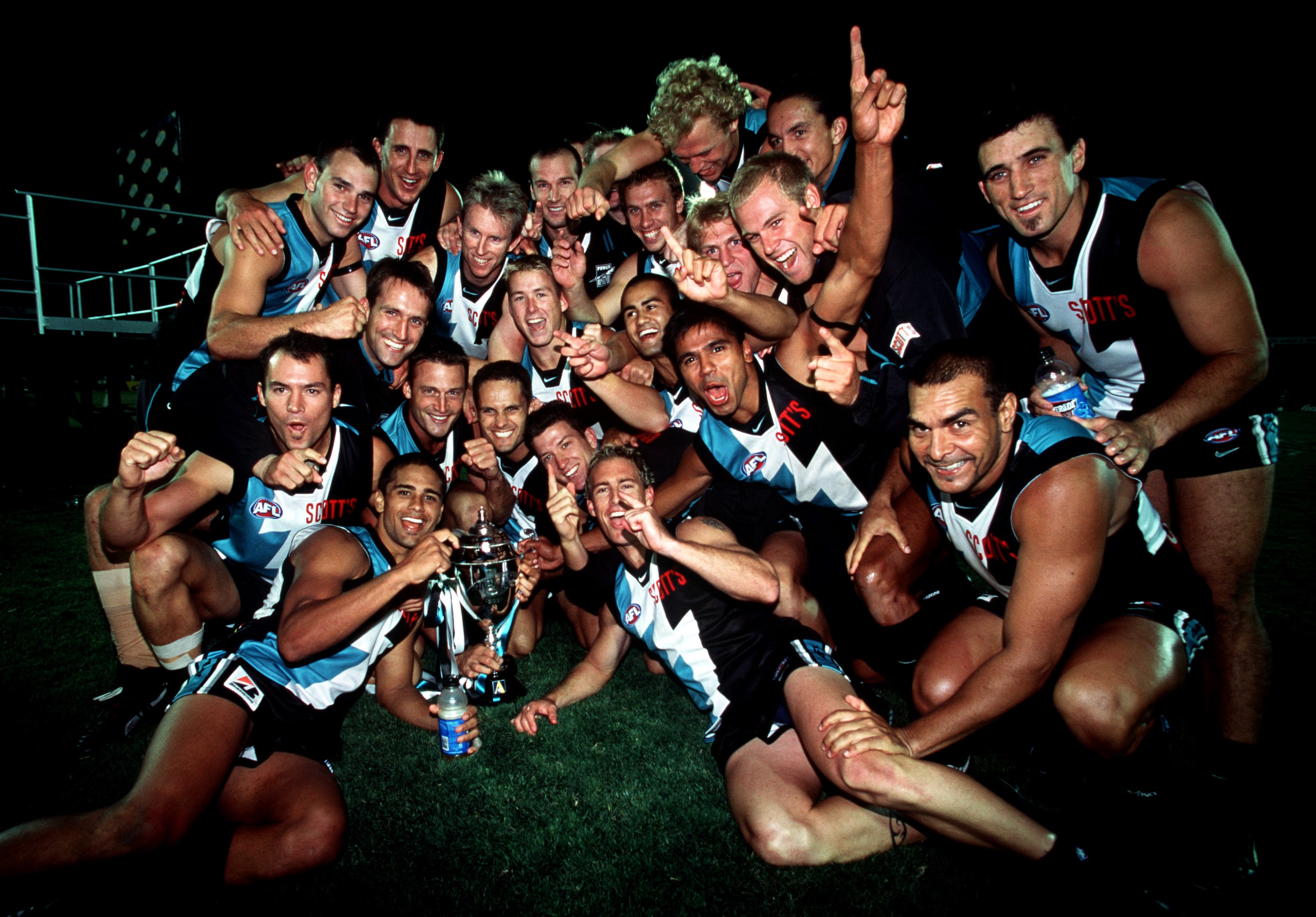 In front of a pumped-up crowd of 35,304 Port Adelaide secured its first piece of silverware in the AFL with a comprehensive 85-point pre-season cup victory over the Brisbane Lions.
Scores were level at quarter time but the Power flexed its muscles to eventually defeat a hapless Lions outfit by just over 14 goals.
Adam Kingsley was awarded the Michael Tuck Medal as best on ground for his rebounding work out of defence.
Preliminary Final – Friday 17 September 2004
Port Adelaide 14.10 (94) def St Kilda 13.10 (88)
After three consecutive years of failed finals campaigns expectation as high that Port Adelaide could make history and qualify for its first AFL Grand Final.
In the first Preliminary Final at the venue, 46,978 fans were on the edge of their seats in an enthralling contest.
St Kilda dominated the early going but lost momentum when forward Fraser Gehrig booted his 100th goal of the season and thousands of spectators invaded the oval.
The heroes of the night included Roger James, stoic in midfield, Michael Wilson playing though the pain of shoulder dislocations, Gavin Wanganeen who booted remarkable goals after being quiet early, and Shaun Burgoyne who dove full length across an opponent's boot to prevent a certain goal. The six-point margin saw Port into it's first AFL Grand Final and on the path to its first AFL Premiership.
Sunday 5 August 2013
Port Adelaide 17.5 (107) def Adelaide 15.13 (103)
In the historic final Showdown at Football Park, the Power stole victory from the jaws of defeat and claimed home-town bragging rights over Adelaide thanks to four unanswered goals in the final eight minutes including two in the final 90 seconds.
In a game best remembered for an Angus Monfries major that took a sharp off-break, Chad Wingard booted five goals to snatch the result.