AFL Talent Ambassador Kevin Sheehan has identified seven South Australian teenagers he thinks are among the top 40 AFL draft prospects.
Days out from the 2018 AFL National Draft, Sheehan has compiled a list of players he rates as the best of the bunch.
Sheehan has likened the potential talent in this year's Draft to that of the 2001 'Super Draft' which produced many long-term stars for the AFL.
"Those in the business of watching and analysing AFL Draft prospects over the last two years have been very bullish about the elite potential throughout the Draft class of 2018," he said.
"It has led to comparisons with what is generally referred to in the AFL industry as the Super Draft of 2001.
"The year produced an extraordinary number of AFL champions and stars who became household names in our game even today when only two of those draftees, Number One selection Luke Hodge and selection 40 Gary Ablett Jnr are still playing from the 65 players drafted that year.
"Brownlow Medallists Chris Judd (selection three), Jimmy Bartel (selection eight), Sam Mitchell (selection 36), Gary Ablett Jnr (selection 40), and Dane Swan (selection 58) all became champions of the game and amongst the 24 players who played over 150 matches."
Sheehan said 17 players from that draft had played over 200 games with Geelong (James Kelly 313 games, Steve Johnson 293 games, Ablett 302 games, and Bartel 305 games) and Hawthorn (Hodge 305 games, Mitchell 379 games, and Campbell Brown 205 games) enjoying the most success.
"The 2001 NAB AFL Draft remains the benchmark in measuring success in terms of converting Draft selections into stars," Sheehan said.
"Eight of the top 20 played more than 200 games as did a further eight selected
after selection 30, including Dane Swan (258 games) at selection 58 and Norm Smith Medallist Brian Lake (251 games) at selection 71."
In terms of this year's draft, Sheehan has listed his top 40 in alphabetical order, preferring not to try and pick the order.
Here is what he said about each of the South Australians:
Jackson Hately
Central District/Walkerville/SA
189cm 80kg 21/10/2000
Medium midfielder who excels at stoppages and is extremely versatile. Strong contested ball winner and can impact the scoreboard. One of the stars for South
Australia in the NAB AFL Under-18 Championships, winning Under-18 All-Australian honours. Already played well for Central District at senior level this year, averaging 18.4 disposals in 12 matches. Has the running capacity to make repeat efforts and outnumber the contest, as well as transition both ways.
Competitive Advantage: Versatility, ball winning
Draft Combine: Running Vertical Jump 84cm, 2km 6.24sec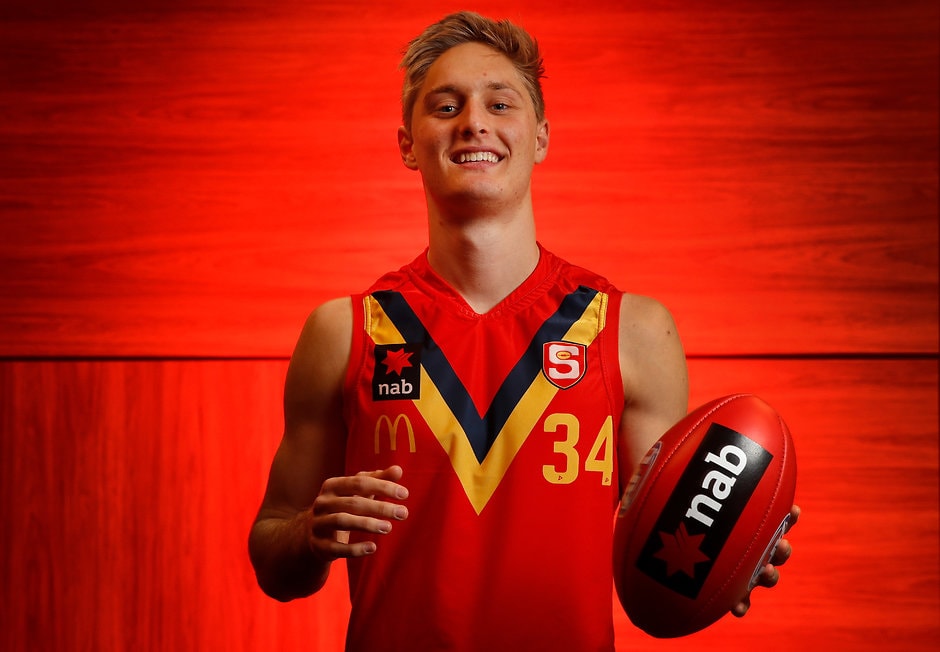 Jack Lukosius
Woodville West Torrens/Henley/SA
195cm 83kg 9/8/2000
Tall forward who is exceptionally athletic and difficult to match up on due to his pace off the mark and clean hands overhead. Exceptional kick and was a standout for South Australia in the NAB AFL Under-18 Championships, winning him All-Australian honours. Showed exceptional promise at senior level for WWT in the past two seasons. Composed player capable of playing either end of the ground or even on the wing. NAB AFL Academy member.
Competitive Advantage: Elite kicking, marking on lead
Draft Combine: 20m Sprint 2.98sec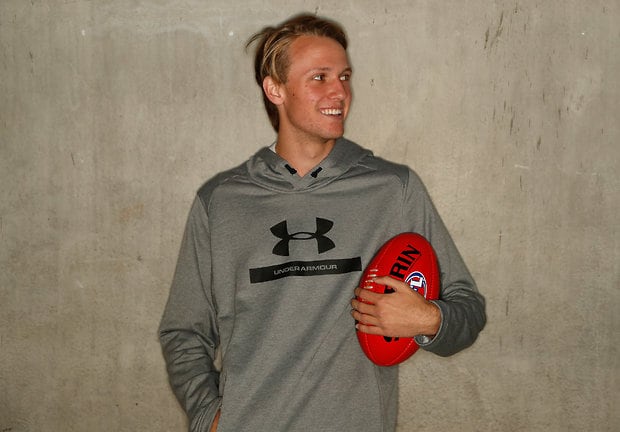 Jez McLennan
Central District/Tanunda/SA
185cm 81kg 7/9/2000
Medium defender who is an excellent intercept mark and good distributor by hand and foot. A courageous player who can play on a range of opponents. Had an excellent NAB AFL Under-18 Championships for South Australia, playing an important role in their championships victory and winning Under-18 All-Australian honours.
Competitive Advantage: Intercept marking
Draft Combine: Yo Yo 21.4 – top 10
Izak Rankine
West Adelaide/Flinders Park /SA
179cm 79kg 23/4/2000
Classy medium midfielder with electrifying pace and innate goal-sense highlighted by his five goals in South Australia's 2018 NAB AFL Under-18 Championships victory over Victoria Metro. A back-to-back Under-18 All-Australian highlighting his enormous potential and has already played three years of senior football with West Adelaide in the SANFL. NAB AFL Academy member.
Competitive Advantage: Super quick, elite goal sense, takes game on
Draft Combine: Agility 8.04 sec – ranked 1, 20m Sprint 2.93sec – ranked 3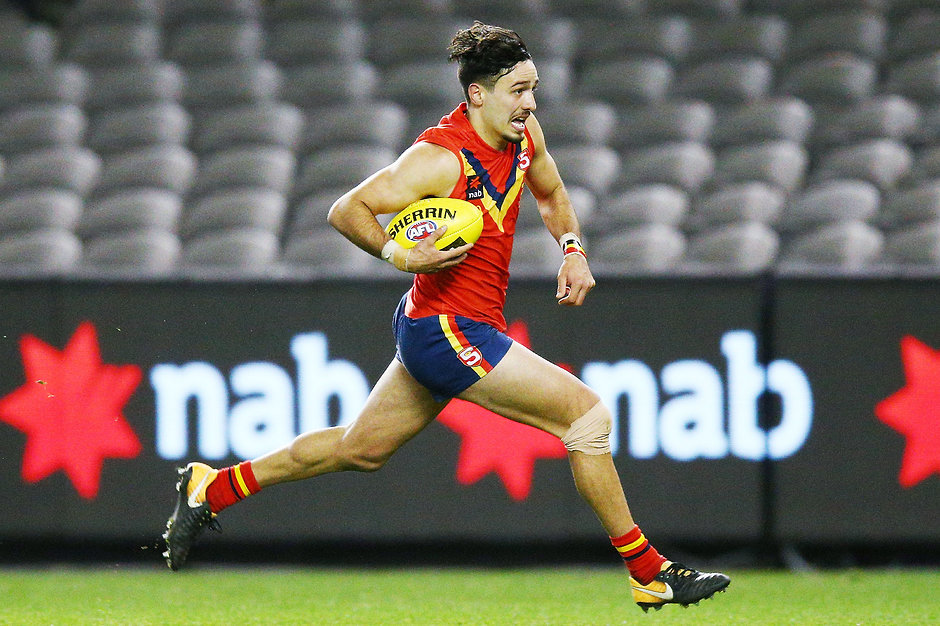 Connor Rozee
North Adelaide/South Augusta/SA
185cm 74cm 22/1/2000
Medium forward/midfielder who is strong overhead for his size and has quick hands and vision. Has speed, courage and tackles aggressively. Won the Division One
best and fairest in the NAB AFL Under-16 Championships in 2016 and was an important member in South Australia's winning side in the NAB AFL Under-18
Championships. Has already made his debut at senior level with North Adelaide and impressed playing in a Premiership side.
Competitive Advantage: Strength overhead, versatility, vision, step and change of direction
Draft Combine: 20m Sprint 2.91sec – ranked 2, Agility 8.30sec – ranked 8
Tom Sparrow
South Adelaide/ Bridgewater-Callington /SA
183cm 83kg 31/5/2000
Medium forward/midfielder who is most competitive, wins contested ball and has the ability to stay in the contest with his recovery and agility. A leader on the field, he
was a consistent contributor for South Australia in their 2018 NAB AFL Under-18 Championships victory. Averaged 21.9 disposals at Under-18 level in the SANFL.
Competitive Advantage: Stoppages, game sense
Draft Combine: 20m Sprint, 3.08sec, 2km 6m30sec
Luke Valente
Norwood/Walkerville/SA
187cm 82kg 8/5/2000
Medium midfielder who captained the winning South Australian team to the NAB AFL Under-18 Championships. Set the standard with his contested ball-winning ability, particularly at stoppages, and his composure with his delivery on his left and right side. Winner of South Australia's MVP award, he averaged 22.8 disposals at 83.5 per cent efficiency and five tackles. Named vice-captain of the NAB AFL Under-18 All-Australian team. Member of NAB AFL Academy.
Competitive Advantage: Ball use on both side of body from stoppages
Draft Combine: Did not test / Academy testing: Agility 8.42sec, Yo Yo 20.8
More from portadelaidefc.com.au…