PORT Adelaide players will proudly sport the iconic pie brand Four'N Twenty logo on their shorts from the opening AFL game this season, as part of a new sponsorship deal with Patties Foods Limited.
Patties Foods, the maker of Australia's biggest selling pie, Four'N Twenty, has signed a three-year contract to become a Premier Partner, Official Sponsor and Official Pie of the Port Adelaide Football Club.
In welcoming Patties Foods, Port Adelaide Football Club chairman David Koch said he was delighted to have on board a great Australian company with an iconic brand that is synonymous with football.
"The Port Adelaide Football Club is thrilled to welcome Patties Food on board as a Premier Partner for 2015 and beyond," Mr Koch said.
"Four'N Twenty, like Port Adelaide, has been synonymous with football in this country for many decades.
"They are a national icon and are a natural fit for our football club as we continue to build our brand on a national and international level.
"At Port Adelaide we have put a new slant on an old jingle – football, Four'N Twenty pies, kangaroos and Renault cars go together here at Alberton.
Mr Koch said the commitment from Patties Foods provided Port Adelaide with financial strength and stability to continue to invest in their football program.
"This Premier partnership with Patties Foods means they sit just below our joint major partners Renault and EnergyAustralia in their financial commitment to the club," Mr Koch said.
"It is a significant partnership as it reinforces our capacity to attract major national companies and helps underpin our off-field resurgence as a football club. We look forward to a long and prosperous relationship."
MD & CEO of Patties Foods, Steven Chaur, said Four'N Twenty's association with Port Adelaide is a great step for the brand, which has been involved with football since the 1950s.
"This is the first time the Four'N Twenty logo has appeared on an AFL team strip and we're very pleased that it's with such an exciting club as Port Adelaide," Mr Chaur said.
"The Power play a great brand of footy, their fans are passionate and knowledgeable, and the club is as committed and as professional as they come.
"Patties Foods looks forward to a strong and successful relationship with the Power."
Port Adelaide players Patrick Ryder (4) and Chad Wingard (20) were at the sponsorship launch today at Montefiore Hill, overlooking the Adelaide Oval, modelling the new look shorts, with Four'N Twenty pies in hand and Colonel Light looking on.
"Colonel Light may have founded Adelaide, but his first love was clearly Port Adelaide, and we're pleased that Four'N Twenty has been able to share today with him. I think he would have been pretty happy about this sponsorship, and he would have liked a few Four'N Twenty pies too," Mr Chaur said.
As well as adorning the players' game day and training shorts, the sponsorship will see Four'N Twenty signage displayed on the big screen and at perimeter and parapet levels during games at Adelaide Oval, and in change rooms, website and official club events.
Four'N Twenty will also conduct pre-game activities to engage with fans, and Patties Foods will enjoy a range of sponsor benefits including player appearances, access to club games and events and presence at the Port Adelaide Football Family Day.
The sponsorship will also see the Four'N Twenty logo on the back of Port Adelaide's SANFL guernseys, and rights for Patties Foods to supply product at events and functions at Alberton Oval, SANFL matches at Alberton Oval when Port Adelaide are playing.
"We see a great future for our products in South Australia and this sponsorship is part of our commitment to growing this market," Mr Chaur said.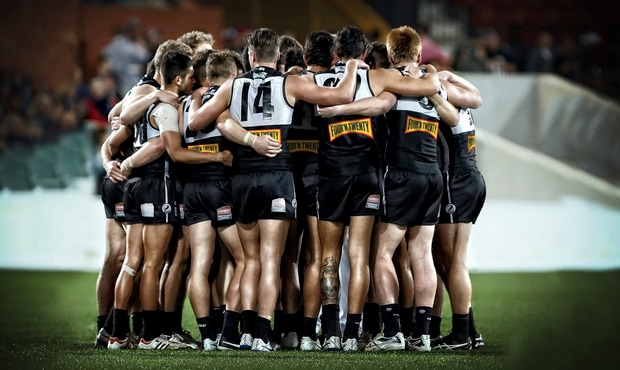 Here's how you'll see the back of the Maggies' guernseys in 2015