IF Andrew Moore has one new year's resolution for 2015, it would be to play more game time for the Power.
Not that he hasn't had the capability to play AFL football.
On the contrary, he's one of Port Adelaide's talented midfielders who has shown he can play consistent football over the last three years.
However, injury setbacks have plagued the 23-year-old since arriving at the club with pick nine in the 2009 AFL draft.
A persistent groin problem hampered his first years on the Power's list, as he mixed SANFL duties (then as an aligned player with North Adelaide) with blocks of AFL time.
Managing just seven AFL games in 2010, his groin again flared in 2011 and kept him out for half the season.
In 2012, under coach Matthew Primus, he would play 11 matches for the Power after breaking permanently into the side from Round 11 that year.
A hamstring issue saw him miss the final two matches under caretaker coach Garry Hocking.
Then with the arrival of Ken Hinkley as coach and Darren Burgess as high performance manager, Moore looked to have turned a corner.
He chalked up 17 games - a career high - in 2013, and played in both of the Power's finals appearances.
Finally it looked like Moore had found his place in a burgeoning Port engine room, but an AC joint injury suffered in the club's final trial game of 2014 against St Kilda again dented his hopes of greater permanency in the Power line-up.
It took until Round 11, as the sub, for him to make his return.
That return lasted a quarter, with a collarbone injury suffered during his brief stint putting him back on the sidelines for another month.
It's enough to drive you mad.
Any player who spends almost a quarter of their career coming back from injury could be forgiven for losing heart; unfortunately, the hard road of rehab is one that Moore has known well.
But positive thinking and mental resilience has helped him bounce back time and again.
"I had a little bit of a frustrating start to the year, and a bit of an interrupted season," Moore tells portadelaidefc.com.au of his tough 2014.
"You need to stay positive when you have those setbacks, and I suppose throughout my career I've had a few injuries.
"I've learnt from them that you need to stay positive and quite upbeat around the club.
"The mental side of things does really help you get through those tough times."
Support is crucial for any player in recovery, and Moore found plenty of it around the rooms at Alberton.
Encouragement and mentorship provided by his coaches and teammates, whether at training or while he was mounting a comeback in the club's SANFL team, was crucial to Moore breaking back into the senior side late in the year.
That he has played in each of the Power's finals campaigns under Hinkley comes down to a combination of talent, hard work and the right attitude in every aspect of his game.
Now, having registered his half-century against the Hawks in Port Adelaide's season-ending preliminary final last year, Moore is determined to keep the momentum going into 2015.
"Everyone around you - the coaches, the players - is really supportive during that time [rehabilitation], and even when I was out back playing and trying to perform well and break into the AFL side," Moore explains.
"Personally, it was a great reward to be back into the side in the later part of the year and playing those finals.
"That's why we play - to play the big games, on the big stage."
2015 is another opportunity for Moore to solidify his position in the Power line-up.
While he's played in five finals, the 50-gamer is nonetheless fighting against some of the club's big name players to have his own pencilled in for Round 1.
To make sure he's put in the best position for an opening game appearance, Moore has matched himself up against the club's midfield supremos of captain Travis Boak and reigning club champion Robbie Gray this summer.
Meanwhile he's ensuring his versatility by working forward at training as well.
It's all about maximising his impact on the list, and making sure those 50 games hit triple digits.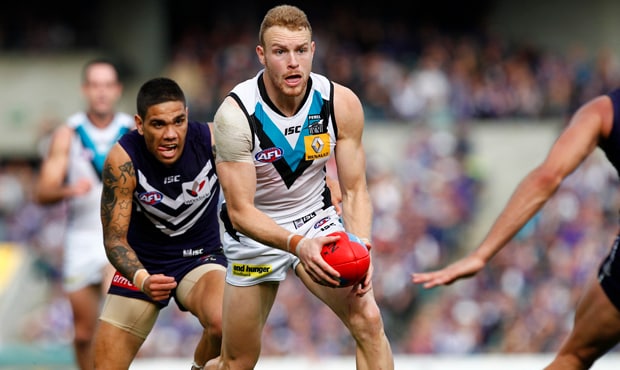 Andrew Moore in action against Fremantle in the 2014 AFL Semi Final (picture: AFL Media)
"The biggest thing for me is to try and cement myself in the side," Moore says.

"Spots are always up for grabs, but it's always very intense and very competitive amongst the group.
"I'm still working extremely hard on my midfield game and playing that inside role, and working with the likes of Boaky and Robbie Gray and trying to match myself up against them.
"Not only that midfield, but also having the aspect of maybe heading forward and playing a half-forward role as well.
"There are very limited injuries at the moment, so everyone is fit and ready to go, we're all pushing each other and trying to get the best out of each other, and it's showing out on the track."
When Hinkley arrived at Port Adelaide he placed "no limits" on his playing list and Moore is living that mantra every day as part of a team equally determined to atone for a prelim final exit last year.
If he and his teammates can do the little things well this pre-season, they'll run out against Fremantle in Round 1 knowing they've reached the start line in the best shape, and with little wondering whether they've done what's required to match it with the best again this year.
"There's obviously no limits on where we can go, and it's about the little things, which we've spoken about in the past."
"We're still that little bit 'away' from achieving the ultimate goal, but us a team will really learn ... especially from the [final] game against Hawthorn.
"It's about getting everything right and getting everything done in terms of the on-field training aspect, but also when you're inside [the club] - in the gym and in recovery and going through vision - making sure you tick off everything.
"We need to make sure we're 100 per cent ready to go when it comes to the start of the season."