It's a name synonymous with Port Adelaide, and at the weekend two generations of Eberts lent their moniker to a cause close to the club.
Stamping out violence against women and promoting respectful relationships have been causes campaigned for by the Port Adelaide Football Club through its program "The Power to End Violence Against Women".
The program has engaged around 5,000 students since it launched in schools in 2016 with participants taking part in two sessions across two weeks.
The program is run by Port Adelaide's community arm, Power Community Limited, in partnership with Centacare Catholic Family Services and the South Australian Department for Education.
Students who have participated in the Power to End Violence Against Women (PTEVAW) program in their respective schools are invited to attend an annual Family Event with a role model in their life.
So, it was fitting that family was at the top of the agenda at this year's Event, particularly for Port Adelaide great Russell Ebert, who helps run the program.
The four-time Magarey Medallist was joined as a speaker at the Family Event by his son Brett Ebert, himself a Magarey Medallist and former Port Adelaide AFL player, and his nephew Brad Ebert who is a current Port Adelaide AFL player.
With positive role models a heavy focus of the PTEVAW, and found in a recent study to contribute positively towards engaging students to challenge the ideals of masculinity and gender-based attitudes, the Eberts presented a united front at Saturday's Family Event at Adelaide Oval, before the Power's game against Sydney.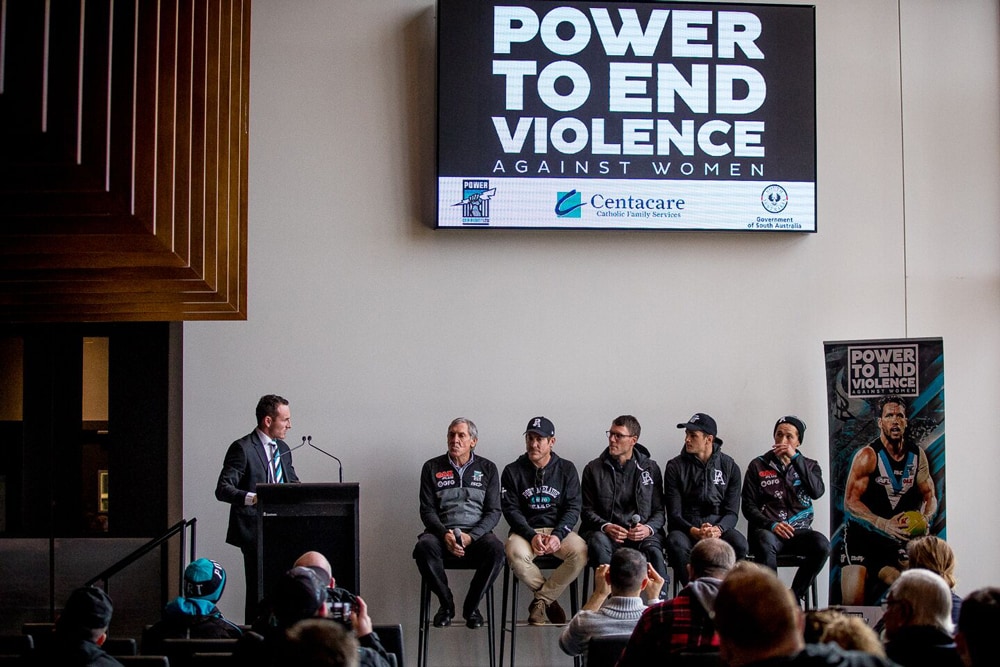 "We have strong family values and strong beliefs around how you treat other people, not just women," Brett Ebert told portadelaidefc.com.au.
"It's my second year being involved in the program and working with year 10s, it's a perfect age to speak with these young men and share those values and responsibilities of treating people with respect.
"We want young men to be able to speak with each other and share their feelings and thoughts, because as males we often don't, and we want the boys to know it's ok to share emotions.
"It was great to get up there with Dad and Brad and share those messages and it's important to use those role models and the vehicle of the footy club to do that."
60 people were in attendance at the Family event, which was held for the first time before an AFL game at Adelaide Oval.
The annual Family Event provides an opportunity to reengage students in the program while continuing to raise awareness of the issue of violence against women.
It helps provide the students' role models background on the Power to End Violence Against Women program in which the students have been involved in, reminding them of the important of young men becoming positive future leaders and role models themselves in preventing violence against women.
Among the speakers at the event were past and current Port Adelaide players and Adelaide City Councillor Arman Abrahimzadeh OAM, who has campaigned against violence against women through the Zahra Foundation Australia, which he founded in honour of his mother who was murdered by his father.