PORT ADELAIDE is going back to the future with a modification to its home jumper for season 2017.
The classic white number panel, worn continuously by the club in the SANFL since 1952, and prominent on its original AFL home guernsey from its entry in 1997, will return next year.
The white and teal 'vees' will remain across the jumper's chest.
Member feedback helped inspire the return to the number panel, with representative surveys of Port Adelaide's membership in 2015 and 2016 showing overwhelming support – more than 85% in favour – for its return.
Port Adelaide chief executive Keith Thomas says the permanent return of the number panel to the Power's home jumper is a subtle nod to the club's history.
"The number panel is part of our traditional SANFL jumper," Port Adelaide chief executive Keith Thomas said.
"You could always tell a Port Adelaide player running away from you after he broke your tackle in the SANFL, and no doubt in the first decade of our AFL team.
"It has been on the guernsey for 28 of our 36 SANFL premiership years, and also for our 2004 AFL flag.
"We've worn this design in Showdowns for the last two seasons – our players love wearing it and our supporters love seeing it out there.
"We ran two surveys in 2015 and 2016 to see whether our fans were in favour of the idea, and in both we saw at least 85% of our fans give it the stamp of approval.
"Consultation with our supporters is important in these decisions, but we also believe it helps our jumper stand out more against clubs like St Kilda, Carlton and Collingwood – which have predominantly dark backs to their jumpers."
The 2017 ISC range, including the Power's new-look home guernsey, will be available instore at the Port Store, Queen Street, Alberton and online at portstore.com.au on Wednesday.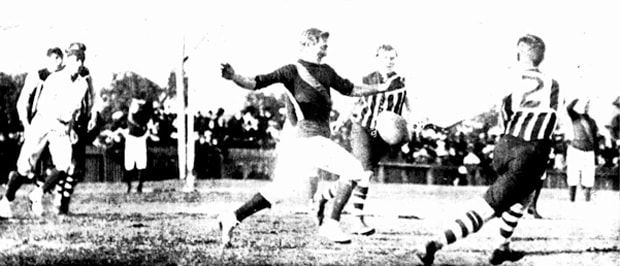 Port Adelaide first wore a white number panel with numbers in 1910. It is one of the first senior clubs in Australia to do so.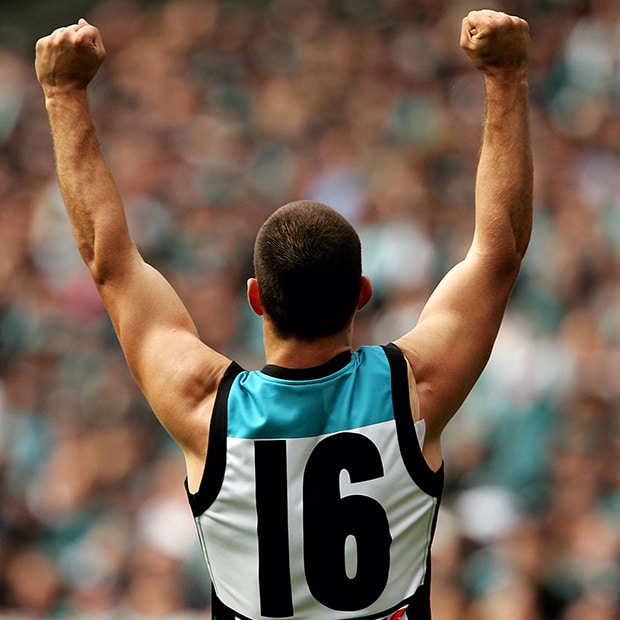 Warren Tredrea celebrates victory in the 2004 AFL Grand Final - number panel and all [pic: AFL Media]