PORT ADELAIDE has signed a unique three-year partnership with leading Chinese property developer Shanghai Cred.
Announced at the Fairmont Peace Hotel in Shanghai on Thursday morning, the multi-million dollar deal will see Port Adelaide take primary responsbility for developing Australian Football in the world's most populous country.
Within the partnership, Port Adelaide will:
Hold annual training camps in Shanghai.
Continue to sponsor the South China AFL, Guandong AFL, Team China and Auskick programs as part of the arrangement.
Produce AFL programs and broadcast games into China via China Central Television (CCTV) and other networks.
Conduct business events in Shanghai, Beijing and Hong Kong.
Speaking in Shanghai on Thursday, Port Adelaide chief executive Keith Thomas said the Shanghai Cred-Port Adelaide partnership would allow AFL to develop within the world's biggest growth market.
"The most pleasing element of this partnership is that it goes well beyond the football field," he said.
"This partnership significantly strengthens Port Adelaide providing us with the confidence and ability to continue to grow our football club. It also allows us to play a key role in promoting the most exciting game in world sport to China.
"It is meaningful for Australians to see China embrace our indigenous game and equally important to the Chinese community that we are prepared to introduce Australia's game to their culture.
"We believe sport and Australian football will become an increasingly important component of Australia and China's future relationship.
"We are thrilled to welcome Shanghai Cred and their founder Mr Gui Guojie to the Port Adelaide family."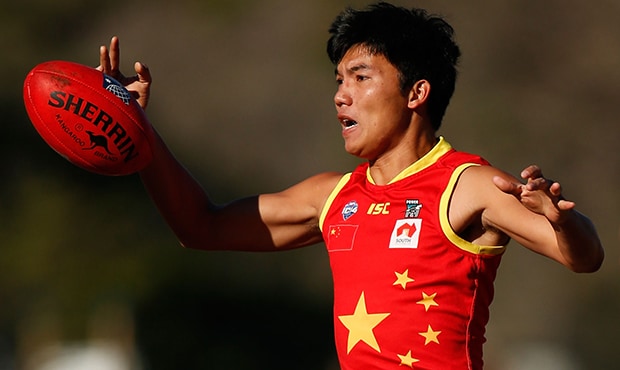 Port Adelaide sponsored Team China in the 2014 AFL International Cup and will continue the arrangement as part of its deal with Shanghai Cred [pic: AFL Media]
Mr Gui has witnessed Australian Football first-hand as a spectator at Power home games at the Adelaide Oval and says the combative nature of the sport is what appealed most to him.
His company Shanghai Cred is an agribusiness that has already signed several agreements with Australian farmers and works to link Australia's strong agriproducts industry to the lucrative Chinese market.
"Australian Football is Australia's iconic first sport with a renowned history for over a hundred years and the Port Adelaide Football Club is central to this," Mr Gui said.
"I have had the pleasure of seeing Port Adelaide play at Adelaide Oval and the atmosphere at a live game is most thrilling.
"On behalf of Shanghai Cred, I am delighted to be partnered with Port Adelaide. This partnership will promote and share the beauty of AFL in China and will enlighten and enrich our sporting culture.
"I have great confidence that once this sport is imported into China, it definitely will gather a huge group of fans and refresh the cultural exchange between China and Australia.
"I strongly believe this moment will be firmly framed in the sports history of our country."
Port Adelaide will make an additional announcement from Shanghai later on Thursday morning.


MORE ON PORTADELAIDEFC.COM.AU ...

Port Adelaide's China channel

New deal for Power to broadcast into China