KANE Cornes will retire from senior football following his 300th game in a fortnight.
Somewhat fittingly, the boy who first wore the yellow and black of Glenelg before being drafted to Port Adelaide will close the football chapter of his life against those same colours when the Power plays the AFL's Tigers, Richmond, on Sunday 24 May.
Mindful that 2015 would be his final year of elite football, the 32-year-old applied and was accepted into the South Australian Metropolitan Fire Service.
To commence his career, Cornes must accept a place in the SAMFS's next training intake or risk not having the opportunity to do so again.
He accepted the offer with mixed emotions; starting the next chapter of his life a little sooner than expected.
"This is a great football club and I've had some incredible times at Port Adelaide and can't thank the club enough for everything it has given me," Cornes told portadelaidefc.com.au.
"This is the right time for me to give someone else an opportunity, we've got some terrific young players who will now step and make their mark on the game."
The decision to retire against Richmond will occur in line with Cornes's 300th AFL game, in turn making him the first player to reach that milestone with Port Adelaide.
BUY TICKETS TO KANE'S LAST GAME
A four-time John Cahill Medallist with the club and member of Port Adelaide's first AFL premiership side of 2004, Cornes's record of achievement is arguably the greatest in the club's national-level history.
Port Adelaide's AFL games record holder is also a two-time All-Australian and represented the 'Dream Team' composite side in the 2008 Hall of Fame Tribute Match.
Thanking his family, mentors and teammates, Cornes will now prepare to wear Port Adelaide's black, white and teal guernsey twice more.
"I want to particularly thank my family for their support over the journey," Cornes said.
"And thank you as well to Ken Hinkley for his help over the past two and half years, and in particular in helping me work through the process of joining the MFS.
"I couldn't have made this decision without his blessing and playing under Ken has been one of the most enjoyable times of my career.
"I'd also like to thank all my past coaches, team mates and mentors, in particular Mark Williams, Phil Walsh and Keith Thomas for all they've taught me over the past two decades or so."
Ken Hinkley has worked closely with Kane through what was always slated to be the highly-regarded tagger's final year of AFL football.
He said it was important for Kane to be given a proper farewell by the club's faithful at the Adelaide Oval, in line with his milestone game.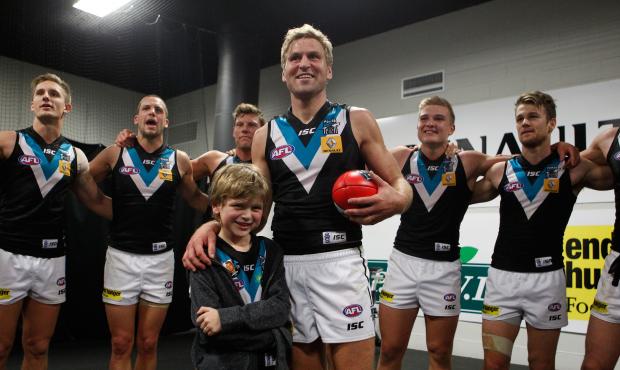 Kane Cornes and son Eddy celebrate setting the club's new games record of 256 matches against GWS in 2013
"Kane is a champion of the Port Adelaide Football Club who has given so much over his 15-year career," Hinkley said.
"He is a premiership player, four-time best and fairest and the club's games record holder, his record really does speak for itself.
"I've insisted that he play his 300th game for the Port Adelaide Football Club as he deserves to reach that outstanding milestone."
Cornes will play Brisbane at the Gabba this Sunday (his 299th AFL game) before his final training sessions for the club next week leading up to the Richmond encounter.
Having experienced the ups and downs of Port Adelaide's past decade, he, wife Lucy, and children Eddy, Raphael and Sonny leave the club as a playing family, but will remain part of the broader Port Adelaide family.
Port Adelaide's chief executive Keith Thomas feels Cornes is "deserving of the praise" that will come in the lead-up to his final game.
"Kane has been a tremendous servant of the club and we wish him the very best in his next journey with SAMFS," Thomas said.
"We wish Kane, Lucy and the boys all the best in the next step of their journey away from AFL football, but remember that their family here at Port Adelaide is never too far away.
"His longevity in the game and record of achievement really speak for themselves. All our staff, members and supporters agree he is one of our club's greatest AFL players."
Port Adelaide plays Richmond on Sunday 24 May at the Adelaide Oval, starting at 4:10pm (ACST).
Kane Cornes record of achievement
2000 National Draft, pick 20 (from Glenelg/Sacred Heart College)
Debut: Round 10, 2001 v Hawthorn, MCG
Brownlow Votes: 62
Port Adelaide AFL cap number: 61
Games (as of 14 May 2015): 298 Goals: 92
AFL Premiership Player (2004)
AFL Pre-Season Premiership Player (2001,2002)
All-Australian (2005,2007)
Hall of Fame Tribute Match (2008)
John Cahill Medal (2007,2008,2010, 2012)
Most Improved Player (2004)
Leading Disposals (2005, 2006, 2007, 2008, 2009, 2010, 2011, 2012, 2013)
VFL/AFL games record holder in number 18
3rd pair of brothers (with Chad) to play 550 VFL/AFL games
Leave your tribute to Kane below